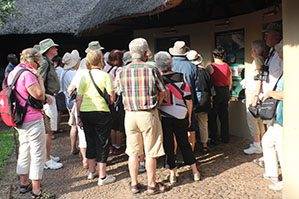 FOR the continued bad image of Zimbabwe in the Western press, you can also blame the European expatriates based in Zimbabwe.
When a diplomat or a non-governmental organisation (NGO) worker is asked to come and work in Zimbabwe for two or three years, they cry and say, the country is so bad and they fear for their life.
However, when they are told that they will get hardship allowance similar to what other European expatriates get when they go to Sudan or Liberia, the expatriates bound for Zimbabwe are relieved.
They are also told that they will have 24-hour security at home and there will be a driver to take them where they want.
There is also an international school, so their children will continue to have good education.
With their fears somewhat lessened, the expatriate couple arrives in Zimbabwe with the children.
At the airport, they are surprised to see well dressed African people in suits and immigration officers who smile at them.
Within a few months, you will see the expatriates in coffee shops where most Europeans frequent.
You will see them at wine tasting places in Borrowdale where you hardly see any Africans except when they are waiters or waitresses.
At home, the expatriates have a nanny to look after the kids, a cook, a gardener and a security guy looking after them 24-hours a day.
A driver and a four-wheel-drive are often waiting.
Such a life will not happen in Europe.
Most weekends, the expatriates go away to Mana Pools, Kariba, Nyanga, Matopos, Victoria Falls or any of the beautiful places in Zimbabwe.
When they write home to their friends and relatives they say Zimbabwe is paradise, but when they write to their governments or companies, they say something like this, "The political situation in Zimbabwe is calm and stable at the moment.
"But it can erupt and descend into chaos and mayhem at any time."
When that report arrives in the European country, the bosses will place a little red flag on Zimbabwe's map to say, "Keep a watching brief on Zimbabwe and be ready to evacuate the Europeans if the situation erupts."
And yet, it never erupts.
How many European expatriates have been evacuated for fear of their lives?
Zimbabwe is beautiful.
The expatriates want to live here because the truth is; the weather here is one of the best in the world.
Besides, Zimbabweans are generally peaceful people unlike some of our neighbours. Over the years, the media has built images of a country in perpetual chaos and mayhem.
Short television negative bites or paragraphs in the papers do not tell the reality of the Zimbabwe we know.
In order to overcome this, there should be a short summary on Zimbabwe given to expatriates with suggestions asking the expatriates to promote Zimbabwe's image overseas.
They could write real observations and truth about a country that has given them a lifestyle that they would never experience back home.
There is, therefore, a task to request the expatriates living in Zimbabwe to please do the country good service and tell the truth about it.
By educating and informing people back home about Zimbabwe, the expatriates would be playing a part in changing the image of Zimbabwe.
The truth and the facts must be told so others outside Zimbabwe will understand the country, its peacefulness and its beauty.
When you see the expatriates sitting outside coffee houses, you could think you are in Europe.
Zimbabwe is like that, but down the road towards Mbare, it is another world, another image of Africa.
Zimbabwe, like many other countries, has many faces.
The problem is that outsiders focus on the negatives only.
The Kenyan writer, Binyavanga Wainaina in Granta 92 wrote an article titled 'How to Write about Africa'.
In this ironic piece, Wainaina captures very well the way expatriates, journalists and other Europeans give a negative impression of Africa to feed the minds of those back home.
Although he is referring to Africa in general, Wainaina's views are true to the way Zimbabwe is perceived by the Western world.
He writes: "Throughout the book, adopt a sotto voice, in conspiracy with the reader, and a sad 'I-expected-so-much tone'.
"Establish early on that your liberalism is impeccable, and mention near the beginning how much you love Africa, how you fell in love with the place and can't live without her.
"Africa is the only continent you can love—take advantage of this.
"If you are a man, thrust yourself into her warm virgin forests.
"If you are a woman, treat Africa as a man who wears a bush jacket and disappears off into the sunset."
The expatriates who discover the real Zimbabwe keep the secret of the country to themselves, incase others discover that Zimbabwe is one the safest countries in the world where you can live like a king.
At their functions, the expatriates smile and tell each other how much they dread going back to the cold winters of Europe.
They will also remind each other that others who have worked here as NGO workers or diplomats have bought houses and retired here.
Those who have lived here and left still come back regularly.
The secret of Zimbabwe is well known in the expatriate world, but it is not known in Europe or other Western countries.
Expatriates living in Zimbabwe must help promote Zimbabwe's image overseas by telling the truth about a country that is so hospitable to them.