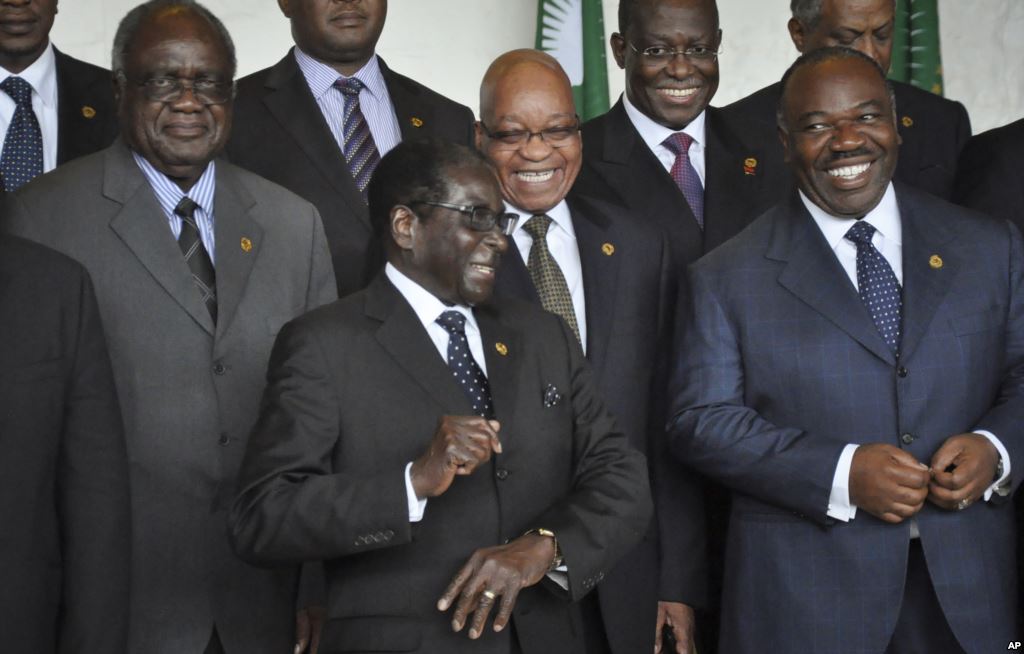 ZIMBABWE and the European Union (EU) once again hit the headlines last week after it emerged that there were attempts by the EU to bar President Robert Mugabe from attending the Africa-EU summit to be held in Brussels, Belgium this April.
This, however, is not the first time for the EU to behave in such a manner.
In 2003, the Africa-EU summit failed to take place in Lisbon, Portugal, after Britain and other EU states who accused President Mugabe of 'human rights abuses' refused to attend if he did.
And in 2007, the then Prime Minister of Britain Gordon Brown threatened to boycott the Africa-EU summit that was to be held in Lisbon, Portugal, because he did not want President Mugabe to attend.
He said President Mugabe's presence "would divert attention from important agenda items".
However, President Mugabe had the full backing of the African Union (AU).
The then Information Minister in Zimbabwe, Sikhanyiso Ndlovu argued that President Mugabe had the backing of the AU and as an influential African leader, his presence in Lisbon was vital.
"President Mugabe is one of the most senior heads of state in Africa and is inseparable from the EU, so his attendance in Lisbon should not be questioned," said Ndlovu.
"His attendance is not predicted on any Western head of state or EU member attending or not attending."
So despite efforts by the likes of South Africa's Democratic Alliance leader Helen Zille to have Portugal revoke President Mugabe's invitation to Lisbon, the EU was forced to budge.
African leaders solidly backed President Mugabe.
The late Zambian President, Levy Mwanawasa among other African leaders, was quoted in the media as saying, "I will not go to Portugal if Mugabe is not allowed."
Eventually, President Mugabe attended the summit and Gordon Brown boycotted.
Fast-forward to 2014, Zimbabwe has got tongues wagging again in light of the impending Africa-EU summit in Brussels this April.
What is more interesting this time around is that President Mugabe was elected First Deputy Chairperson of the AU at the just ended 22nd Ordinary Session of the AU General Assembly in Addis Ababa, Ethiopia, and the AU Executive Council took a firm position against the EU's attempt to bar Zimbabwe from participating in the Africa-EU summit in Brussels.
By virtue of being AU First Deputy Chairperson, President Mugabe is set to become the AU Chairperson in 2015.
In Ethiopia, Foreign Affairs Minister, Simbarashe Mumbengegwi told Xinhua that the EU was attempting to exclude President Mugabe from Brussels summit in April, but the AU Executive Council would take a position on that.
And when President Mugabe arrived back home on Saturday from Ethiopia, Mumbengegwi, told journalists at the Harare International Airport that the AU had decided to boycott the Brussels summit if President Mugabe is not invited, especially considering that he is the AU's First Deputy Chairperson.
He said although he was uncertain if the invite from Brussels had arrived, the EU was faced with no option, but to invite President Mugabe.
"It seems they (EU) have very short memories," said Mumbengegwi.
"They tried it again this time, but Africa took a firm position to say if President Mugabe is not invited to this summit, then there will be no summit because no African head of state was going to attend a summit where President Mugabe is being excluded.
"And so faced with this situation, I do not think the EU has any option.
"One never ceases to marvel why the EU always wants to come up with self imposed humiliation.
"They did not have to take this position and now they are humiliated. "After all, President Mugabe is now the First Deputy President of the AU.
"How can you hold a summit between two organisations and then one organisation has the arrogance to say to the other organisation, 'yes, let's meet as two organisations, but we don't want your Deputy President to be present'.
"I mean this is madness!
"This is just madness!"
It is important to note that the EU's relationship with Zimbabwe turned sour after Zimbabwe took back its land from about 4 000 white farmers who used to occupy the country's prime land.
The Land Reform Programme initiated by President Mugabe benefitted over 400 000 black households, but the EU and US imposed illegal economic sanctions against Zimbabwe alleging there were 'human rights abuses' in Zimbabwe.
However, with the current global developments, Europe needs Africa more than Africa needs Europe.
For example, Belgium lifted sanctions on the Zimbabwe Mining Development Corporation (ZMDC) and Zimbabwe has auctioned its diamonds in Antwerp, a development that upset other EU members.
France is practically living off its former colonies and so are many other EU nations.
So with this April Africa-EU summit expected to further bilateral cooperation and political dialogue between the two continental blocs, Zimbabwe's participation cannot be overlooked.
Zimbabwe has 25 percent of the world's diamond deposits and is endowed with numerous resources.
And the EU as Africa's biggest trading partner is definitely interested.