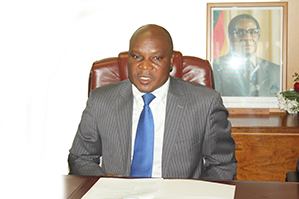 MINERALS exploration and the potential for finding new reserves could help the country update its database and attract fresh investors in its mining industry, a Cabinet Minister has said.
Commissioning the Mining Promotion Corporation (MPC) board this week, Mines and Mining Development Minister Walter Chidhakwa said operationalisation of the corporation will enable Government get more geological data and mineral knowledge.
The MPC is expected to spearhead exploration of minerals throughout the country.
The corporation's role includes quantifying the amount of minerals the country has, research into new or improved processes for the production, extraction or processing of minerals and mineral resources.
"Many of us claim that Zimbabwe is the richest country on earth with respect to untapped natural resources," said Minister Chidhakwa.
"We further claim that we have the world's largest diamond reserves, second largest platinum reserves and over 40 exploitable minerals that have the potential to turn Zimbabwe into a jewel of Africa.
"Our biggest problem with such claims is that they are all conjecture at this stage without scientific work to give credence to such claims.
"This move will enable us to evaluate the country's minerals."
Chidhakwa said the mineral information will give investors information on operations and open room for new investment in Zimbabwe.
"It also means when we negotiate with partners for joint venture mining activities, we will be fully aware of the amount of minerals we hold as we will be equipped with the correct data," he said.
The nation has not done detailed, countrywide minerals exploration in almost three decades, which has resulted in the government relying on private investors to quantify resources.
"We are in the unenviable position where some private sector organisations know more about our minerals than we do as Government," said Chidhakwa.
"We also have the scenario where the information we have is not maintained in an investor friendly state.
"We need to modernise our information database."
According to the Chamber of Mines, Zimbabwe's minerals sector is vastly under-explored and the country lacks the modern technology needed to explore and create a database of its resources.
The country has been using 'ancient' data from old topographical maps which were done before independence in 1980.
Modern exploration techniques such as high-resolution geophysics and geochemistry have not been used to greater extent in the country.
Mines and Mining Development permanent secretary, Professor Francis Gudyanga will chair the board and deputised by David Murangari.
The other board members are Ambrose Made, Professor Amos Murwira, Mrs Bertha Muzangaza, Brains Muchemwa, Mabasa Hawadi and Mrs Catherine Machokoto.
Minister Chidhakwa said additional board members will be appointed on a 'need' basis.
"The MPC's board of directors will start recruiting a chief executive officer and put in place a team that will drive the exploration activities," he said.
"I can confirm the willingness and commitment of the ministry to support the work of MPC including provision of the initial US$5 million injection needed to kick start the work."
Geological survey of Zimbabwe has already laid some ground work for mineral exploration.
The geological survey has vast archives of geo-scientific information in various themes that can be accessed by investors interested in mining.
Information is in the form of bulletins, short reports, maps, reports by companies on exploration work, thesis on work done on Zimbabwe and reports by mining companies.
Data is available in both digital and analogue format.