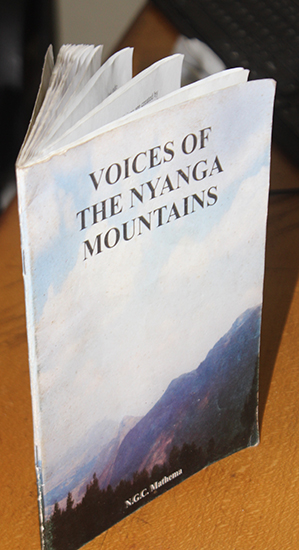 Voices of The Nyanga Mountains
By Cain Mathema
Published by Multimedia 2002
ISBN 9982-30-113-6
By Evans Mushawevato
CELEBRATORY literature is very common.
Sadly most of this literature I have read is European or American, celebrating and giving vivid descriptions of their icons, rivers, animals and even buildings.
Authors like John Steinbeck wrote pieces that leave a reader desiring to visit places they describe.
For example, Steinbeck's description of the Salinas Valley in California in East of Eden is magical from a literary perspective.
It takes up the entire first chapter.
"I remember that the Gabilan Mountains to the east of the valley were light gay mountains full of sun and loveliness and a kind of invitation, so that you wanted to climb into their warm foothills almost as you want to climb into the lap of a beloved mother," writes Steinbeck.
Of course poets like the great Musayemura Zimunya and the prolific Emmanuel Ngara have penned some unforgettable pieces describing what the country has to offer. 
And the book under review this week, Voices of the Nyanga Mountains, is a bold statement.
It celebrates, it chides, it makes no apology, it demands and it makes bold declarations.
The politician, civil servant, Ambassador-cum-author Cain Mathema is at his best in the book that explores everything Zimbabwean.
The book is a collection of poems preceded by a strong introduction by the author.
The poems are as expansive as they are exhaustive in dealing with social, political and economic issues.
Socially, the author advocates self-respect and valuing one's history.
"My history /Is the history /Of my father Mvinjwa/…
If my history does not include them/
Then is not my history/It is not mine/
It is a history/Which wipes them out/
A history/Which wipes me out"
According to the author, we must appreciate our history and not temper with it.
It is in history, argues the author, where we will find our bearing and truth.
"We should never shy away from saying the truth as it is, even if it may hurt some of us," writes Mathema.
"This truth must include the colonisation of the country and the racism that was institutionalised by Cecil Rhodes.
"It must clearly show how colonialism destroyed other cultures in the country and how influential it still is in our daily lives today."
As much as the author celebrates being Zimbabwean, he also castigates the bullish behaviour of the West.
He exposes the double standards of the West.
"By the way, the British communists are not legally allowed to work as civil servants as they are said to be anti-Britain," says Mathema.
"We all know what the British Government would do to Zimbabwe were the Government of Zimbabwe to pass a similar law for Zimbabwean members of political parties in opposition that are anti-Zimbabwean.
"It would call upon the opposition parties to topple the Government.
"What they are advocating, together with some of our journalists and editors, is anarchy, which they do not tolerate in their own borders.
"They want this anarchy to prevail in those countries whose Governments and individual leaders they want overthrown and replaced with their puppets."
The writer castigates Zimbabweans who are ready to be used to push the agenda of the West for monetary gains.
Ambassador Mathema highlights the importance of one's religion.
He lambasts nations that want to impose their religions and belief systems on other people.
According to the writer, no religion is superior to the other.
"All religions were created by the specific conditions that those who created them found themselves in," writes Mathema.
"Therefore, it is wrong for anyone to try and impose his or her religion on others. "And it is truly wrong, wayward, arrogant and rude for anyone to tell us that his or her religion is the religion of the chosen Nation or social group.
"All of us are chosen ones as far as society and nature are concerned; my nationality is a chosen one as well."
Mathema's book is indeed a worthwhile read.