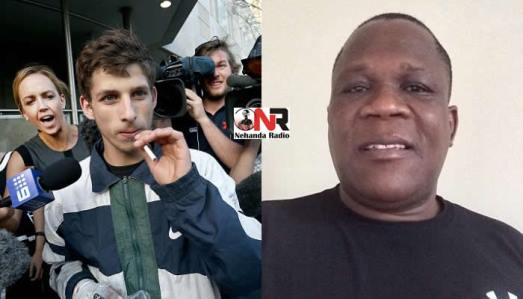 ON October 2 a Zimbabwean man, Josphat Mkhwananzi, was racially abused by a teenage white boy Abdel-Kader Russell-Boumzar (seems like an Arab) on an Australian train.
The Arab guy who says he is an Australian white, refused to take his feet off a seat.
In his racial torrent he says he would not take orders from a "f***ing black dog".
"Learn some f***ing English, because this is f*** Australia," he says to the Zimbabwean who is talking to him in proper English (no swearing) but with a strong Zimbabwean accent.
"I can't understand you, my nigger brother…you are a damn white dog,…don't touch me…if you want to be a security guard learn some English…. Do you even have citizenship you nigger? …this nigger comes to my country and tells me to put my feet off the seat…f*** black …always f*** an African cun**, a pussy black dog…You niggers always f***."
The racial torrent went on and on till Josphat Mkhwananzi brought other security guards to help him restrain the young racist.
Josphat Mkhwananzi's experiences are not unusual to many Africans (and Asians to a certain extent) who left their homes in Africa in search of greener pastures.
To begin with, he is probably a very educated person doing some menial jobs in Australia.
In Zimbabwe he would definitely not be a security guard, a mahobho!
But in Europe and Australia we accept any jobs for survival; jobs that cannot be accepted by these low-life, uneducated racists who would take any slightest provocation to rant their verbal abuse on us.
It is also alleged that Josphat Mkhwananzi was spat at by the racist Abdel-Kader Russell-Boumzar as the tirade was captured on camera by his friend. The video has since gone viral on social media.
And to demonstrate his unrepentant white supremacy, Abdel-Kader Russell-Boumzar went on to post on his facebook page that: "I was just drunk couldn't remember s**t so stop over reacting, but I am proud to be white!" he wrote.
The whole incident brings to light the extent of racism in Australia: A country which has more than 250 ethnic groups and languages which originally belonged to Aborigines.
However, the Australian Prime Minister, Tony Abbott, viewed Josphat Mkwananzi's abuse as an isolated racist case and told reporters that: "Just as I think it's un-Australian to defend death cults, I think it's un-Australian to abuse people in a public place just because you don't like the way they look, or you don't like the way they dress, or you make assumptions about what they believe."
Is racism then un-Australian?
The PM's sentiments are unconvincing given that this is not the first time someone had been racially abused on Australian public transport.
In July this year the BBC News asked the question: "Australia train rant: Is racism getting worse?"
This followed another incident when an Australian woman (white) spat a tirade of racial abuse over a fellow white Australian man who had an Asian girlfriend.
Unable to fathom why an Australian would date an Asian woman from Hong Kong, she said: "Can't you get an Aussie girlfriend? You had to get a gook, you sad, poor pathetic man… Is it really that small you can't get an Aussie girl?…What's wrong with Hong Kong? Why'd you come to this country? This is our country."
Again the incident was caught on camera and the woman was later prosecuted for racially abusing the Asian woman. Her choice of words like 'gook' makes her sound suspiciously Rhodesian!
Last year (on February 16) the BBC News (Sydney), in another headline 'Bus taunts that sparked Australian racism debate', reported about how Jeremy Fernandez (an Asian born) Australian Broadcasting Corporation (ABC) News 24 presenter, was subjected to racial abuse by a white Australian as he rode on a bus.
The racial taunts lasted more than 15 minutes, which he described as "the longest 15 minutes" of his life. Reasons for the abuse? His crime was to protect his two-year-old daughter from flicking and pinching from a white kid.
On July 29 this year the UK's Daily Mail reported that, "One in 10 Australians have admitted they would tell a joke about an Indigenous Australian and one in five would avoid sitting next to an Aboriginal person on public transport".
This followed a survey by an Australian organisation called BeyondBlue, which researched on the effects of racial discrimination on Aboriginal people.
The report noted that "…that racism in Australia is still common and that many people engage in racist behaviour… Indigenous Australians are twice as likely to die by suicide as non-Indigenous Australians, and (they) are almost three times more likely to experience psychological distress".
In April last year a British comedian, John Oliver, appearing on an American programme the Daily Show, described Australia as "a coastal paradise surrounding a rocky hell" and "…a sensational place, albeit one of the most comfortably racist places I've ever been in. They've really settled into their intolerance like an old resentful slipper."
For a country that is not indigenous to white people, Australian racism is conspicuous in international games where countries like England, America and France (not indigenous to black people) are overrepresented by black athletes, while Australia (and Canada) are predominantly represented by white athletes.
Racism is quite apparent in sport, for example, during apartheid South Africa and Rhodesia, sports such as cricket, rugby, hockey and swimming were all for whites. In South Africa these sports are still dominated by white people.
Josphat Mkhwananzi's experiences are not an isolated event. A lot of Zimbabweans who migrated to Australia say they experience racism on a daily basis.
Last year Professor Andrew Markus (of Monash University) published a report "Mapping Social Cohesion" which revealed that a larger percentage of immigrants from non-English speaking countries experience racism on a daily basis "and many said they feared walking alone at night or becoming a victim of crime."
To readers back home, Josphat's experiences are something that we have learnt to accept in our host countries. Last year my friend who works in the Republic of Ireland as a ticket checker also experienced something similar to what Josphat went through.
An economist (with a Masters degree) by profession, my friend is working as a ticket checker for an Irish railway company.
He told me how he was verbally and racially abused by an Irish passenger who did not have a train ticket. When he asked him to buy one, he was racially abused by the woman.
She said my friend could be her domestic servant! With that she left the train at the next station, after enjoying a free ride.