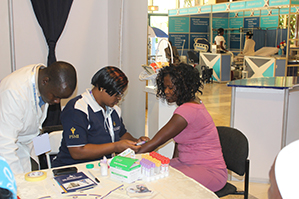 LAST year a new page was written in Zimbabwe's medical history when Siamese twins joined on the lower chest and abdomens were successfully separated in Harare.
The operation which was the first of its kind in Zimbabwe was done by a team of Zimbabwean doctors led by Dr Bothwell Mbuvayesango.
The then, Health and Child Care deputy minister, Dr Paul Chimedza said the successful operation showed that Zimbabwe's medical sector had some of the best professionals in the world.
"This is something that the nation should sit and take note of, that our professionals can stand head-to-head with other professionals across the world and do exactly what they can do," he said.
"We have Zimbabweans across the world who are doing big things in Canada, United States or Great Britain but it is another thing when we do things here and especially at Harare Hospital."
It is against this background that a Medical and Health Fair which is meant to expose and market the Zimbabwean medical practitioners and companies is underway.
The Fair which started this Wednesday and ends today (Friday) brought 53 service providers and was meant to encourage Zimbabweans to take advantage of the local medical services.
Key stakeholders include the Ministry of Health and Child Care and National Blood Transfusion Services, among others.
Free screening of various types of diseases and free medical check-ups are being done at the Medical and Health Fair.
This includes free HIV counselling and testing and screening for some types of cancer.
Zim-Afro in partnership with the Health and Advisors Office are organisers of the event.
Dr Timothy Stamps who is the Special Health Advisor in the Office of the President and Cabinet said such fairs were meant to enlighten the public so that they tap into Zimbabwe's local health practitioners.
"Many people are seeking health services outside the country and they are charged more for the services that they can still get in Zimbabwe," he said.
Organising chairman, Shepherd Chakanza said the event had been placed at the Harare Gardens as a way of reaching out to as many people as possible.
"We are hoping that this year we will be able to reach out to about 10 000 people, that is why we came to the Harare Gardens so as to raise awareness among the people of Zimbabwe," he said.
The event which is in its fifth year has seen the number of people attending increasing every year as it deals with various health issues that are not usually discussed.
Herbal-cum alternative medicines which have been commonly distributed through Chinese agents such as Tian Ze and Forever Living are being exhibited as well.
The Expo is running under the theme; 'Health For All By 2030'.
The theme is in line with the context of the expiring health instruments of the African Union (AU) at the end of 2015.
Work has already started to develop a new framework which details milestones towards ending AIDS, TB and Malaria in line with the 2030 targets set by Heads of State and Government at the Abuja +12 Special Summit in 2013.
Fifteen (15) years after the 2000 and 2001 Abuja Declaration on Rolling Back Malaria and on Ending AIDS and Tuberculosis, Africa has made unprecedented strides in responding to the three diseases.
The AIDS response has provided key lessons on shared responsibility and global solidarity pioneering new models of ownership, accountability and partnerships.
In less than a decade, access to HIV treatment in Africa increased more than a hundred fold and approximately 7,6 million people are on treatment.
Most AU countries have, on average, increased the proportion of total government expenditures allocated to health from nine percent to 11 percent between 2001 and 2011 and seven countries have achieved the Abuja Target.
However, while the world is closest than it has ever been in defeating AIDS, TB and malaria, the responses face a major funding crisis, which calls for both accelerated innovative domestic financing and global solidarity.
Health funding in most countries remains below what is required to achieve a functional basic health system even if resources available were optimally used.