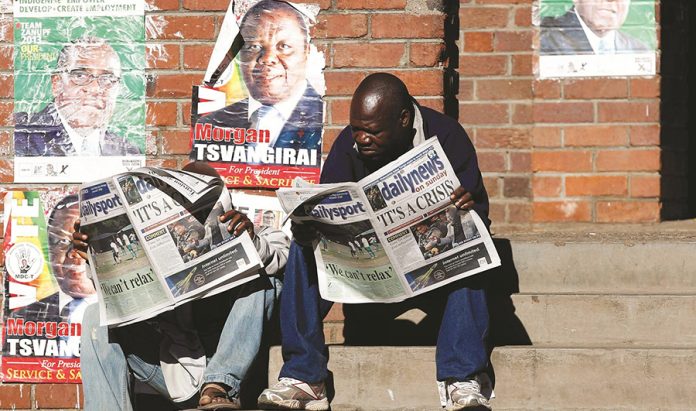 By Patience Rusare-Murava
WESTERN-backed NGOs are planting persons across the country and passing them off to the so-called private media as victims of post-election violence with a view to eliciting sympathy from Western embassies and discredit the recently held harmonised elections.
Recently, Counseling Services Unit (CSU) invited journalists from the private media to Chigiji Village, Bindura, to record an account of a post-election violence victim only identified as 'Kumire'.
The motive behind the nefarious shenanigans was also to push for a Government of National Unity (GNU) via the back door and to hoodwink donors to bankroll struggling NGOs in the country.
Apparently, CSU is one of the NGOs affected by USAID's unilateral funding cut.
Investigations by The Patriot at Chigiji Village revealed that 'Kumire' does not exist nor were there incidences of post-election violence.
In an interview, village head Lazurus Chigiji said there was no one in his village by the name 'Kumire' and dismissed claims of post-election violence in his area.
Said Chigiji: "Mubhuku rangu hakuna anaKumire, uyezve hatina kana kumboona kana kunzwa nezvemhirizhonga kuno.
Vanhu vakaita sarudzo murunyararo kusvika zuva ranhasi kungori nerunyararo."
(In my village there is no one by the name Kumire. We never heard nor witnessed any incidences of violence. Peace prevailed before, during and after elections).
At Chigiji Primary School, villagers were not familiar with the name 'Kumire'.
ZANU PF Bindura South Ward 11 councillor Steven Masango said reports of post-election violence were blatant lies as no such incident ever occurred in Chigiji and other surrounding villages such as Chiriseri and Munyawiri.
"I am so shocked that people are going to such lengths to tarnish the image of ZANU PF," he said.
"We have not received any reports of post-election violence in this area.
"I and other contestants who lost actually talk, they conceded defeat.
"There is no bad blood.
"If I may say, this has been the most peaceful election we have ever witnessed."
NGOs and the gullible so-called private media have been in overdrive to discredit the Zimbabwe Defence Forces (ZDF) and ZANU PF before, during and after elections.
The so-called independent media has been on a rampage, reporting of post-election violence in which MDC Alliance supporters are painted as victims.
Reports have been awash that in Chitungwiza, Kuwadzana, Dzivarasekwa and rural areas, opposition persons who had been acting as polling agents were being attacked by soldiers and ruling Party supporters
The NewsDay's story: 'Post-election violence spirals' claimed post-election violence had reportedly displaced several opposition MDC Alliance supporters countrywide, citing provinces like Mashonaland East and Central.
The so-called independent media have scaled up efforts to portray a 'junta regime' and a 'reign of terror' in Chitungwiza, as well as Harare suburbs of Kuwadzana and Dzivarasekwa, with Chitungwiza Hospital reportedly crowded with casualties from the 'beatings'.
However, speaking to The Patriot, Chitungwiza Central Hospital CEO Dr Obadiah Moyo dismissed the reports, stating that on the days in question, two observer missions actually visited the hospital following the social media reports.
"We actually had two observer missions who came here with that information that the hospital was full of injured people," said Dr Moyo.
"We asked them to go to the wards and have a look.
"We had no such patients.
"However, on the night of the violence on August 1, we had patients who came in but for minor issues and went back.
"They were never admitted."
Dr Moyo also dismissed claims the hospital had turned away patients seeking medical help.
"We never refused to see and attend to them," he said.
"The hospital would never refuse to treat anyone."
Last week, the Zimbabwe Republic Police (ZRP) said reports of post-election violence being played up in the privately-owned media are fictitious as peace is prevailing across the country.
Police chief spokesperson Senior Assistant Commissioner Charity Charamba said investigations by the ZRP had revealed that all the cases of political violence alleged by the private media were false.
"Investigations carried out so far have revealed that
there are no threats and intimidation on anyone," she said.
Investigations have since shown that the alleged offence of an opposition member whose house was burnt was actually committed on Mozambican territory by non-Zimbabweans.
Traditional leaders in Mozambique last week confirmed that the MDC Alliance supporter in question, one Joseph Kaswa, was expelled from Mozambique by political leaders in that country for involving himself in trans-border politics.
Further investigations revealed that the co-ordinator for Heal Zimbabwe Trust, Shylock Rumero, is among people fabricating claims of violence in Muzarabani.
Heal Zimbabwe Trust, founded in 2008, thrives on violence.
However, it was rendered redundant by the country's peaceful mode and has been struggling to survive.
The NGO has since reached out to the two MDC Alliance activists – Ernest Joseph and Lloyd Kaswa – who have been adopted by Heal Zimbabwe, which subsequently housed them at a so-called 'safe house' in Hatfield, Harare.
After information of alleged political violence in Muzarabani filtered, the Zimbabwe Human Rights Commission dispatched two of its officials, Patience Ndlovu and Tinashe Makuyana, to investigate the matter.
It is reported the two Human Rights Commission officials – Patience Ndlovu and Tinashe Makuyana – visited MDC-T provincial assembly secretary for healing and reconciliation Freddy Matonhodze at his homestead in Hoya, Muzarabani North constituency on August 17 2018.
The two officials who were on a fact-finding mission wanted Matonhodze to accompany them to the homestead of an MDC-T activist Ernest Joseph, which was allegedly burnt on August 12 2018.
The officials could not proceed as they were told the said homestead was in Mariyahanda Village in Mozambique.
Last month, Zimbabwe Human Rights (ZimRights) Forum, generated a 2018 Post-Election Violence Monitoring Report, claiming over 199 people had either been abducted, assaulted or killed from August 1-9 2018, by ZANU PF supporters, security personnel and traditional leaders.
The allegations were not supported by any specifics as many of them were based on social media rumours.
There are no names for the alleged perpetrators and victims, while there are undisclosed perpetrators of sexual torture.
This is not the first time the so-called private media has fabricated stories to discredit ZANU PF.
On April 28 2002, Daily News reporters Lloyd Mudiwa and Collin Chiwanza fabricated a story that a 53-year-old supporter of the MDC, Brandina Tadyanemhandu of Magunje, was decapitated by ZANU PF youths in full view of her two young daughters.
International news agencies and newspapers published the story, quoting Daily News.
It turned out her husband had fabricated the story in an attempt to get money from MDC.
In another case, the Zimbabwe Independent, on February 6 2002 published a story titled 'My ordeal as Mugabe prisoner' by their reporter Basildon Peta.
In the story, Peta claimed security agents had wrongfully jailed and detained him in a blocked toilet for a cell.
The story was published in many Western newspapers before it was discovered Peta had never been arrested.
For the lies, Peta was 'dismissed' from Zimbabwe Independent and skipped the country to South Africa where he lied again about being hounded out of Zimbabwe.
As a 'reward', Peta got a job with Britain's The Independent.
On July 6 2008 The New York Times carried an article titled "Mugabe thugs shout 'Let's kill the baby'."
The story was repeated by Newsweek, a US magazine.
It alleged ZANU PF supporters broke both legs of an 11-month-old baby to punish the father for being an opposition councillor.
The baby's name was given as Blessing Mabhena, who, allegedly, was grabbed from the bed and flung down with force as the mother, Agnes, hid under the bed.
The story was reportedly created by a freelance journalist in Harare, Douglas Merle, and was inserted in The New York Times by Christina Lamb.
The New York Times was forced to run a lengthy correction on July 9 2008 after learning the boy's mother had lied to get money to pay for an operation to correct the child's bowed legs (rickets).
Doubts about the mother's account arose when an orthopedic surgeon said an X-ray of the child's legs showed no sign of fractures.
In June this year, the NewsDay published a story titled 'Campaign trail turns bloody…as rivals' two-year-old child is abducted, killed' in which ZANU PF was fingered in the death of a two-year-old baby after his father Rambai Lumbe defected to the Joice Mujuru-led National People's Party (NPP).
Lumbe defected from ZANU PF in 2014 to join ZimPF and later NPP.
The mother of the child said her son died under unclear circumstances, but suspected a political hand.
It is alleged the boy's body was recovered about two kilometres from the family homestead, six days after he went missing.
This is similar to the story of Christpowers Maisiri, a 12-year-old boy from Headlands, who died in an inferno on February 23 2013 after the house in which he was sleeping in, together with his brothers, caught fire and ZANU PF was alleged to have been responsible.
The Patriot exclusively revealed that Sherperd Maisiri, a little known MDC-T member, had used his mentally disturbed son's death to gain political and financial mileage.
Following the death of Christpowers, Maisiri received a brand new bicycle from MDC-T stalwart Eddie Cross to replace the one that had been burnt in the inferno.
He was also given an undisclosed amount of cash by the MDC-T that other villagers referred to as 'mathousands'.
The same villagers told The Patriot, they suspected the father to have started the fire.
Maisiri, however, had become one of the richest villagers overnight.
NGOs and the so called independent media have perfected their skills in fabricating reports and stories to attract donor funding.
Donor fatigue, both in the NGO sector and media industry, has seen an overdrive in 'manufacturing crises'.
If crisis does not come by, they create one.
In July this year, USAID cut funding to ZimRights, the Election Resource Centre and the Counselling Services Unit for embezzling money and covering this up by generating fake reports, lies and exaggerations.
Heal Zimbabwe, led by Rasheed Mahiya, was also fingered in previous USAID reports for misusing funds.
No doubt the recent media reports purporting post-election violence is another desperate attempt by the so-called private media and their Western handlers to portray Zimbabwe as a nation in turmoil.
Is this not a case of individuals and NGOs singing for their supper?
If so, it remains to be seen how relevant authorities will deal with them.