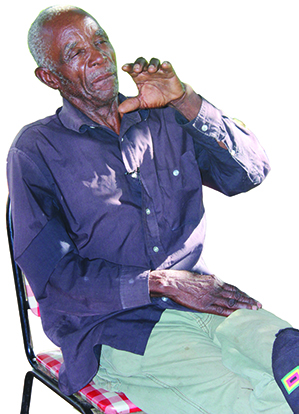 THERE is a war veteran with a chilling and painful story in Chesa, Mt Darwin.
The Patriot visited him at his farm last week.
His name is Obert 'Mandizadza' Gwerevende and in 1973, he lived in a cave with his family for almost two months.
His neighbour's family, the Mutandiros' also joined him because they feared being victimised by the Rhodesians after freedom fighters had captured the Land Development Officer in Mt Darwin, Gerald Hawksworth.
Hawksworth aged 29, was on January 11 1973 captured at Gwerevende's homestead before two white land inspectors, Robert Bland and Denis Sanderson were shot dead by comrades who had laid an ambush on their vehicles.
Hawksworth made headlines as the first ZANLA prisoner of war.
The freedom fighters who captured Hawksworth included, Cdes Toro Maidei, Chinodakufa, Barnabus Chipembere, Cephas Tichatonga, Chiridza Mabhunu and Madzikatire.
They were referred to as 'magandanga', and the Rhodesians called them 'terrorists'.
Hawksworth's arrest marked the beginning of Gwerevende's nightmare, but it is important to note that the search for Gwerevende was not just about Hawksworth's disappearance.
The Rhodesians knew that like the First Chimurenga in 1896-97, there was a spiritual force that was influencing Zimbabweans to begin the Second Chimurenga.
The bombing of Altenna Farm in December 1972 and Hawksworth's capture about a week later in January 1973 were clear signs that Zimbabweans were once again determined to fight for their land.
Gwerevende revealed that he had previously travelled to Matonjeni or Njelele, Matobo and the spirit at Njelele gave their nod to the freedom fighters' desire to begin the Second Chimurenga.
He said the developments that later took place including the destruction of his homestead by Rhodesians had all been foretold by Tumbare.
With Hawksworth safely in the hands of comrades destined for ZANLA's main rear base at Chifombo on the Zambian border, Gwerevende's homestead was reduced to rubble by the Rhodesians.
"Pakasara pasina chinhu pamusha pano kunze kwefoshoro, musha wese wakaparara," said Gwerevende.
Gwerevende's neighbours were not spared by the Rhodesians who thought they knew of his whereabouts.
They were harassed and tortured.
The Rhodesians went further by looting the villagers' livestock and other valuables, just as they did through The Loot Commission during the First Chimurenga.
In the midst of all this, Gwerevende together with his family and neighbours were inside a cave at a nearby mountain.
From the mountain, he said, he had a bird's eye-view of everything that was happening in the village including the confiscation of his cattle and the harassment of his fellow villagers.
"Zvakandirwadza," he said.
"Taenda kuninga takagara one month three weeks.
"Vakuru vaiti ndinochengeta mhuri yangu.
"Mhuri yandakaenda nayo kubako inini, ndivaGwerevende, Mbuya Gwerevende, Mai Mutandiro nemhuri yavo Sarah, Cobby, Stella naNyasha.
"Kwangu inini kwaGwerevende, vanin'ina vaenda kuhondo, vana vaenda kuhondo, Chipo Tsitsi, Maxwell, Phineus naOppah, kwasara inini Obert Gweverende, Amai nemhuri yavaMutandiro, ndovandaiiriritira."
Gwerevende said they slept in the first cave, but moved to another after a sell-out had tipped the Rhodesians.
Together with Cde Barnabas Chipembere, Gwerevende said he left for Mozambique on a mission, leaving his family in the cave.
They were supposed to return after five days, but failed resulting in his family leaving the cave in search for food.
Unfortunately, said Gwerevende, when he returned from Mozambique, most of his family members were captured in Nyakasikana, Mt Darwin, at Musiyiwa homestead after being sold out.
"Vamwe ndakazosangana navo paRuya, asi vakawanda kusanganisira Baba vangu vakasungwa vakatongerwa makore mashanu mujeri," he said.
"Vana vadiki vaMutandiro vakatorwa nehurumende vakaendeswa kuorphanage nechikoro kwaMakumbe.
"Vakuru vese vakaendeswa kuChikurubi."
He was eventually captured by Rhodesians after being sold out by one Mazhangara.
"I was brutally tortured and never thought I would survive," said Gwerevende.
"Vaiti taura kuti mhepo iri pamusha pako ndiani."
Gwerevende said the Rhodesians went to the extreme of trying to bribe him to reveal information about the name of the spirit but he refused.
He was subsequently imprisoned.
According to the High Court of Rhodesia papers in the possession of The Patriot, Edgar Anthony-Tweadie Smith, Esquire, Attorney General of Rhodesia who prosecuted for and on behalf of the State informed the court that Gwerevende was guilty of, "contravening paragraph (a) of section 48B of the Law and Order (Maintenance) Act [Chapter 39]; Contravening paragraph (c) of section 48B of the Law and Order (Maintenance) Act [Chapter 39]; Contravening paragraph (b) of subsection (1) of section 48A of the Law and Order (Maintenance) Act [Chapter 39] and Contravening subsection (1) of section 36 of the Law and Order (Maintenance) Act [Chapter 39].
In 1974, Gwerevende escaped the death sentence by a whisker and was sentenced to 30 years in jail.
He was taken to Khami Prison on the outskirts of Bulawayo.
Gwerevende now 78 years old was released on April 16 1980, two days before Independence Day, but 34 years later, the scars of war are still fresh.
He remembers some of his family members who went to war and never came back.
"Vakaenda kuhondo vanin'ina vangu, Maxwell haana kudzoka, muzukuru Nigel, mwana waMutandiro haana kudzoka.
"Muzukuru Nevson akachekwa musoro, zvakandirwadza zvikuru.
"Mukwasha Samutoko akaenda kuhondo akadzoka asi akazongoshaika, nanhasi hatizivi kuti aripi.
"Hanzi akangobuda mumba haana kuzombooneka zvakare.
"Vamwe vese vana vangu vakadzoka asi vakazoshaya vava pano.
"Vakasara kuhondo i two."
Next week we will look at how people around vaGwerevende lost their property to the Rhodesians.