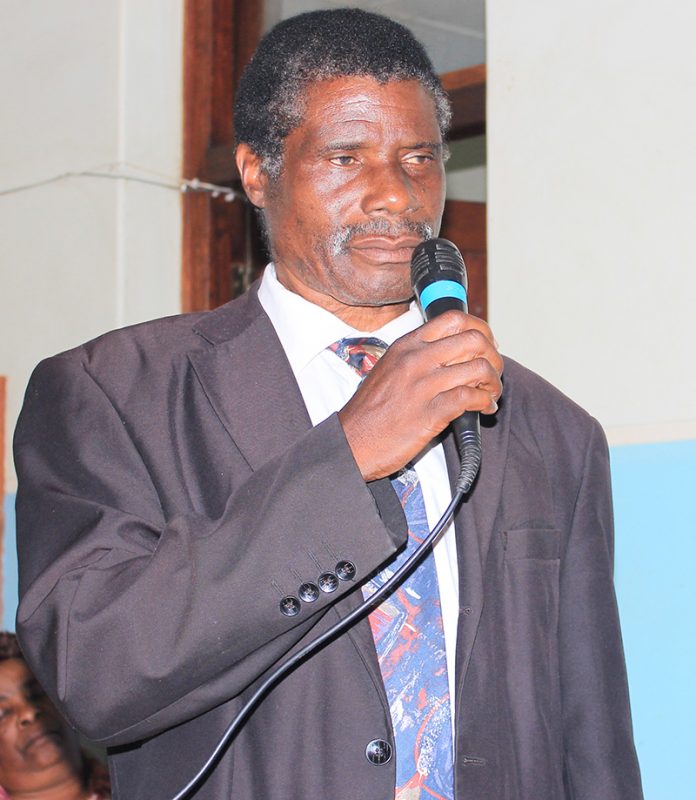 IN that final moment, in Cheza Village, Domboshava, when we all stood and watched the flag-draped casket emerge from the hut, on your way to your final resting place, in the land you loved so much, tears dimmed the eyes of many.
At that moment, I do not doubt that the thoughts of those assembled were turned back in time.
The war veterans among us must have gone back to that time when you answered the patriotic call of duty and country.
The young men and women remembered the times you not only urged them to concentrate on their school work but how you patiently taught them subjects such as science and mathematics while fellow villagers recalled your generosity and words of wisdom.
You were diabetic and a few weeks to your demise, you were in pain.
All that mortals could do to stay the hand of death was willingly done by your family but the roll had been called and an answer became necessary.
So you left, just like you had done when you joined the struggle; without a fuss, when many least expected it.
Because you were a humble and an unassuming character, many might just know that you were born in 1945 in Shambahweta Village, Murehwa, that you were an intelligent boy who skipped some primary school levels, but you were much more.
Your intelligence increased your awareness and consciousness.
I had the fortune of knowing you and I soon discovered that you were one of the noblest of your generation.
Your sharp mental faculties could not ignore the epic moment of April 28 1966; the day the Chinhoyi Battle was fought.
While to some it just signified the beginning of the Second Chimurenga, to you it was a clarion call, which required an immediate response.
You had already left training for Roman Catholic priesthood to take care of your struggling family.
It was at St Paul's Musami, while you were training to be a teacher, that you met Cde Joseph Masangomai and joined a secret group called the Zimbabwe Youth Liberators.
Cde Masangomai was working under the instruction of ZANU Chairman, Herbert Chitepo.
In the group, chaired by Cde Joseph Macheka, you began your contribution to the liberation of the country.
Your instructions were to mobilise youths to join the liberation war.
After training as a teacher, you got a place to teach at Mt St Mary's, Rusunzwe, in Hwedza.
In 1970, you got a message from Cde Chitepo to recruit youths from places such as St Paul's, St Anne's Goto, St Killian, St Augustine's Penhalonga, Mt Selinda, Mutambara, Nhowe High School, Murehwa High, St Albert's and St Ignatious.
Because you were a teacher and had at one time been a Catholic Seminarian, you had easy access to these places and could move without arousing the suspicion of Ian Smith's Special Branch.
So critical was your work that in 1971, ZANLA Military Commander, Josiah Tongogara, took you to Chimbi Chimbi Training Camp.
You only had the school holiday, when schools opened you had to be found at your work station.
The leaders of the struggle entrusted you with the responsibility of awakening the youths and making it clear to them that only the barrel of the gun would free the country from the yoke of colonialism.
Your work saw you recruiting the likes of Cde Perence Shiri, now Airforce Commander, among others who went on to distinguish themselves in the liberation war and independent Zimbabwe.
Sadly, you were arrested in June 1971 and detained at Khami Prison.
During your trial, The Rhodesia Herald carried the screaming headline: 'Teacher terrorist in terror trial'.
You were sentenced to 20 years in prison for 'terrorism'.
In prison you taught your colleagues various subjects.
So determined were you that your compatriots become literate that you delivered notes on tissue paper.
In independent Zimbabwe, you continued with imparting education, teaching at schools that included Seke 2 High School.
Your life was full of noble acts of charity and benevolence; it has indeed left indelible foot-prints in the sands of time.
You were a brave, honourable, just and upright man.
When the solemn military salute reverberated from the booming guns, I assure you, we all prayed and appealed to the ancestors that you forever rest in peace and receive the great reward in full.
You are no longer with us, but your memory will linger in our hearts and our thoughts will be of your sacrifice for us.
Rest in eternal peace Comrade!