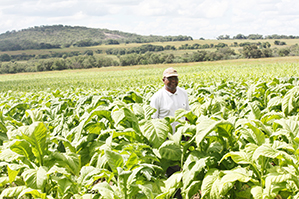 FIELDS at Tony Mumera's farm in Macheke, which in the past prided themselves like a peacock with an assortment of flowers, now have been put under maize and tobacco.
The switch from flowers to tobacco and maize has not been because the resettled farmer lacks the knowledge or willingness to continue exploring what used to be one of the lucrative ventures before the turn of the millennium.
After the Land Reform Programme when black people were allocated farms, previously 'stolen' by white settlers, efforts were made to stifle the progress of the 'new' black farmers.
Zimbabwean-grown flowers used to have a ready market in Europe with white farmers making a killing out of the trade.
However, as things stand, local farmers have since been shut out with some traditional markets citing, unashamedly, that they will only purchase flowers grown by white farmers not by black farmers.
Taking over the farm in 2005, Mumera continued growing flowers until 2011 when he realised the trade was no longer as lucrative as in the past.
"When I came here in 2005 I realised the land had thick soils and decided to do flowers," Mumera said.
"From 2005 to 2011, I grew flowers mainly the Asta Monte Casino (AMC) and other filler flowers which we sold to a company in Holland, Nova Flow, while some we sold to a South African company, Flora Link."
Following the recession in Europe, Mumera said markets in Holland crashed as the companies went bankrupt.
"The closing of most companies resulted in us relying only on the South African market," he said.
"But we faced a challenge when the market got flooded with growers from Ethiopia, Kenya and Zambia who were now also sending flowers there," he said.
Mumera said flowers were sold through an auction system and this meant they had to grow quality flowers to get favourable prices.
"During our heyday, one could get up to 40 Euro cents per stem," he said.
"However, with time we were faced with challenges that affected the quality of our flowers.
"Flowers are grown in green houses and require light and warmth which is sometimes provided by the sun, but at times we rely on electricity.
"However, with the power outages experienced countrywide, this affects the growth and the quality of the flowers."
The growth of flowers, Mumera says, is 'engineered' and the process is manipulated by light.
"A flower has to grow by three centimetres a day and this requires for it to get an extra six hours of light from that which is provided by the sun, hence we have to use electricity from 8 pm to 3 am," he said.
"In our case this was proving to be difficult as we could even go for up to four days without electricity and this negatively affected our plants."
Sadly, expressed Mumera, on the market, all flowers are graded using the same method and they do not factor in the challenges a farmer would have faced.
Increasing operational costs was another factor that forced Mumera to abandon growing flowers.
"When selling flowers, one books three to six months in advance for space in the plane transporting the flowers," he said.
"So even if you fail to produce enough flowers to fill the space booked, one still pays for the space.
"One has to send at least 27 boxes per shipment for them to break even.
"The prices of chemicals were also too high and this also affected our production levels."
The introduction of the multi-currency system in the economy, Mumera said, made it manageable as payments were done using local currency and one could pay for labour and purchase inputs.
The challenges faced in the growing of flowers did not deter Mumera who has since taken to tobacco and maize.
"With the flower venture flopping I could not let the land remain idle, so for now I am producing tobacco and maize with the hope that fortunes in the flower production sector will change," he said.
"The sector has a potential to rebound as flowers which have a huge market in Europe are best grown in Africa with its favourite weather conditions.
"Europe experiences severe winters which makes it difficult for them to produce flowers for the peak periods when flowers are in demand such as Christmas, Valentine's Day and Mother's Day.
Mumera has 30 hectares under tobacco, 10 hectares under maize and five hectares under beans.