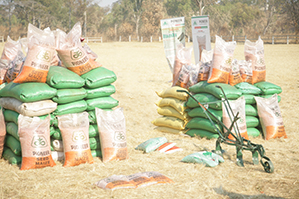 COMMUNAL farmers have called on Government to expedite the disbursement of agricultural inputs under the Presidential Well-Wishers Agricultural Input Scheme to ensure high yields and food security in rural areas.
The dispensing of maize seed and fertilisers to small-scale farmers under the scheme is expected to start end of October through the Grain Marketing Board depots and Agritex offices.
Over 1,6 million households are expected to benefit from the initiative.
Headmen in Chiweshe told The Patriot that land preparations in their communities were almost complete.
Magore Village headman Edwin Mhako said early distribution of agricultural inputs will help villagers to realise high and quality yields and help them fend for their families.
"We have been receiving input support from the Government over the past years and this has helped us to boost our farming activities," he said.
"Most of the villagers have finished tilling the land and are now waiting for the inputs. We are calling on the Government to accelerate the input distribution process so that our crops will receive adequate rains and guarantee a bumper harvest."
In the past years, due to financial problems faced by Government, there has been failure to disburse the inputs in time.
According to agricultural analysts, the 2014/2015 farming season will require at least US$1,6 billion to ensure food security.
In terms of grains, the country usually targets about two million hectares of maize, 350 000 hectares of sorghum, 180 000 hectares of millet and 30 000 hectares of sugar beans.
Headman Mhako said late distribution of inputs will delay planting of the crops a situation that may affect the expected yield as crops could fail to germinate or rot.
"We have been receiving rainfall over the past weeks and it's a sign that we should get prepared and have seed and fertiliser stocks in place," he said.
"Planting in time will ensure that crops get adequate water supplies."
Chitiyo village headman Hennery Chitiyo said there was need for Government to increase the quantity of inputs for farmers to increase their hectarage.
He said most farmers in the communal areas had the capacity to boost their yields if more inputs were availed.
"Our hope is to grow at least one hectare per family which requires 150 kilogrammes of compound D fertiliser, 100 kilogrammes of ammonium nitrate fertiliser and 10 kilogrammes of maize seed," he said.
"Currently we are receiving only 50 kilogrammes of compound D, 50 kilogrammes of ammonium nitrate and 10 kilogrammes seed maize that produce at least six to seven bags.
Munongerwa village headman Stanley Munongerwa said due to inadequate inputs communal farmers were failing to achieve their best.
He urged Government to subsidise agricultural inputs so that most farmers would afford to buy some on their own.
"Prices of farming inputs are still high and most farmers cannot afford them which makes it difficult to increase hectarage,' he said.
"Most of the communal farmers are poor and do not have a sustainable source of income to acquire inputs."
Mazowe Central legislator Tabeth Kanengoni said communal farmers should use inputs effectively to meet the intended purpose of boosting food security in the country.
"We do not want a situation whereby people just take the inputs when they know that they cannot use them properly and end up selling them," she said.
Kanengoni said government was facing financial constrains that may affect its efforts to increase funding of free agricultural inputs hand-outs.
"Government has already indicated its commitment to assist small-scale farmers for the agricultural season, but remember government has not been able to raise the amount of money that is needed," she said.
"The sanctions have continued to hurt the economy."
Meanwhile, Zimbabwe Progressive Pensioners Trust (ZIMPPET) said they have launched the agricultural input loan scheme to compliment President's efforts through the distribution of fertilisers and other inputs.
ZIMPPET chief executive officer Wellington Zunde said the programme would assist in adequately equipping pensioners who are eager to be self-sustainable.
"We understand the economic hardships that the government is going through, therefore, we want to complement the President's efforts by availing more inputs," he said.
"Our dream is to see the viability of the local agricultural sector driven by indigenous farmers."
ZIMPPET programmes officer Godknows Gutsa said beneficiaries of Presidential inputs had to effectively use them and eventually become self-sustainable.
"We do not want our farmers to depend on hand-outs but to be profitable so that we reduce the financial burden on government," he said.
"Our organisation will continue to give pensioners loans for agro-based projects and educate them to be self-sustaining."
Normal to above normal rains are expected this cropping season.
A normal season provides higher prospects for a higher harvest at national level but poor planning may hinder the success of the 2014/15 season.
The 2013/14 season was remarkably a better season, greatly enhanced by favourable climatic conditions.