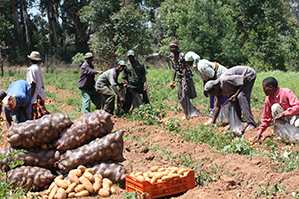 THE suspension of importation of horticultural products will boost production levels by local players whose viability was being threatened by imported products that were flooding local markets, stakeholders have said.
Government early this month suspended importation of all perishable agricultural produce cancelling all existing import permits to promote consumption of local products.
Since 2007, Zimbabwe has imported vegetables and fruits from South Africa estimated to be worth US$1 million a month, leaving local farmers with limited markets to sell their produce. 
Farmers complained that cheap imported produce flooding the local market was negatively affecting their operations.
Many retailers were neglecting local produce falsely claiming that local agricultural perishables were of poor quality compared to imports.
Zimbabwe Farmers Union (ZFU) executive director Paul Zakariya said cancellation of import licences will help to create new markets for local farmers who have been struggling to sell their produce over the past years due to stiff competition from foreign products.
"This was long overdue, since 2007 everything that we were consuming was imported including vegetables and this is not a healthy situation," he said.
"At least basic items like horticulture produce, things that we put on the table everyday, we should be able to produce them on our own. So the cancellation of import licences will promote local production."
Zakariya said local farmers have the capacity to meet demand allaying fears of shortages.
"We used to produce these crops with the same people and now we can even produce more with more land that was acquired by people through the land reform programme," he said.
"Also being in very good agro ecological regions, we have the capacity to produce and supply these products."
ZFU said there was need to put in place mechanisms to support local farmers to boost production.
"Cancellation of import licences should not come just as a ban but we need to have other supporting mechanisms," said Zakariya.
"There is need to outlay loans to these producers so that they are able to produce and cover that gap being left by imports because these are serious strategies for import substitution that we need to adopt as a country,"
"We need to convert these opportunities so that we make the most out of them,"
"So it is very important that our producers are supported, through mechanisms such as availability of credit facilities and contract farming arrangement. This will help farmers to utilise resources that they have and be able to meet the demand of fresh produce on the market," he said.
Due to increased imports in the country there was a growing misconception that local products were expensive and of poor quality crippling the economy due to low uptake of local goods.
Buy Zimbabwe business development executive Alois Burutsa said the move will boost growth of the agricultural sector.
"We have been having a lot of farm produce coming into the country and this has affected production by local farmers," he said.
"Recently we received a call from a major grower FAVCO who grows apples in the Eastern Highlands saying their business was being affected by the influx of apples from South Africa."
"For us this is a welcome development because it helps the farming community and it will hopefully help farmers to produce more realising that they have got the market to themselves,"
Burutsa said the move will help to rebuild the economy through reduction of import bill that was continuing to grow.
"We have our land, we have our people who can work on that land so why can we not produce these agricultural produce,"
"As you know agriculture plays a very important role in the entire value chain, our economy is agricultural based,"
"Therefore, it is an opportunity for local farmers to produce more and not worry about imports coming in and under cut them,"
"Also it will reduce our import bill because we are no longer importing products that can be produced locally," said Burutsa.
Andrew Chomurema a tomato farmer in Macheke area said the cancellation of import licences has brought much needed relief.
He said over the past years they have been struggling to access better markets a situation that forced them to sell produce at low prices despite the products being of high quality to avoid loses.
"We were facing a lot of competition from South African imports which most paying markets preferred," he said.
"As a result of this our business was becoming more unbearable as we could sell our tomatoes for any given price to avoid loses because they are perishables."
"As a farmer I believe the cancellation of import licences will give us an opportunity to access new markets that were once dominated by imports and realize more money that tally with the quality of our produce."
Chomurema said since the cancellation of the licences there was an increased demand of tomatoes on the market.
"Early this month I received a lot of guys from Harare who wanted to buy my tomatoes," he said.
"Even the price they were offering was a bit high, we used to sell our tomatoes around US$2.20 per box but the price has increased to about US$3.00 per box."
Another farmer from the same area who grows a variety of fresh vegetables using irrigation Tafadzwa Mugodhi said the government should maintain the position.
"Most of our vegetables were perishing at Mbare Musika due to limited markets but since the cancellation of import licences we have been able to sell all our produce without counting many loses," he said.
"If the government maintains its position on agricultural fresh produce imports, I am optimistic that hectares of growing these crops by local farmers will increase."
Mugodhi said there was need for relevant authorities to sanitise the sale of fresh produce as most farmers were being duped by middlemen at local markets.
"We are being duped by makoronyera at different market places we do not have control over our crops at the market."
Agriculture used to be the bedrock of the economy contributing about 60 percent of raw materials used in industry.
Next week look forward to Professor Sheunesu Mpepereki's instalment on harvesting soya bean especially with the challenges brought about by the late rains.