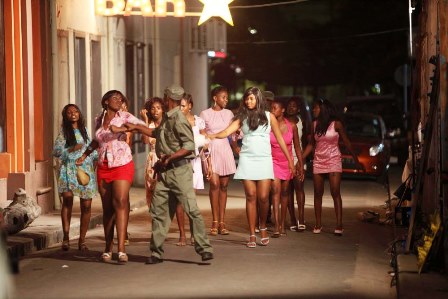 THE plight of women in post-colonial Africa has been a dominant theme in most film productions since the late '60s.
Locally produced films Neria and Yellow Card all unravel the various issues faced by women and Virgin Margarida is no exception.
Shot in Mozambique and directed by veteran film maker, Lucinio Azevedo, Virgin Margarida is an elegy poignantly reflecting the lives of real women who endured the Mozambican 're-education camps.'
The premise of the film may sound harrowing, but Virgin Margarida is a restrained and thought-provoking story told with warmth and humour.
The director's sense of pacing is also commendable in the 87-minute streamlined film that tells the story of a group of female sex workers captured by revolutionary soldiers and sent deep into the countryside to be 're-educated' under the watch of female guerrilla warriors.
The Mozambique countryside makes for a beautiful and atmospheric setting.
The events depicted unfolded in the immediate aftermath of the country's war of independence in the 1970s.
Among the 500 prostitutes taken for re-education is 14-year-old Margarida, who was in town to buy her bridal trousseau.
Because she doesn't have her identification documents, she's taken by mistake.
In the re-education centre, the revelation that Margarida is a virgin changes everything.
The other prostitutes start to worship her chastity, a condition which they deem to be rare.
Magarida is, however, forcibly 'de-creamed' by a superior male commander who wanted to have a taste of the 'rare apple'.
The rape itself shows that the struggle against women abuse in contemporary African society is still ongoing.
Azevedo's background in non-fiction filmmaking is evident through attention to detail.
The women's strength of character in the face of adversity offers scope for optimism.
A tough as nails officer-in-charge, Maria Joao is driven by idealistic notions and subjects her prisoners to torture.
'Nobly', she argues that the women in modern Mozambique had become too lazy not to realise that 'one should work to survive'.
This sees her cruelly treating the women who are forced to survive on one meagre meal after a long day of intensive labour.
Maria Joao is blinded and does not realise that she had become an agent of male superiority.
The patriarchal system had found home in her so much that she is used to mete out violence and oppression on her female counterparts without a twinge of conscience.
While efforts are to reform and transform, Maria lacks compassion but is ruthless towards the 'social renegades'.
She exhibits behaviour that does not inspire them to 'transform' but revolt.
But in spite of their suffering, members of the group take it upon themselves to look out for Margarida.
The film proves enlightening about a little-known chapter in Mozambique's recent history, while raising much broader questions about women's societal roles and female identity.
All the female characters yearn for freedom but are too timid to act until a strong-willed character, Rosa, is brought into play.
She is the only woman who throughout the film has a spirit that refuses to be broken or cowered by the bully and sadistic commander, Joao.
She challenges Joao on many fronts and even though the former is constantly at the receiving end of unimaginable punishments, she remains undaunted.
Rosa's persistence in fighting the injustices finally gets to the male-mongering Joao who then sees reason and eventually backs the women in subverting the oppressive status quo.
The film is an emotional historical account of the infamous 're-education' period in Mozambique.
The unpopular historic period remains in the hearts of many women in Mozambique to this day.