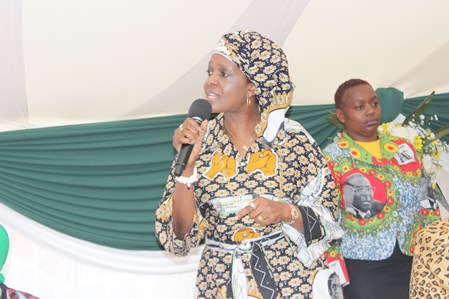 THEY came in their numbers, students from the country's tertiary institutions and cross-border traders to endorse First Lady Amai Dr Grace Mugabe at her Mazowe Children's Home on Monday and Tuesday respectively.
There was a concoction of everything during these two days.
There was obviously the politics.
There was the motherly touch.
There was the pledge of serving the country.
There was laying of the foundation for the Zimbabwe every citizen of this country desires.
Then of course there was Amai Dr Mugabe adding the touch that had eluded many politicians in the country.
Prior to her grand entrance into the country's political arena, honesty, truth and bluntness had been alien to Zimbabwe's politics.
But since entering the fray, she has brought a new face to politics in Zimbabwe.
It indeed has been a breath of fresh air from a citizenry so accustomed the vices of corruption and abuse of authority by those entrusted with serving the majority.
On Tuesday and true to form, she once again shot from the hip.
Vice-President Joice Mujuru, the First Lady said, could lose her position to a man since the National Constitution provides that President Robert Mugabe can appoint any person of his choice regardless of sex.
Amai Mugabe explained in detail the difference between the ruling ZANU PF constitution and the National Constitution in choosing his deputies.
She said while the ZANU PF constitution provides for one of the two Vice-Presidents to be a woman, the National Constitution has supreme provisions on the matter.
These provisions, Amai Mugabe said, prevailed.
"Constitution ye Party (ZANU PF) inotaura iyo kuti nenyaya yequota system, nenyaya yekuti kuitwe mainstream gender madzimai tiwanikwe tiri muzvinzvimbo zvepamusoro vakatozotara mumwe Number Two kuparty anofanirwa kunge ari mudzimai," said Amai Mugabe.
"Saka zvakanzi muhierarchy yemusangano three vanenge varipo kana paine varume two panofanirwa kunge paine mumwe mukadzi zvichidzika kudaro nema structures kuitirawo kuti madzimai vaitwe recognise vave nemapositions epamusoro muparty.
"Tikaenda kuConstitution yenyika yese inotaura kuti President vachaappointer munhu, hapana kutaurwa kuti mukadzi kana murume and it is very clear.
"Saka President vanokwanisa kuappointer Vice-President wenyika muhurumende mukadzi kana murume, its up to him."
This is why Vice-Presidents were appointed at the pleasure of the President, she said.
Amai Mugabe said it was surprising that VP Mujuru was failing to grasp this simple constitutional provision on the appointment of Vice-President in the country yet she has been in Government since 1980.
She said those who participated in the liberation struggle must demonstrate that through exemplary actions.
Their actions, she said, must not exhibit traits of those who were forced to go to war.
She urged women to work hard in order to contribute to the country's economy, saying their efforts had helped the country survive the Western-sponsored illegal economic sanctions.
On Monday, students from the country's tertiary institutions expressed displeasure on the manner Higher and Tertiary Education, Science and Technology Development Minister Dr Olivia Muchena was shunning their welfare in pursuit of factional politics.
The group which included members from the National Youth Service also called for the expulsion of Youth, Indigenisation and Economic Empowerment Minister Francis Nhema for failing to represent the interests of youths in the country.
Zimbabwe Congress of Students Union (ZICOSU) acting president, Leopold Chakanyuka said President Mugabe could not continue working with people who were undermining his authority.
Chakanyuka left the capacity crowd in a frenzy when he said youths were passing a vote of no confidence on Minister Muchena.
"We are passing a vote of no confidence in our Minister and we need her replaced as a matter of urgency," he said.
He took students and the gathering down memory lane when he reminisced the good works of former Higher and Tertiary Education Minister, the late Dr Stan Mudenge.
"During the late Dr Stan Mudenge's reign, ZICOSU had an office near his offices and it was easy to access to the Minister, but this calibre (Minister Muchena) we now have is unheard of," he said.
"Fees are being hiked every semester and in some instances, students are being barred from writing examinations, yet the minister does nothing."
Amai Mugabe promised to deliver the concerns raised by the students to President Mugabe.