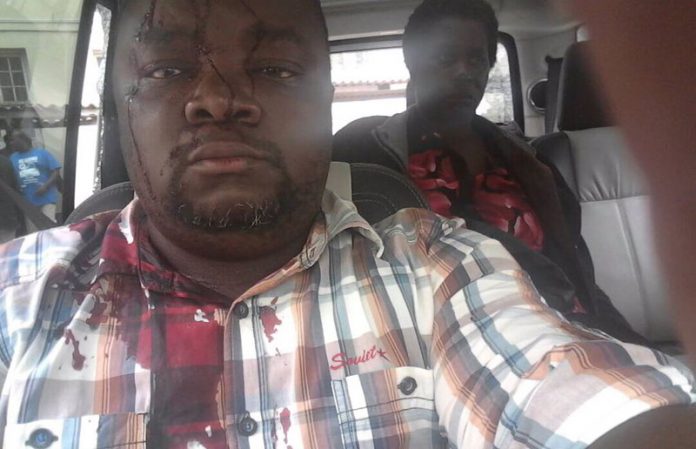 By Tafadzwa Masango
IN one of his numerous articles concerning the regime change agenda, political analyst and activist Stephen Gowans quoted Human Rights Watch (HRW) admitting that: "MDC supporters had burned homes of known ZANU PF supporters."
He also noted that a top UN human rights official, Louise Arbour, acknowledged that political violence in Zimbabwe was occurring on both sides (ZANU PF and MDC-T).
In the aftermath of the 2005 MDC split, Paul Temba Nyathi made this assessment: "Tsvangirai followers seem to be saying to themselves that they can win elections by beating people and by using the crudest methods of intimidation.
This has largely escaped the attention of the media because the big prize is still to rid the country of Mugabe."
Reports of politically motivated violence, intimidation and other democratic infractions within Zimbabwe's main opposition receive little or no coverage in the media, nor do the main human rights and civil society organisations pay them any attention.
A cursory glance at media reports and those produced by civil society or rights groups in the build up to the July election proves this.
In a recent report, which was ignored by most media houses and election monitoring groups, the Zimbabwe Peace Project (ZPP) noted incidents of violence in the opposition as it was conducting its primary elections.
Part of the report reads:
"Incidents of political violence were reported in Glen View, Glen Norah, Budiriro, Chitungwiza as well as Kambuzuma where party supporters failed to reach consensus on who would represent them, forcing some of them to engage in violence and protests.
Some of the protests which spilled to the party's headquarters ended in violence.
A Herald photographer Tawanda Mudimu who was on assignment covering the demonstrations was nearly manhandled by party youths and had to flee.
The ZPP conducts all acts of violence against journalists in the course of their duty to inform the public.
The ZPP notices that the skirmishes have been concentrated in traditional opposition strongholds particularly the high density areas in Harare.
While contradictions on the method to use have been reported elsewhere in places such as Mutare, they have not been as violent as in Harare.
ZPP is particularly disaffected because political parties continue to pay lip service when it comes to reprimanding those who perpetuate violence are known.
In a number of its monthly monitoring reports in the last few months, the ZPP has warned of the likelihood of violent conflict increasing as a result of internal party processes to select candidates to contest in the forthcoming elections (sic)."
In May, voting in Epworth Constituency was abandoned after the name of popular candidate, Zivai Mhetu, was found missing on the ballot papers in Ward Three.
As a result, his youth supporters confiscated the ballot papers and disappeared with them.
Mhetu supporters also drove around the constituency intimidating MDC-T supporters not to participate in the primary election.
His rival, Jeremiah Bamu, also attempted to destroy ballot papers after the realisation that he had only distributed 500 party membership cards as compared to Mhetu and another aspiring candidate, Ethrage Kureva, who distributed 5 000 cards.
Again, last month voting in Kambuzuma was abandoned after some party members burnt ballot papers.
This led to physical confrontation between the supporters of aspiring candidates, Max Muponda and Costa Mhande.
Early this month, MDC-T Norton District Youth Assembly chairman, Morgan Magura was accused of destroying independent candidate Temba Mliswa's campaign posters at Govans Shopping Centre in Ward Three.
Mliswa's campaign manager, Thulani Ngiriche, and some 20 other Mliswa supporters observed Magura and an accomplice tearing down their posters.
This week in Bulawayo's Ward 21, Thamsanqa Ncube, who was one of the contestants, grabbed ballot papers during the vote counting and fled with them.
He was intercepted and assaulted by some party youths.
Ncube made a report to the police at Tshabalala Police Station.
He informed the police he had been assaulted by his rival Tinevimbo Maphosa, who is the MDC Ward Six winning candidate, MDC-T National Youth Assembly secretary for elections, Kunashe Muchemwa and MDC-T provincial Youth Assembly member, Michael Mabasa.
The three appeared before West Commonage Magistrate Court on June 11 and are to appear for trial today (June 15 2018).
In Bikita, there have been cases of politically motivated violence perpetrated by MDC-T activists.
In the first incident, a ZANU PF member, James Musukutwa, of Chitadu in Ward 20, was assaulted by four MDC-T members, namely, Brilliant Musukutwa, Naison Musukutwa, Emmanuel Mukono and Machekeredzo Chireya for wearing a ZANU PF T-shirt.
The MDC-T assailants used an okapi knife, clenched fists, iron bars and logs to attack Musukutwa. He is currently admitted at Silveira Mission Hospital and a police report has been made.
In Ward 16, Bikita East Constituency, a ZANU PF supporter, Daniel Museve was assaulted by three MDC-T activists, namely Enock Makuwe, Clifford Chobondo and Raymond Kubikwa at Simon Chikohora's homestead. Daniel's offence was wearing a ZANU PF T-shirt. The assailants also accused Museve of instigating violence against them during the 2008 elections.
Museve sustained internal injuries.
In another incident, another ZANU PF member, Abiola Mazingarwenyu, was assaulted by an MDC activist, Perseverance Pakai, at Ngorima Business Centre, Ward 29 of Bikita South Constituency.
Pakai accused Mazingarwenyu of instigating violence against him in 2008, saying it was now time for payback.
Abiola sustained injuries in the right ear and a report was made at ZRP Ngorima Base. These incidents, and a lot more that have gone unreported thus far, point to escalating political violence being spearheaded by the opposition both internally and against rival parties.
Unfortunately for Zimbabwe at large, the so-called human rights watchdogs are willing to turn a blind eye in their quest for personal gain and propping up their preferred candidates who are part of this money-making scheme that involves duping Western donors.
This should serve as a clarion call to Dewa Mavhinga, among others.
Gone is the era where you would make an allegation and you are not asked to back it up because this served the 'Mugabe must go' agenda.