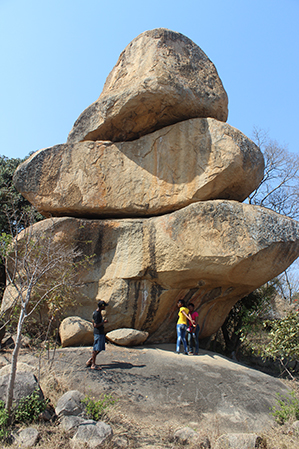 CHIREMBA Balancing Rocks, a few kilometres south-east of Harare in Epworth, are popular for their natural granite rocks which are of a symbolic nature but have not been adequately marketed to tourists.
The rocks, which have been used as a symbolic seal of the Reserve Bank of Zimbabwe and that of the Central Bank of Rhodesia, have been mistaken as artificial by many tourists.
Covering 50 acres, the balancing rocks resemble many forms, among them, an egg, flying boat, the African maps, an elephant and many other features that continue to be discovered.
From one of the balancing rocks named the Lookout Rock, one can have a clear view of Harare International Airport and many other residential areas.
Another rock depicts the African maps which tourists can easily see when they view the rocks.
The faint paintings on another rock depict the lifestyle of the local people from long ago.
The rock paintings almost resemble those found in Mswathuki in Matopos, which some centuries ago disappeared after a curator darkened them with olive oil to make them more visible.
The paintings which disappeared after 14 days of being darkened have, however, started reappearing after 30 years.
Located in Epworth, the home of over 400 herbs and shrubs, Chiremba Balancing Rocks seems to be a neglected tourist attraction which deserves more attention.
The land used to be owned by a church in that area before being passed on to the Epworth Local Board at the request of the National Museums and Monuments.
A recent tour led by Epworth House of Assembly legislator Zalerah Makari, revealed that more has to be done in ensuring the tourist attraction is given due attention.
"We are in a drive to revamp 'township tourism' to this place which is rich in history and culture and are eager to have partners coming on board to make the place more attractive," said Makari.
"We need to take better care of this tourist attraction for posterity.
"There is need for role clarification in order to have a pull-factor which attracts people to the place.
"Whatever we come up with should be sustainable and self-sustainable."
Seeing as domestic tourism is not seasonal, but perennial, there is need to put in place packages that allow locals into the area.
However, there seems to be a challenge in ensuring the locals visit the place which has previously suffered from vandalism, veld fires and lack of sufficient security, rendering it seemingly unsafe to invest in.
Lantana Camara, deforestation and littering are other challenges that threaten the place.
The surrounding and encroaching settlement, which has seen many people building their homes on the borders of a tourist attraction, also seem an eyesore.
National Museums and Monuments northern region regional director Godhi Bvocho said his organisation, which is currently the custodian of Chiremba Balancing Rocks, intends to improve on security in order to safeguard the place.
"We intend to improve on security of the area, camping facilities, since we are working on partnerships that would see the possible construction of a restaurant and hotel on site," said Bvocho.
"The place which has suffered from vandalism, veld fires and whose funding dwindled over the years was gazetted by Government in 1994 as protected land and saw an ablution block built and fencing put up by the private sector.
"No entry fees have been used to improve the infrastructure and development plans over the area were suspended when cash inflows stopped.
"Despite the place having no access to water and electricity at the moment, investors are willing to invest."
In order to improve the place, there were suggestions to lower the entry fee from the current US$3, but this move, some said, would make maintenance difficult.
Community participation and involvement through putting up an arts and crafts centre and putting up joint packages with other tourist attractions in the area have also been tabled as some of the strategies that could boost the visibility of the area.
The Deputy Minister of Tourism and Hospitality Industry, Anastancia Ndhlovu, said it is imperative for involved stakeholders to put forward consolidated efforts for seamless promotion and development of tourism.
"Vandalism of the heritage site is reflective of the community's attitude and perception of the site," she said.
"Thus it is pertinent that tourism awareness is increased.
"It is vital that our communities are aware and appreciative of tourism as a tool for sustainable economic and social development.
"For the preservation and conservation of the heritage site, it is necessary to encourage community participation.
"Currently, domestic tourism department is on the drive to promote and develop Community-Based Tourism Enterprises (CBTEs) which will enhance the promotion and development of new products."
The CBTEs are defined as projects that offer services to tourists, which are owned and/or managed by communities and generate wider community benefit.
In this regard, locals invite tourists to visit their communities with the provision of overnight accommodation.
The residents earn income as land managers, entrepreneurs, service and produce providers and employees.
This way the tourist discovers local habitats, wildlife and celebrates as well as respects traditional cultures, rituals and wisdom while the community places commercial and social value on the natural and cultural heritage thereby conserving these resources.