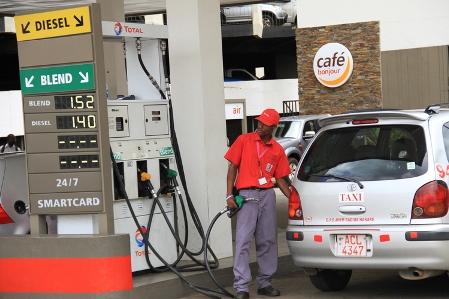 SIX months after a 60 percent drop in the international price of oil, Zimbabweans are yet to benefit from the slump.
Oil prices on the international market have fallen from US$120 per barrel in June last year to US$49 per barrel as of Monday.
In reaction to the falling international oil price, neighbouring countries, including South Africa, Botswana and Zambia, have reduced fuel pump prices, a move that has benefited motorists and given households extra dollars to consume or save. 
In Botswana, petrol decreased to P6,05 while diesel softened to P6,30.
In South Africa petrol also decreased to R11,20 per litre for inland 95 octane (R10,79 per litre for coastal) and R11,02 for 93 Octane while diesel decreased by R1,05 per litre.
Zimbabweans have, however, not benefited from this nose-dive.
This is despite Zimbabwe being one of the countries which blends unleaded petrol with ethanol, which should make prices even cheaper.
Fuel dealers in the country continue to sell fuel double the price their regional counterparts as at some service stations petrol still costs US$1,52 per litre and diesel US$1,45 per litre.
Their argument that they are cleaning out old stock seems fictional as people are aware that no dealers have at any time been holding more than six months' stock.
Pundits contend that it is just an excuse to continue making excessive profits because the same dealers have in the past been quick to raise prices in line with international increases.
The country's economic growth is being stalled by such indiscipline and unscrupulous behaviour of entrepreneurs who are bent on making excessive profits at the expense of the nation.
High fuel prices just like those of electricity trigger the cost of other goods and services as suppliers suffer high transport costs and this increases the overall cost of doing business.
This, therefore, means that fuel prices affect the whole economy.
An increase in fuel prices triggers increases across the economic spectrum.
Thus the recent ultimatum by Government for all fuel dealers to reduce prices by at least 20 cents a litre is a welcome development.
The measure is likely to bring relief to local motorists who had continued to pay higher fuel prices compared to their counterparts in the region.
Addressing journalists recently, the Minister of Energy and Power development Samuel Undenge said the current fuel prices of around US$1,52 per litre was no longer justifiable considering the global market price of oil had reached an all-time low of US$49 per barrel from US$120 per barrel last June.
Minister Undenge ordered fuel operators to reduce the prices to about $1,32 for petrol and $1.20 for diesel.
Furthermore the reduction in the fuel price should also reflect in the prices of other commodities.
However, this may not be the case in Zimbabwe as entrepreneurs lack self-discipline.
It is sad that every time entrepreneurs act only when Government gives them a directive.
This does not only apply to fuel dealers, but to all sectors of the economy.
The country recently saw a reduction in mobile phone tariffs after Government through Postal and Telecommunications Regulatory Authority of Zimbabwe (POTRAZ) ordered all telecommunication companies to slash voice call tariffs by more than 30 percent to US15 cents per minute from US23 cents per minute while SMS costs US5 cents from US9 cents in line with regional tariffs.
It is quite unfortunate that the hyper-inflationary era cultivated a tendency to profiteer.
The country has since dollarisation witnessed a tendency by local entrepreneurs to keep charging high prices for goods and services even when there has been a reduction of prices in their source markets.
There is need to deal with the mind-set that has clogged many Zimbabweans who now believe in ridiculous profits which are often unjustifiable.