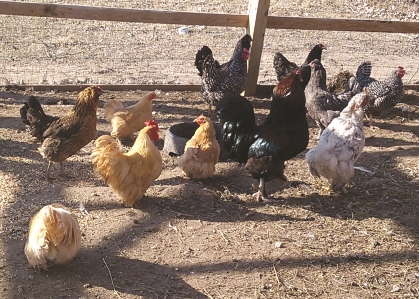 IN line with the Zimbabwe Agenda for Sustainable Socio-Economic Transformation (Zim-ASSET) on unlocking the value of natural resources under the Value Addition and Beneficiation Cluster, the Lupane State University in Matabeleland North Province is working with rural farmers in a project to establish a gene bank for various types of indigenous chickens in an effort to preserve different breeds of indigenous chickens in Zimbabwe.
The value addition and beneficiation strategy is anchored on the private sector and communities themselves taking a key role in the execution of the activities around their communities.
According to the University's Senior Research Technicians, the gene bank is meant to preserve all known breeds of indigenous chickens in Matabeleland North Province. The chickens are collected from the farmers, tagged and bred at the University and later returned to the famers after they have reproduced.
The University's Research teams were visiting communal famers where they collect indigenous chickens and eggs of various types and study their breeding patterns as well as cross breed the chickens to come up with more meatier and disease resistant breeds of indigenous chickens.
The farmers are also taught on the general upkeep and to improve and maximise the production of their chickens in the wake of emerging markets of their products, as well as planning their production to meet high seasonal demand such as on Christmas and other festive holidays.
The development of village chicken production can be a sustainable way of helping to meet the welfare needs of rural populations and raise their living standards if the lack of information on research to characterise, understand and develop the village chicken production systems in Zimbabwe is demystified.
Village chicken production in Zimbabwe remains extensive and is dominated by indigenous chickens that exhibit remarkable adaptation to local environments. The multitude functions of village chickens, which include the provision of high quality protein meat and eggs, cash through sales and socio-cultural roles, cannot be underestimated.
Although these chickens are important in providing food and income, their monetary contribution to household economy is viewed as low. The low returns of village chicken production in rural areas have been attributed to insufficient experimental case studies, the use of conventional and sometimes inappropriate economic models to measure production and financial returns.
Despite the fact that village chickens are adapted to harsh environmental stresses prevalent in most rural areas, their contribution to rural economies is low. This is as a result of limited and reliable information on their performance levels, constraints and opportunities of these chickens in Zimbabwe.
Researchers have also noted that in Zimbabwe and other sub-Saharan African countries, 70 percent of the total chicken population is reared under the extensive system of production.
The rural poultry population in Africa accounts for more than 60 percent of the total national poultry population, which has been accorded an asset value of US$5,750 million per annum. Over 70 percent of the poultry products and 20 percent of animal protein intake in most African countries come from rural poultry sector.