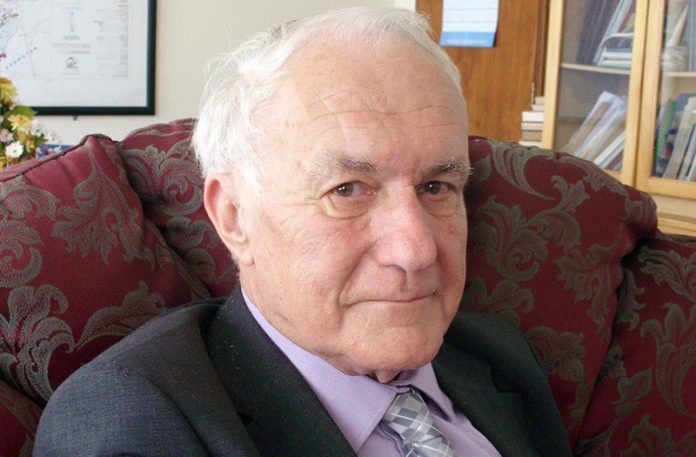 ON Sunday November 26 2017, the nation woke up to the sad news that Health Advisor to the President and Cabinet and former Minister of Health, Dr Timothy Stamps, had died.
He was 81.
And on Wednesday, he was aptly declared a National Hero.
The Welsh-born Dr Stamps moved to Zimbabwe (then Rhodesia) in 1968 and worked as deputy medical officer for the municipality of Salisbury (now Harare).
He became the chief medical officer in 1970, but was ousted in 1974 by Ian Smith's Government, which objected to his efforts to improve healthcare for blacks.
In 1974 he was dismissed for pushing for healthcare access for the black community.
At that time, whites comprised no more than 15 percent of the population of Salisbury but at least 60 percent of municipal spending on social services in the city was directed towards them.
After his dismissal, Dr Stamps worked as a doctor in a number of community projects, while becoming increasingly interested in development and political activities.
He became Chairman of the 'Freedom from Hunger' campaign (a UN-sponsored organisation) in Rhodesia.
In May 1976, he was elected to Salisbury City Council.
At the time of Zimbabwe's independence, an insurance funded healthcare system provided a first world provision for most whites.
By contrast, most blacks enjoyed only the most basic of medical services.
The only access to healthcare for blacks in rural areas was through mission station clinics or clinics provided by white farmers for workers and their families.
In the early-1980s, Dr Stamps was active in raising finance from overseas sources (Government, NGOs and international organisations) to fund the construction of clinics and community hospitals in rural areas.
The Zimbabwean Government also sought to expand healthcare facilities and Dr Stamps worked closely with the Ministry of Health on numerous projects.
One thing Dr Stamps found with these early projects was that it was less difficult to raise funds to cover the capital construction cost of a project than it was to cover its continuing revenue costs.
The peoples' doctor took an interest in wider social and economic problems facing Zimbabwe.
The land tenure system which had been installed during the existence of Rhodesia had resulted in a situation in which most of the farming land in the country was either individually-titled and white-owned, or collectively-owned for use by African tribes.
Both of these forms of tenure presented problems that needed to be urgently addressed.
Although most Zimbabweans agreed on the need for reform in general terms, conservative elements (including both white farmers and African tribal chiefs) would put up stubborn resistance to specific proposals for reform.
Dr Stamps sought to develop a new model for land ownership and usage.
In 1982, he acquired a formerly white-owned dairy farm for development as a co-operative which settled 2 000 people.
Dr Stamps said Vuti Farm became self-funding after eight years.
He became a ZANU PF Member of Parliament at the 1985 general election and in 1986 was appointed Minister of Health and Child Welfare, a position he held until 2002.
During his early years as a Minister, he promoted the development of community healthcare using the slogan 'Health for All by the Year 2000'.
He oversaw a substantial expansion of the Zimbabwean healthcare and public health systems in the late-1980s and early-1990s.
This expansion attracted a great deal of favourable attention both at home and abroad.
The Zimbabwe experience was often held up as an example for other developing countries
Dr Stamps also drew attention to 'Project Coast', the name given to chemical and biological warfare programmes run by South Africa in the 1970s and 1980s.
Project Coast included attempts to develop genetically engineered diseases and toxins that would affect blacks more than whites.
Dr Stamps' suggestion that various epidemics in Rhodesia in the 1970s (notably, an anthrax epidemic in 1978) may have been the result of a biological attack was widely disbelieved.
A Southern African Research and Documentation Centre Report has claimed an unnamed former senior member of the Rhodesian Security Forces and Colonel Lionel Dyke, said anthrax and cholera spores (supplied by the South African Defence Force) were deliberately spread in the Tribal Trust Lands during the closing stages of the civil war.
Dr Stamps was part of the ZANU PF campaign team in the 2000 election and was returned to the House of Assembly as a non-constituency MP.
In late 2001, he suffered a stroke.
He was replaced as Health Minister by his deputy, Dr David Parirenyatwa, in August 2002.
After leaving the Government, Dr Stamps acted as advisor on health matters to the Office of the President and Cabinet.
In July 2002, Dr Stamps was one of 92 Zimbabweans subject to EU sanctions intended to express disapproval of various Zimbabwe Government policies.
Dr Stamps was banned from the EU and access to assets he owned in the EU was frozen.
In 2004 Dr Stamps founded the Dr Timothy Stamps Trust for people living with chronic conditions after being touched by their plight.
The foundation also helps to ease the burden of non-communicable diseases in the country.
He was subsequently removed from the sanctions list in 2015.
Dr Stamps is survived by his wife, Cindy, six children and eight grandchildren.
May his soul rest in peace!
Go well Zimbabwe's medical hero!