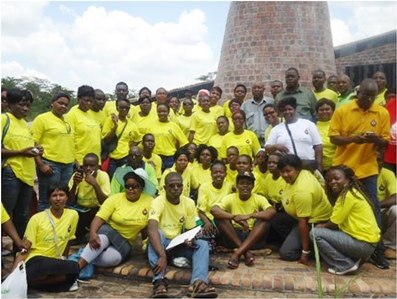 THE route down memory lane can be fascinating or dreadful, but whatever it may be, it is vital in the shaping of a person's future.
On Saturday, Zimbabwe celebrates 34 years of freedom from white oppression and supremacy.
Revisiting the experiences that led to the brutal war that liberated the country from Rhodesian power is crucial at this time of the year when Zimbabweans commemorate the day freedom was bestowed on the country.
Belvedere Teachers Technical College (BTTC) students went on this courageous journey ahead of the Independence celebrations .
Starting off with a march from BTTC to the Heroes Acre, the students could only imagine some of the horrifying experiences that Zimbabwe's war heroes had to go through in their fight for the emancipation of the country.
This was just the first phase of their walk down memory lane.
The highly anticipated phase was that of travelling to Chikumbi Freedom Camp in Zambia.
The visit to Zambia made real that which they had only imagined.
Although the students travelled comfortably in one of the college's luxurious buses, sad images of how Zimbabwean heroes lost their lives made the journey from Zambia a sad one.
Zimbabwean Ambassador to Zambia, Lovemore Mazemo commended the initiative by BTTC as a move that will positively mould young people into great leaders that will defend the country's sovereignty.
In an interview with The Patriot, BTTC principal Cde Patrick Chinhoro said it was critical for young people to have an appreciation of where the country came from.
"Students and young people in general ought to know what happened in Zambia, Mozambique, Tanzania and other places where liberation fighters were trained for the war that brought the freedom we now celebrate," he said.
"Kana tichiti, nyika iyi yakauya neropa, vechidiki vanenge vachifunga kuti mafunnies.
"Blood was spilt, people died and the worst thing is that young people are not aware of this fact.
"Ndosaka tati vamboenda vambonoudzwa zvatakaona kuhondo."
Cde Chinhoro said the objective of the trip to Zambia was achieved since the students came back with a strong appreciation of the meaning of independence.
He said Zimbabweans must jealously guard their freedom and God-given resources.
"Young people should understand the need to protect our country from Western imperialists whose aim lies not far from the interest of the devil himself," he said.
Cde Chinhoro said more educational trips would be facilitated for students to increase an appreciation of the country's liberation struggle.