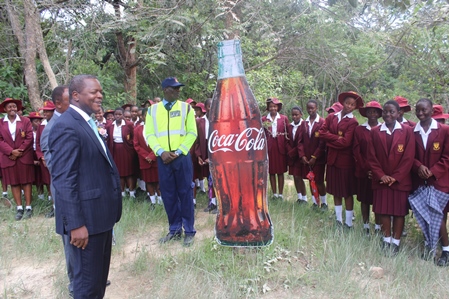 ON Monday the Coca Cola Company under the Nathan Kalumbu legacy programme drilled boreholes at two schools in Marondera as part of their five-year programme to elevate water challenges.
The programme launched in 2014 was dubbed Replenish Africa initiative (RAIN) is to run until 2020 to support safe water access and sanitation programmes this week benefitted Waddilove and Goromonzi High schools.
"Over the past five years, in conjunction with our partners, we have invested over US$750 000 in school and community water access projects across Masvingo, Manicaland and Mashonaland East provinces," Coca Cola Zimbabwe country manager, Honest Marandu said at the ground breaking ceremony.
"We plan to provide over 13 800 people with access to safe, clean water in 35 communities and schools."
The RAIN initiative at Waddilove and Goromonzi High was spearheaded by former student, Nathan Kalumbu, who is also president of Coca Cola's Euro-Asia and Africa division.
The beverage company, in collaboration with Plan Zimbabwe a non-governmental organisation (NGO) sponsored two boreholes expected to solve water problems faced by the schools.
The donation included drilling of boreholes, installation of tanks, sanitation facilities for girls new piping and reticulation systems.
At Goromonzi, water from the boreholes is expected to support livestock and crop production which are critical to supplementing the schools budget.
The borehole is also expected to boost the schools' tobacco farming project.
"Today's groundbreaking is an important step in a programme that has been designed to help improve water access, sanitation and hygiene in five schools throughout Zimbabwe," said Kalumbu during the ground breaking ceremony.
A former student at both Waddilove and Goromonzi, Kalumbu expressed gratitude to the schools for nurturing him.
Water and sanitation issues have become a priority as Government works towards averting diseases wrought by lack of water.
Government has partnered different organisations to ensure adequate provision of clean water.
According to the World Health Organisation (WHO), 2,5 billion people lack access to improved sanitation.
And 748 million people lack access to improved drinking-water and it is estimated that 1,8 billion people use a source of drinking-water that is faecally contaminated.
The director of epidemiology and disease control in the Ministry of Health and Child Welfare, Dr Portia Manangazira, said that although we have been cholera free for the last two years there are still water borne threats like common diarrhoea, typhoid and dysentery still remain a threat in communities.
"Last year we had a report of a boarding school in Manicaland that had a typhoid outbreak because the students and teachers had to fetch water from an open stream which they shared with animals," Dr manangazira said.
According to the Ministry of Health and Child Care, a number of schools have no access to safe and protected water facilities.
Many schools in the rural areas have to trek two or more kilometers in search of water.
Safe and sufficient drinking-water, along with adequate sanitation and hygiene have implications across all Millennium Development Goals (MDGs) – from eradicating poverty and hunger, reducing child mortality, improving maternal health, combating infectious diseases, to ensuring environmental sustainability.
The overall message was clear in Marondera and it was that only Zimbabweans can bring real change to the country no matter where they go.