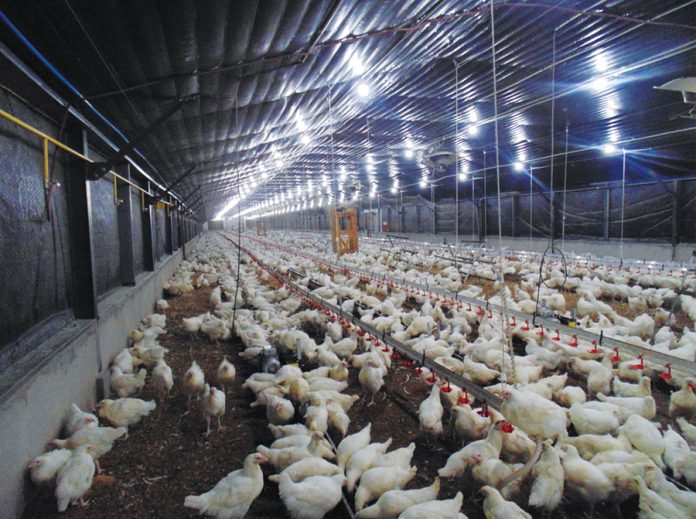 LAST year, in May, the poultry sector suffered a major setback following an outbreak of avian flu which resulted in about 7 000 birds killed and over
142 000 birds de-populated as a quarantine measure to avoid further spread of the highly pathogenic outbreak.
Avian flu is a virus which occurs naturally among wild aquatic birds worldwide and can infect domestic poultry and other bird and animal species.
Avian flu viruses do not normally infect humans, but sporadic human infections with avian flu viruses have occurred.
In Zimbabwe, the bird flu was first detected at Irvine's Farm, one of the country's largest producers of poultry products.
The farm produces more than 1,5 million chicks per week.
The disease was also detected in some parts of South Africa, mostly Mpumalanga and the Free State.
As a result, Government banned imports of poultry products from South Africa.
The outbreak was contained locally.
According to the Ministry of Lands, Agriculture and Rural Resettlement the poultry sub-sector took a dip.
"Production of day-old broiler chicks decreased by eight percent from 75 million in 2016 to 69 million in 2017," said Minister Perrence Shiri.
"Similarly, total broiler meat production dropped by 10 percent from 117,9 metric tonnes in 2016 to 106 metric tonnes in 2017.
"Table egg production decreased by 24 percent from 22,3 million dozens in 2016 to 17 million dozens in 2017 in the large scale sector while in the small scale sector, table egg production decreased by 37 percent from 33 million dozen eggs in 2016 to 20,9 million dozens in 2017."
Minister Shiri said efforts were being made to revive the poultry sector.
"We seek to revive the poultry sector and recover from this negative impact of the A1 influenza and this includes providing adequate and affordable stockfeed to the sector," he said.
As efforts continue to be made to revive the sector, experts have called on producers with small stock such as goats and poultry to ensure they protect their flock from diseases.
Government has, in the past seasons, through the Veterinary Department, helped farmers vaccinate livestock for notifiable diseases such as anthrax, Newcastle, rabies as well as foot and mouth.
Zimbabwe Farmers Union livestock expert Lloyd Mataya said poultry producers should take precaution and avoid the spread of diseases.
"Important factors that should be addressed to ensure that one has a healthy flock of chickens are management and environment," he said.
"When chickens are healthy, they eat less food and produce more meat and eggs.
"They are less trouble to look after and less money is spent on medical costs."
Mataya said diseases spread rapidly among chickens because they are usually kept in tight spaces.
"They (chickens) also share the same food and water bowls, which can spread disease and infections from sick to healthy chickens," he said.
Newcastle disease is probably the most common disease for poultry farmers around the world.
This is a production disease that causes a large number of deaths in chickens and huge losses to farmers and the industry.
Because there is no treatment and the disease spreads so quickly, infected chickens should be slaughtered immediately.
Mataya encouraged farmers to adhere to vaccination programmes.
"With the help from local veterinary officers, farmers should follow stipulated vaccination programmes to protect their birds," he said.
"Farmers should be educated that vaccination is not only important during the rainy season.
"With the help from local veterinary officers, farmers should follow stipulated vaccination programmes to protect their birds," he said.
The single most important factor in keeping poultry healthy is maintaining good hygiene, Mataya said.
"Healthy parents and hygienic hatchery conditions contribute greatly to disease-free chicks," he said.
"Good hygiene standards will reduce disease challenge.
"Farm sanitation does not just mean the choice of the right disinfectant.
"The key to farm sanitation is effective cleaning."
Experts contend farmers should adopt bio-security measures to protect their flock.
Bio-security is a set of preventive measures designed to reduce the risk of disease spreading from one poultry facility to another.