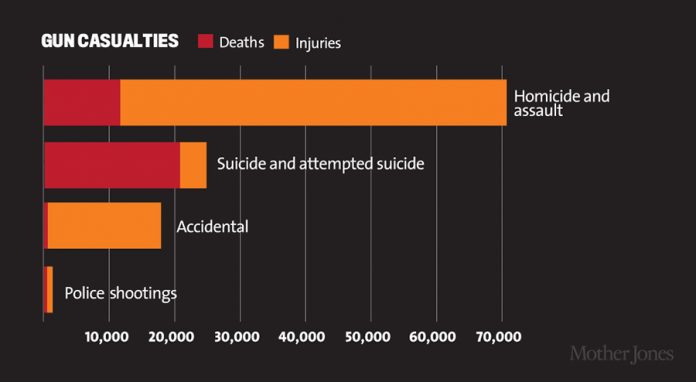 GUN violence in the US has become a national security emergency.
This year, there have been at least 32 fatal shootings, with three or more victims in the US.
In just the past few weeks, at least 30 people lost their lives and many more were wounded across four separate mass shooting incidents.
Two key incidents were in Dayton, Ohio, where nine people were killed and 27 others were wounded after a gunman wearing a mask and body armour opened fire in a busy entertainment district; and in El Paso,Texas, where a white supremacist killed 20 people while 26 others were wounded in a shooting that targeted shoppers in a Walmart store.
No other country has even half the number of gun deaths as the US and, to a nearly insurmountable degree, none come close to the number of firearms circulating and flowing within our borders.
The awful truth is that since 9/11, far more Americans have been killed by domestic terrorists and white supremacists in their many grotesque forms, as have been killed by foreign terrorists. As a result, all around the US, public spaces, to include places of worship, people are now living in fear.
For people of colour, it is double the fear and threat as those who are supposed to serve and protect you have a greater chance of killing you before the white supremacists and the plain crazies.
The US is one of the few countries in which the right to bear arms is constitutionally protected. However, unlike other countries where there are restrictions, in the US, many Americans have easy access to firearms.
America's first problem is it that of weak gun laws.
Unlike other developed nations that at least request one-or-more background checks in addition to extra requirements to get a gun, a background check is not an absolute requirement in the US.
Put simply, few barriers exist to getting a gun in the US.
The second challenge is that the US has a large supply of guns, far more than any other developed nation.
Democrats have been discussing the same ideas on guns for 25 years, but gun control policies don't confront the core issue — the US has more guns than any developed country.
Data compiled by the University of Washington's Institute for Health Metrics and Evaluation for 2016 shows that the US ranked second in the total number of firearm-related deaths — only Brazil had more.
Rounding out the top six were Mexico, Venezuela, Colombia, and Guatemala, all of which have been plagued by drug and gang-related violence or serious political instability.
The US ranks within the 20 countries with the highest rates of gun-related deaths; with 10,6 deaths per 100 000 citizens, joining El Salvador, which is one of the world's most violent places, and Afghanistan, which the Global Peace Index named 2019s least peaceful country.
While the US is not engaged in active conflict on its own soil, the type of gun violence that causes so much angst and gets so much attention in the US — mass shootings in public places — resembles violent conflict in war zones and failed states, as does the response to it.
The Gun Violence Archive is an online archive of gun violence incidents collected from over 6 500 law enforcement, media, Government and commercial sources daily in an effort to provide near-real time data about the results of gun violence.
It is a not-for-profit corporation formed in 2013 to provide online public access to accurate information about gun-related violence in the US.
Below are its statistics of gun violence recorded from January 1 2019 to August 6 2019.
These figures do not include suicides using guns.
Gun violence 2019
Total Number of incidents 33 316
Number of injuries 117 501
Number of children (age 0-11)
Number of teens (age 12-17)
Officer- involved incidents
Officer shot or killed 2 185
Subject-suspect shot/killed 21 208
Unintentional shooting 2 945
* Gun violence and crime incidents are collected/validated from 6 500 sources daily – incidents and their source data are found at the gunviolencearchive.org website.
The effects of gun violence extend far beyond these casualties—gun violence shapes the lives of millions of Americans who witness it, know someone who was shot or live in fear of the next shooting.
Instead of President Donald Trump owning up that his racist tirades and bigotry are linked to the latest mass shooting in El Paso, he once again chose to pass on the blame.
In his first public remarks on the pair of shootings in El Paso, Texas, and Dayton, Ohio, President Trump blamed 'the glorification of violence' in a speech that identified video games, the internet and mental illness – but not guns – as the cause of the slaughter.
Glaringly missing from the President's remarks was any mention of new restrictions on guns.
President Trump said: "Mental illness and hatred pulls the trigger, not the gun."
He further revived the widely debunked theory that video games were a factor in mass shootings; condemning, "…the gruesome and grisly video games that are now commonplace…It is too easy today for troubled youth to surround themselves with a culture that celebrates violence…We must stop or substantially reduce this, and it has to begin immediately."
Pope Francis, who has in the past criticised the gun manufacturing industry, condemned attacks on 'defenseless people' in a latest spate of gun violence in the US.