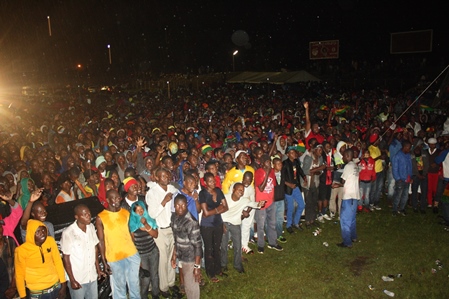 THIS year's 21st February Movement gala which was held at Gwanzura Stadium in Highfield, Harare, last week saw new acts from the dancehall genre.
The event was held under the theme 'Zim-ASSET Growing the Economy for Youth Empowerment'.
To spice up this year's gala, ZANU PF Harare Youth League and Chipaz Promotions' Partson Chimboza as organisers, introduced acts from upcoming dancehall musicians to perform at the gala.
Chimboza, one of the biggest music promoters in the country said dancehall has become popular in the music circles.
"A national event should cater for all music genres, especially one that is popular with revellers and currently its dancehall," said Chimboza.
"Therefore, we saw it fit to include a number of dancehall artistes at the event."
The young and talented dancehall musicians left thousands of revellers begging for more at Gwanzura Stadium.
Although there were a number of renowned artistes who also performed at the gala, dancehall was the revellers' favourite.
"It seems many youths interested in joining music are preferring dancehall hence we empowered them by giving them a chance to perform at the gala," Chimboza said.
The thousands of people who thronged Gwanzura Stadium danced and sang along to songs by some of the upcoming artistes.
Chanter Kelvin Kusikwenyu popularly known as 'Killer T' stole the limelight with his songs such as 'Suspects', 'Tirikumhanya' and 'Makarova Gunners'.
His performance did not only leave many begging for more, but also highlighted the talent existing among upcoming artistes.
For the 'Mawaya waya' hit maker, Shinsoman, Kinah and Dadza D, it was their first time performing at a gala, but they delivered a splendid performance.
Veterans in the dancehall genre, King Shady, Sniper Storm and Winky D also impressed as people sanG along.
Winky D utilised his chance and delivered tracks such as 'Takaipa Takaipa', 'Messi we raggae' and 'Mafirakureva'.
Sandra Ndebele did not disappoint either, as she invited eager fans to join her on stage, and as expected, Jah Prayzah and crew did wonders with their energetic performance.
As for Leonard Zhakata, he took fans down memory lane as people sang along to his popular track 'Mugove'.
Some of the artistes who performed at the 21st February gala include Peter Moyo, First Farai, Cde Chinx, Pah Chihera, Sulumani Chimbetu and Mbare Chimurenga Choir among others.
It was a gala with a difference.