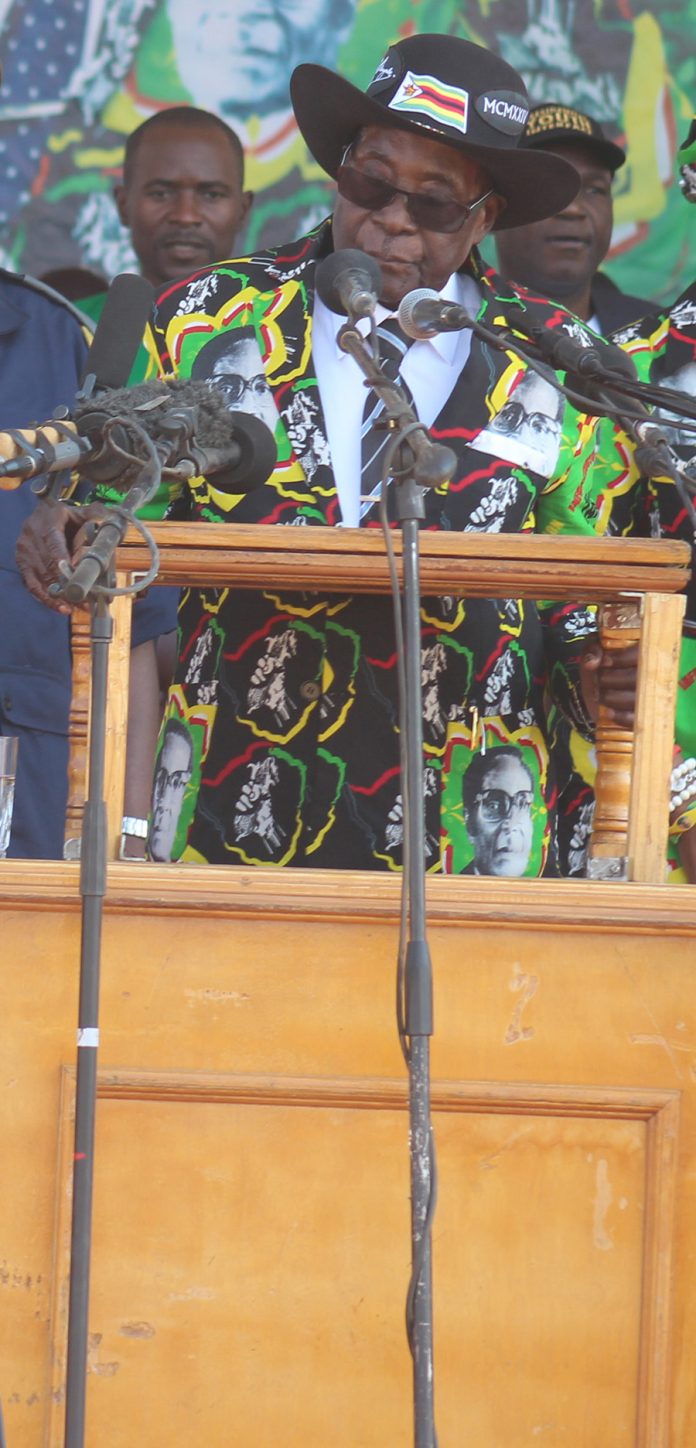 THERE was something unique about the seventh ZANU PF Presidential Youth Interface Rally held at an open space behind Mkoba Teachers College in Gweru last week.
It was sort of a homecoming for both President Robert Mugabe and Amai Dr Grace Mugabe, among others.
They both have bitter-sweet memories of this place called Midlands Province.
President Mugabe, in particular, has fond memories of his heyday as a teacher at Driefontein and Mambo Secondary School.
But then it was his stay in the Midlands province as a prisoner that touched the estimated 100 000 people who thronged Mkoba.
Said President Mugabe: "You see, Gweru is not new to me.
I came here also in another form as a prisoner at Wha Wha prison where I spent many years before I went to Lusaka and then Lancaster house in 1979."
But then President Mugabe's incarceration at Wha Wha shows the extent Rhodies went to in order to suppress the revolution in the country.
Some leaders who were once incarcerated at Wha Wha include Reuben Mupasimarinda, Jethro Dauramanzi, Denga Hunda, Pilemon Bvunzawabaya, Joshua Nkomo, Cephas Msipa and Jane Ngwenya, among others.
The whites were determined to crush the liberation struggle by isolating leaders from the povo.
It was a strategy they used all over – Khami, Sikhombela, Wha Wha and Gonarezhou, among other centres, come to mind.
But Rhodies also used another strategy to separate the masses from freedom fighters — by establishing what they called 'Keeps' or concentration camps.
But back to Gweru which was called Gwelo back then.
This is the place ZANU held its first Congress in May 1964 in Mkoba Township.
This is the place where it was decided that the only way to dislodge white colonial rule was through the barrel of gun.
And that famous speech by the late Cde Eddison Zvobgo at the Gweru Congress will forever resonate in the minds of all revolutionaries. Said Cde Zvobgo back then: "Colonialism is aggression, aggression on a people and that aggression is violence, violence unleashed on a people and ZANU must therefore, abandon peaceful methods and embark on an open policy of violence."
According to Cde Zvobgo's brother Chengetai in the book The Struggle for Zimbabwe 1935 – 2004 Eddison J.M. Zvobgo, this clarion call landed Cde Zvobgo in trouble with the white authorities.
He was arrested and jailed for 12 months before being arrested on his release on July 11 1965.
He was then detained for the next six years without charge.
So Cde Zvobgo and other numerous freedom fighters got in serious trouble after the Gweru Congress and perhaps it explains why decades later, the same ZANU PF constructed its first multi-purpose conference centre in Gweru.
And it is the same conference centre where ZANU PF successfully held its 13th Annual National People's Conference in 2012.
So ZANU's connection with Gweru will forever remain entrenched in the minds of Zimbabweans.
It is a cemented history – a history the current generation of youths and all Zimbabweans must be cognisant of.
At the centre of this city of progress is an inescapable structure – a four-faced clock with Westminster Chimes and clock-tower, erected by one Jeannie M. Boggie in the then Main Street to the memory of her husband, an 1894 Pioneer of Rhodesia.
Boggie's racist book First Steps in Civilising Rhodesia is fraught with images of this tower.
A picture of the panel on the clock tower in Boggie's book taken by one C.M. Warren reads: "To the heroic Pioneer women, men and little children who opened up Southern Rhodesia 1859 to 1896.
This panel is affectionately dedicated by Jeannie M. Boggie – 1937."
But in Boggie's book is a statement that black people must take note of in order to understand the importance of not only documenting our history, but taking pride in it too.
"The late Sir Charles Coghlan once remarked at a dinner given to the Pioneers, that in years to come, the fame of the Pioneers would be equal to that of the Pilgrim Fathers of America; and that their descendants would have the same high pride in their ancestry."
Indeed, to date, white people take pride in their ancestry.
To date, white people celebrate their heroes and heroines.
They still flock to Zimbabwe from all over the world to visit shrines of their departed 'pioneers' despite the fact that the same so-called 'pioneers' were robbers who totally disregarded blacks, treating them like animals yet they were/are the original owners of the land called Zimbabwe.
The thousands of youths President Mugabe is interfacing with throughout the country's 10 provinces must know this evil chapter of history.
By knowing this, they will appreciate the ultimate sacrifices of their elders in oder for Zimbabwe to be independent.
Yes, youths in Zimbabwe must take pride in their ancestry.
They must take pride in their history, in their living and fallen heroes.
They must, with relevant authorities, be at the forefront in spearheading the construction of monuments and statues celebrating Zimbabwe.
White people did it with ease in Rhodesia, a country they had brutally stolen.
What then can stop Zimbabweans from doing the same in their own country – a country they fought tooth and nail for?
So with the growing influence of youths as the country heads towards the 2018 general elections, youths must be conscientised on what it took for Zimbabwe to be free and what it must take for the country to remain a sovereign state.
They (youths) must all be encouraged to register to vote and to vote with history in mind.
The onus therefore is on elders to ensure that their descendants are on the right track.
And come 2018 elections, results must show that the country's youths are not a lost generation, that they are not nonentities but a people with a great identity and heritage.