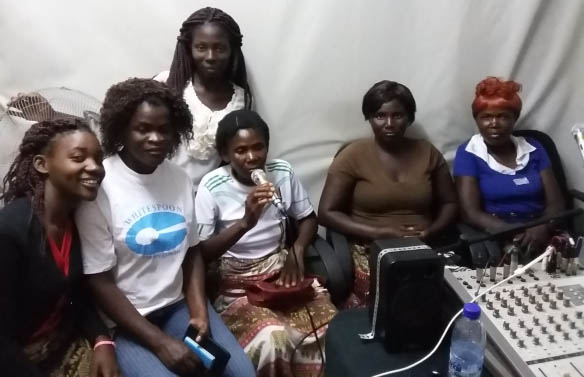 RECENT editions of The Patriot have ruffled feathers of those in the arts sector who have become willing tools of the regime change agenda.
Apparently some of them willfully engaged the regime change proponents for monetary 'gains'.
The so-called 'creative' artistes and writers of anti-Government literature have accused the publication of taking away 'bread' from their mouths.
This writer has received numerous threats from artistes and groups whose tours or contracts have been cancelled as some of the Western donors re-assess sponsorship in light of the exposés.
The sponsors have accused some of the artistes of leaking information to this publication.
However, the regime change architects are not letting up and have gone on to recruit youths in the Matabeleland provinces in a programme to collate 'crucial' information.
Under the programme, which they have dubbed 'Citizen Journalism', youths from rural and urban areas are to gather 'grievances' in their communities and channel them to different countries seeking to destabilise Zimbabwe.
This has seen the introduction of social media in the rural areas.
In the past, social media was only confined to urban areas but as part of the regime change agenda, they have scaled up activities and are training youths in rural Zimbabwe to adopt social media platforms such as facebook, whatsapp and twitter
In rural areas such as Gokwe, Lupane, Dete, parts of Hwange and Binga, youths are being given and receiving training in the use of state-of-the-art cameras, laptops and smartphones to use in the dissemination of information.
Radio receivers have also been given to selected individuals.
This regime change project has also been highly visible in Matabeleland South and areas near the border with Botswana.
Notable projects that have been in operation for the past decade and have scaled-up activities in engaging youths are in Matabeleland North.
In Binga, there are the Mulonga Net and the Tonga Online projects which have produced 'opposition' leadership.
These projects are targeting the BaTonga youths; training them on how to use computers and report on 'underdevelopment' and 'marginalisation' of the BaTonga people.
Remember in 2011, the founder and artistic director of the Harare International Festival of the Arts (HIFA), Manuel Bagorro, and a number of so-called artistes from Zimbabwe were sponsored by an American NGO, Casals and Associates, to study social media in Serbia.
The US Government's Office for Transitional Initiatives (OTI) through Casals and Associates, one of the agents through which USAID funds regime change projects, released funds to Bagorro who took recruits to Serbia to give them training in the 'effective use of social media for transformation'.
Since then, attempts to undermine the authority of the Government using social media have been intensified.
According to a recruit who spoke on condition of anonymity, recruiters under this so-called citizen journalism training are informing village elders in Gokwe, Lupane, Dete, parts of Hwange and Binga that the projects have 'Government blessings'.
"We are being told not to worry and that we are not doing anything wrong as the 'projects' have the blessings of Government and are meant to inform other members of the community about the coming elections and other developmental projects that are taking place," said the recruit in Bulawayo who refused to be named.
"But they (recruiters) are not interested in development, they want us to report on 'negatives' and send out the message that we are being marginalised.
"We are being paid to bring negative stories, especially those that state that the people of Matabeleland are being 'neglected'. Stories about the success of the Land Reform Programmes in the provinces are not wanted.
"We have been told that going forward, until the elections, these are the only stories that will be entertained."
In the past, the West used pirate radio station, Radio Dialogue, to push its regime change agenda.
However, after ZANU PF's massive electoral victory, the West was reluctant to sponsor tools that it regarded as a failure in implementing its agenda.
The radio station eventually hit hard times and closed shop.
Radio Dialogue, at its peak, claimed to: "Strive to ensure that the people of Bulawayo hear the voices, not only of the rich and the powerful, but also of the women who sell tomatoes on street corners.
Radio Dialogue is a community radio station for the entire Bulawayo community, transmitting the voices of the old and young, different language groups, ethnic groups and those of different religious affiliations.
We do this in an effort to enhance community relations in Bulawayo, and to promote understanding and tolerance between those of differing backgrounds, beliefs and interests.
We believe that oppressive media laws and harassment of journalists will not end until there is a change of Government."
In March 2013, Radio Dialogue production manager Zenzele Ndebele, was arrested for smuggling shortwave radio receivers into the country.
When the police raided Radio Dialogue offices, then situated at the Ingwe Studios in Bulawayo, they confiscated 180 solar-powered radio receivers.
He was charged for contravening Section 182 of the Customs and Excise Act.
The equipment was being used to communicate hate speech ahead of the 2013 general elections.
Radio Dialogue was also involved in packaging radio programmes on tapes, as well as CDs and distributing them to commuter buses.
The CDs were called 'Topical Taxi Tunes' and carried programmes which talked about how Government was 'neglecting' the people of Matabeleland.
There is definitely a change of tack by regime change proponents as we head towards the 2018 polls.
The grassroots have become their new target and they intend to use familiar opinion leaders in these areas to corrupt the masses.