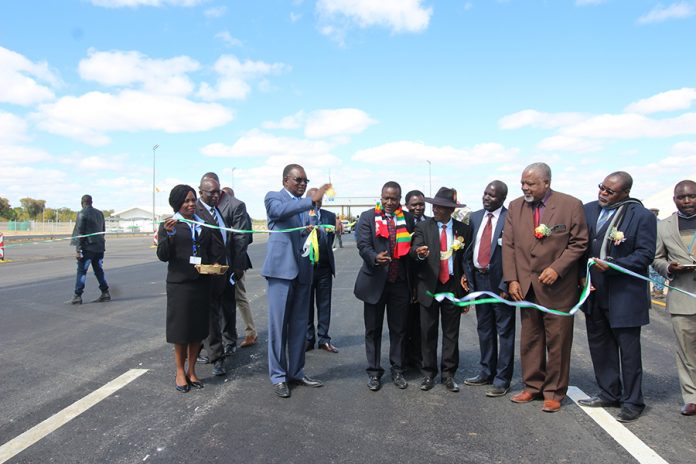 GOVERNMENT has completed the dualisation of the road from Goromonzi turn-off to the tollgate along the Harare-Mutare Highway which started at the beginning of President Emmerson Mnangagwa's 100-day rapid results programme.
The six-kilometre stretch cost US$6,8 million.
The Harare-Mutare dualisation project is part of the ambitious plan to dualise the Plumtree-Mutare Highway, expected to reach Marondera by 2020.
Speaking on the sidelines of the commissioning of the road, Mashonaland East provincial road engineer, who is also the Harare-Mutare dual road project manager Jarawani Kangara said the second phase of the project — from Goromonzi Tollgate to Melfort Farm — is expected to be completed by year-end.
"We have started phase two of the project which is dualising from Goromonzi tollgate to Melfort, a five-kilometre stretch that is expected to be completed by year-end," said Kangara.
"Early next year, we will go into phase three, that is from Melfort to Surrey, then the 20km stretch from Surrey to Marondera by 2020."
Funds were released for other projects that include the turning of the Marondera-Wedza 10km (US$5 million) into a wide mat from a strip road, 10km of the Beatrice-Mubaira Road (US$10 million), 7km of the Wedza to Sadza Growth Point (US$3,5 million), 3,3km of the Mt St Mary's to Nhekairo Chingondo (US$1 million).
The Marondera-Wedza Road which links Murambinda and Harare is the shortest route from Harare to Murambinda and Harare to Buhera.
He said the province's 50km of new road construction this year is a huge jump from last year's 15km and Rhodesian average of 20 to 25km.
Under the Emergency Road Rehabilitation Programme, Government has embarked on a massive road rehabilitation and upgrading exercise.
The initiative is the new political dispensation's thrust for Zimbabwe to have a well-developed, trafficable and safe trunk, rural and urban road network.
Treasury-funded road construction projects have gone up this year by over 200 percent compared to the previous political administration.
The programme, which started last year, has recorded tremendous progress.
At least 21 000km have been constructed and rehabilitated since the beginning of the year.
According to an Emergency Road Rehabilitation Programme Report Mashonaland East Province will have 1 074km of road being rehabilitated.
Commissioning the road, Minister of Transport and Infrastructure development Dr Jorum Gumbo said the completion of the Goromonzi turn-off to the tollgate project will make transportation between Marondera, Goromonzi and Harare much easier.
"I have been briefed that this section of the road has, for a long time, been characterised by congestion because it was too narrow to cater for the increased levels of traffic," said Dr Gumbo.
"This is going to be a thing of the past due to the availability of this dualised section."
Minister Gumbo said this was not the end of the road works programme in Mashonaland East.
"Road Authorities, District Development Fund (DDF), urban councils and rural district councils are continuously identifying roads that need repairs and working on them as funding is made available," he said.
"The Ministry is currently working on the following roads in Mashonaland East; road constructions of Marondera-Wedza (10 km), Nhekairo-Chigondo (3,3km), Beatrice-Mubaira (10km), Wedza-Sadza (7km), an asphalt overlay of Enterprise Road (3km), and rehabilitation of Domboshava Road (3km)."
Minister Gumbo said there were plans to further rehabilitate Marondera-Musami, Marondera-Madicheche and Landas-Mhendamo.
Zimbabwe needs about US$5,5 billion to rehabilitate its road network that has suffered neglect over the years.
And in January, Ministry of Transport unveiled over US$230 million to be disbursed to provinces in phases.
This has seen the reconstruction or resealing of 504km of surfaced roads, with 1100km of surfaced roads being premix pothole patched between January to June alone, compared to last year's total of 721km and 7 501km respectively.
Also, between January and June, 18 600km of rural gravel roads were graded, 914km gravel roads were regravelled, 40 damaged bridges were repaired while 317 new culverts were constructed.
The Emergency Road Rehabilitation Programme's implementation is being co-ordinated through a Project Steering Committee (PSC), which provides policy guidance.