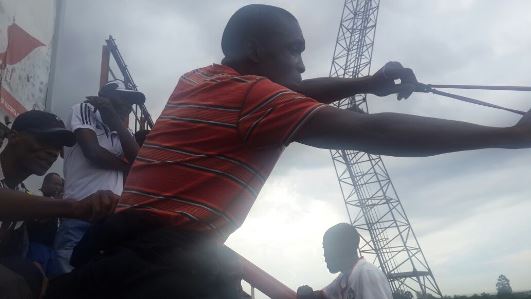 BARBOURFIELDS Stadium is revered as the home of football in Bulawayo, the city of Kings, but the ugly scenes last Sunday during and after the Bob-91 semi-final clash between Highlanders and CAPS United leave a lot to be desired.
There are some publications that are wrongfully implicating CAPS United striker Rodrick Mutuma as the instigator, but as much as the former Dynamos lad is controversial, his hands were clean on Sunday.
All he did was to simply score the opener and celebrate in style.
No doubt about it, Highlanders Football Club fans are slowly gaining a nasty reputation of violence.
Various soccer fans have met their fate at this stadium that is slowly being turned into a war zone by sour losers.
The media reported that on Saturday a 29-year-old man was actually admitted at Mater Dei Hospital after sustaining serious injuries in the skirmishes.
Unfortunately, this is tarnishing the image of Highlanders, the oldest football club in the country which was formed in 1926.
How do the club officials explain fans who enter the stadium armed with catapults?
Yes catapults in the terraces.
How do they explain the hundreds of alcoholic beverage bottles that find their way into the stadium before they are used to pelt opposition players?
This reporter witnessed the ugly violent scenes that rocked Barbourfields Stadium and Mzilikazi Township as Highlanders fans, in particular, embarked on running battles with the police after the match in which Bosso lost 2-1.
In fact two or three missiles missed our vehicle as we navigated our way out of the danger zone of Mzilikazi.
Earlier we had witnessed a few CAPS United fans being heckled by Highlanders supporters as they made their way out of the Stadium.
There was also a time during the match when police officers watched helplessly as one of their man was manhandled at the notorious Soweto stand before he managed to escape.
But has our football come to this?
It is understandable that there are people who support their teams religiously, but such fanaticism may have serious consequences.
While Highlanders coach Bongani Mafu was still to come to terms with the defeat and the chaos, it was CAPS United gaffer Mark Harrison who in an interview with The Patriot expressed his disappointment with the missile throwing by both Highlanders and CAPS United fans who were retaliating.
Play was stopped for about 12 minutes as officials from both teams tried to knock some sense into their supporters.
Harrison said fans must realise that violence would inevitably tarnish Zimbabwean football.
"If Zimbabwean football is to progress, then such things (violence) must not happen," he said.
"This will not take us anywhere."
CAPS United Captain, Hardlife Zvirekwi criticised both Highlanders fans and the referee.
"Izvi hazviitike kuHarare," he said.
"This is the only place where you find that the crowd controls the game and not the referee."
Zvirekwi's comment were directed at Highlanders controversial goal in the second half by Obadiah Tarumbwa.
Tarumbwa took advantage of a poor clearance by CAPS United shot-stopper, Victor Twaliki who had been hit on the ankle by a bottle thrown from the Soweto stand, but the goal was allowed to stand by the referee of the day Philani Ncube.
Despite the chaos at Barbourfields, CAPS United walked out victorious courtesy of Mutuma and Takudzwa Mahori strikes.
Highlanders' Mafa later on said there was need for his youthful squad to utilise chances on goal.
"We played good football, but did not have the hunger to shoot at goal and that is something we have to correct at training," he said. As preparations for the forthcoming Premier Soccer League (PSL) season gather momentum, pundits contend that responsible authorities and team officials must ensure that a high level of discipline is maintained by both players and the fans.
It may be prudent to severely punish teams that misbehave, like playing in an empty stadium.
That way rogue fans may realise that football is indeed more than just a game.