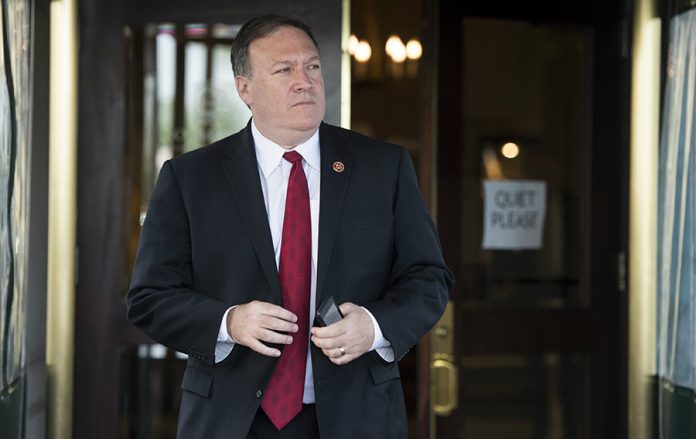 IN 2013, two films were released whose titles were a play on common phrases that are used to signal trouble for the US Government, specifically the president.
White House Down and Olympus Has Fallen were premised on the White House being besieged by a heavily armed paramilitary group which seizes control and as the nation's Government dissolves in chaos, a hero rises up to save the president and the country.
In most action films, the US President is codenamed 'the eagle' and so the phrases 'the eagle has landed', 'the eagle fallen', or 'eagle down' have gained currency among us the ordinary folk.
The White House is in chaos, not because some armed group has seized control and is holding the 'eagle' hostage, but more like the eagle has become a problem.
Last week, the nation woke up to news that chief economic adviser Gary Cohn was leaving the White House.
Cohn becomes one of the many senior aides who have dumped President Donald Trump of late.
A full 43 percent of top-level positions in the Trump White House have seen turnover.
That is not normal.
In addition to Cohn's departure, several other staffers have recently left or announced their imminent resignations.
A big question now is: Who will be next?
Cohn had assembled a team of policy aides who helped craft the White House infrastructure plan and tax framework.
With Cohn leaving, will they stay?
History indicates that when someone at Cohn's level leaves, others follow.
Chief of staff John Kelly, national security adviser H.R. McMaster and adviser/son-in-law Jared Kushner are all reportedly earning the ire of the president and are likely to be leaving soon.
Cohn's resignation is the latest high-profile exit from President Trump's staff, coming on the heels of White House communications director Hope Hicks's resignation last month.
Both Hicks and Cohn were longtime fixtures in President Trump's inner circle.
In a surprise move on Tuesday, President Trump dismissed Secretary of State Rex Tillerson and plans to replace him with CIA director Mike Pompeo, shaking up once again the administration's major players.
Other top-tier advisers who left in President Trump's first year were former chief of staff Reince Priebus, former deputy chief of staff Katie Walsh, former press secretary Sean Spicer, former director of the Office of Public Liaison George Sifakis, former national security adviser Michael Flynn and former deputy national security adviser K.T. McFarland.
While these were the most significant posts identified, other high-profile departures from the administration in its first year have included people like former chief strategist Steve Bannon who left in August 2017.
Brookings Institution has carried out a study which has identified two causes for this incredibly high number of exits that might explain why previous administrations were much more stable than the White House is now – and they go right to the heart of President Trump's management strategy.
Brookings researchers stated that while previous US presidents had relied on expertise and professional qualifications when deciding who to appoint to crucial White House posts, President Trump has valued personal loyalty to him and his election campaign as a primary deciding factor.
Because President Trump sourced many of his top staffers from his own business circle and support base, many individuals in his White House have lacked the qualifications to do their jobs, leading to lacklustre performances and the desire among many former staffers to use their brief tenures in the administration to seek private sector jobs afterward.
Bannon, who went back to work at Breitbart News and a host of other private ventures after his departure, serves as a particularly salient example of this idea.
The second factor Brookings researchers identified was the ever-present cycle of chaos within President Trump's White House.
Lack of communication between officials on key speeches and policy points like the newly unveiled steel tariffs reveal that co-ordination between officials within the White House is remarkably weak, leading to mistakes and a poor public image that incentivises President Trump to get rid of those at fault.
Brookings also stated that this creates a vicious cycle in which chaos breeds a high rate of turnover, which in turn continues to contribute to the chaos that caused it.
To put the severity of this matter into perspective, in 2017, the turnover rate of the entire US workforce was 3,6 percent on average, according to the Bureau of Labour Statistics.
That figure is closer to four percent for the private sector and less than two percent for all federal employees in 2017.
The Trump administration saw a 34 percent turnover rate.
The next-highest turnover rate for an administration's first year was Ronald Reagan's, with 17 percent of senior aides leaving their posts in 1981.
Former presidents Barack Obama, George W. Bush and Bill Clinton saw much lower turnovers during their first year in office – nine percent, six percent and 11 percent respectively.
Of the 12 positions considered most central to the president, only four are still filled by the same people as when Trump took office.
As President Trump enters his second year as president, Brookings researches say his turnover rate is only likely to increase.