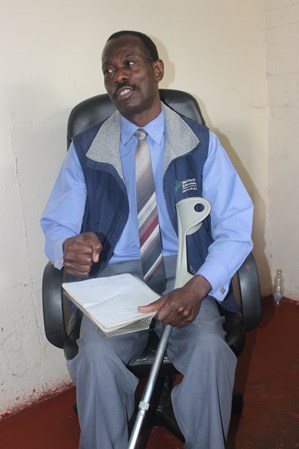 THE atrocities committed by Rhodesia's infamous Selous Scouts were gruesome to the extent that decades after independence, the pain is still fresh.
In 2012, The Patriot highlighted atrocities that were committed in Svosve by the Selous Scouts led by the notorious Rhodesian Iain Kay.
Many villagers were maimed and killed while hundreds of cattle were slaughtered at Dhirihori Dip Tank in Svosve.
More people have come forth with chilling tales of how Kay's operations stretched beyond Kangara, Murewa, to Svosve in Marondera.
In one operation led by Kay, 30 villagers were allegedly massacred in Kangara.
Seeing Chivhu-based Munyaradzi Murevanemwe aged 52 going about his business with the aid of crutches, one is quick to think he was born disabled, but he was born able bodied until he had a terrible encounter with Kay.
The encounter left him with a permanent reminder of the meeting in the form of disability.
He opened up to The Patriot this week.
Murevanemwe said he will never forget how his father, the late Chief Petrose Gwamba Murevanemwe, was captured, tortured and humiliated 36 years ago.
The reason for suffering at the hands of Kay was that he had hosted vanamukoma that had visited his village.
"ZANLA freedom fighters came and as per norm, they first visited my father who was the chief and introduced themselves," said Murevanemwe.
"Although young, I was very excited to see the freedom fighters.
"The guerillas asked for food and left before coming back in the evening to collect it."
However, the joy of a face-to-face encounter with freedom fighter was short lived for Murevanemwe.
The water (masses) in which the guerrillas swam also had undesirable creatures, sell-outs, who for 'favours' and desire to settle petty personal scores sold out to the enemy.
The joy and pride that had been brought by hosting the fighters was soon replaced by a horrendous experience.
Iain Kay descended on the village.
Murevanemwe recalls Kay whose face was painted black, in the company of five black soldiers, paying his father a visit.
"Those that speak recklessly about the liberation struggle and wish to go back never experienced firsthand how Rhodies operated," he said.
"Their punishment was not only meant to dissuade people from assisting vakomana, but break their spirit so that one would in the future never help the fighters."
Murevanemwe's father was found 'guilty' of supplying vanamukoma with food despite arguing that as a chief, he hosted numerous visitors.
"Strangers and destitute," he said, "were welcome at his homestead and no one in need was ever turned away."
Kay however, according to Murevanemwe, would have none of it.
The Rhodesian team took my father and two of his bodyguards Zidya and Chiwonzero.
Seeing his father being shoved and pushed around, Murevanemwe tried to intervene to stop the assault, but the futile attempt earned the boy a thorough beating.
Never in his life had he been beaten in that manner.
"I was beaten like an adult, in that moment there was consideration of the fact that I was a mere child," he said.
Murevanemwe was 'fortunate' to be left behind as his three sisters, the supposed cooks; Constance, Monica and Sylvia were taken together with their father to Kay's base at Sadza.
The chief and his people were mercilessly tortured.
Beatings, electrocution and the rape of his daughters while he watched forced the chief to confess that he had indeed fed the ZANLA guerrillas.
"But he was not apologetic as he insisted that it was his duty as a chief to host anyone that visited the village," Murevanemwe said.
"He mocked the Rhodies arguing that how could he refuse to host them while the guerrillas wielded guns."
The 'confession' earned the chief his freedom, but he remained relentless.
He was not about to stop contributing to the liberation struggle as two days after his release, he helped organise a pungwe.
It was successful and my father's resolve to continue assisting the fighters was strengthened.
Again sellouts informed the Rhodesians about the chief's role in the pungwe.
Kay came back, gathered the villagers and ordered the black soldiers to 'discipline' the chief while everyone watched.
The humiliation was meant to deter all who would in the future think of assisting the freedom fighters.
"Ndakarwadziwa kuona baba vangu vachi rohwa," said Murevamwene. "Vakarohwa vakatoita zvekutakurwa vasingagone kufamba.
"Hapana chataigona kuita kuti tivabatsire.
"Handife ndakakanganwa zuva iri."
The chief was taken to Enkeldorn Police Station and in Chivhu, he was tried in March 1976 and sentenced to four years in prison.
He spent a few months in jail before being transferred to the infamous Salisbury Central Prison in February 1977.
Having experienced brutality firsthand, Murevanemwe became active in politics while a student at Daramombe High School in 1978.
As part of their protest against the repressive regime, students rioted breaking school furniture and destroying infrastructure.
The school's principal Father John Gardener called Kay to students.
Murevanemwe was about to have a second brutal dance with the Rhodesian.
And Kay remembered him from that day he had mercilessly assaulted his father.
The Form Two boy was beaten with the butt of a gun.
"I was beaten while the rest of the students were forced to cheer," he said.
"I lost consciousness and woke up in hospital.
"My life would never be the same because I lost the ability to walk without the aid of crutches and have been using them since then."
The beating that stole his ability to walk properly would continue to haunt the family and claim the life of his father.
Murevanemwe's father did not leave prison.
After serving his time and before release, he was mercilessly beaten and succumbed to his wounds.
"Rhodesians must be tried for the atrocities they committed because to date, we still have nightmares." Murevanemwe said.