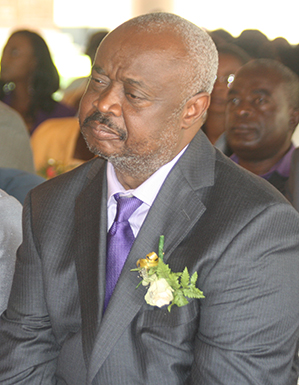 IT's a dark period in the history of all scribes as we mourn the loss of one so dear to our hearts.
One whom we might have never had the opportunity to inform just how much he shaped our lives and what he meant to us.
If only I could turn back the hands of time to the last Thursday afternoon when I spoke heartily over the phone to the man of the people, the dearly departed Cde Alexander Kanengoni.
It is futile to speak of the depth of my loss, but what makes sense is to celebrate how he changed the playing ground for the female journalist through The Patriot.
I will not forget that smile and the hearty laughter, that laughter that had undertones of protection and loyalty which women often seem to miss from men in this fight for gender equality.
Cde Kanengoni, as we called him, though to me it was always VaKanengoni, as a form of respect to a father figure, was all-embracing, ever-listening and a true hero who should go down the annals of history as a fighter for gender equality.
Through his book Echoing Silences, he, for the first time wrote of the injustices that took place during the liberation struggle against women.
Although the mention of the word 'gender' and women's rights were terms not noted in this work, it was truly engendered from a theoretical lense.
He put women at the heart of the war and also put women as sufferers and victims worthy of compensation for their role in the armed struggle both as mothers and fighters.
Before I started writing articles on gender, I had a huge debate with my writing mentor and he asked me: "Ndumi, what do you now want to write about?"
I was afraid he would say no, so I quickly said to him that I wanted to write about that contentious issue we are always debating about, that is in my heart, 'gender'.
He quickly said: "You know Ndumi we have debated about this issue, what is it really that you want to write?
"What is your angle?"
I quickly told him some ideas that I had and he said like he often did, "Chiregera kutaura kani, chinyora, but, do not be emotional.
"If you are emotional about your issues, I will not publish."
As I look back, it was the granting of a final wish of a father to a daughter.
At this moment, writing this article, tears have filled my eyes and I am overtaken by grief because this was the last wish granted by a father/ mentor to a daughter.
He opened up and told me that I had for the first time written about gender without any emotions and had called a spade a spade.
How I wish I had seen the look on his face.
His hearty laughter as he published my first article on gender issues was like that of a proud father ushering his daughter into greater writing.
He told me he was not against gender, but that he was happy that someone was going to really address both male and female issues because gender was for everyone.
That is how I remember him, and will always remember him: As the comrade who, though he was surrounded by patriarchal divides, rose above the occasion and decided to have The Patriot celebrate womanhood.
He was not threatened by women and wanted women to rise from the ashes created by the war and society.
I had the opportunity to interview a very dear friend of his, Joyce Jenje- Makwenda, who introduced me to him some years ago.
How I wish I had known him for a lifetime.
She speaks softly and with grief she says: "I have lost a very good friend my dear.
"I am so confused.
"I am still in shock.
"Oh that laughter and the way he was so soft-spoken, honest and kind.
"He was a teacher, a mentor.
"He was a peoples' person.
"Ever ready to listen.
"He once told me that he would teach me how to think and to date I am grateful for the assistance he gave me when I was doing my thesis for my Masters."
I will end this sad note with a celebratory statement.
How lucky and blessed we were to have known such a man of the people.
How I wish more men could emulate his progressive thinking and not see women as foes, but as equals in this journey in the development of our land Zimbabwe.
That was what he wished and fought for!
Fare thee well, father, mentor and friend!
Sadly missed and forever remembered!