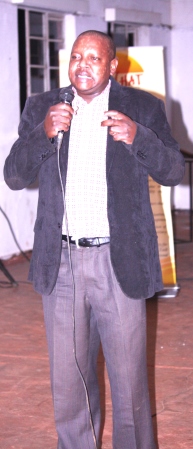 YOUTHS have been urged to take part in sporting activities to improve not only their bodies, but develop mental strength which is critical to development.
Addressing hundreds of youths from Vocational Training Centres (VCTs) gathered at Mashayamombe VTC in Mhondoro for the Mashonaland West VTC games, Zimbabwe Heritage Trust (ZHT), Programme Coordinator for Harare Province, Godwine Mureriwa, said a healthy mind was the springboard to success.
He said a healthy lifestyle is a choice that was made by people like President Robert Mugabe, who have subsequently had a long and fruitful life.
"Sports make the mind healthy and fit and also have long term advantages because Zimbabwe needs a healthy nation to safeguard its heritage," said Godwine Mureriwa.
"Zimbabwean youths have historically been central in resolving socio-economic and political challenges that the nation faces at any given time.
"During the First Chimurenga, spirit mediums for Nehanda and Kaguvi were youthful Zimbabweans and these are the people who spearheaded the First Chimurenga and paid the ultimate price in the fight against British colonialism and oppression."
Mureriwa said the Second Chimurenga was triggered by nationalism started in the late 1950s led by youths such as the late Dr Joshua Nkomo, George Silundika, Josiah Chinamano and President Mugabe, among others.
He said in the same vein, youths should use their energy and intellectual capacity to bust the illegal economic sanctions imposed against the country by the West.
"Other young people like Emmerson Mnangagwa (now Justice, Legal and Parliamentary Affairs Minister) resisted colonialism aggressively and escaped the gallows because he was underage," he said.
"Those that we call war veterans of today also exhibited fearlessness towards the British imperialists and vowed never to relax until Zimbabwe was back to its rightful owners.
"ZANU PF as a party has attributed its success to the contribution by the youths who were inspired by President Robert Mugabe's vision of indigenisation, empowerment, development and employment creation.
"The challenge to implement the subsequent economic blueprint Zim-ASSET is dependent on active participation of the youths, since they are the leaders of today and tomorrow and the heirs of our heritage."
Youths, said Mureriwa must complement Zim-ASSET and President Mugabe's vision of a prosperous Zimbabwe.
"Zim-ASSET and other economic empowerment policies by President Mugabe are his vision, but it is not him that is going to do it alone," he said.
"We have a history of hard work and are a peace-loving nation and have recently been honoured by the European Council on Tourism and Trade (ECTT) as the world's safest tourism destination,"
Mureriwa encouraged youths not to be swayed by the regime change agenda.
"The West says 'might is right' while President Mugabe says 'right is might' and it is only time that will vindicate him," he said.
"Western countries cannot do without us, they want our skills, raw materials and beef among others, and they also cherish our lovely climate and the natural wonders and national monuments.
"We remain what we are and eager to engage foreign investors, but let them come as partners and not as masters, we want to be in control of our country and everything in it."
Meanwhile, Mashayamombe Vocational Training Centre Principal, Fanwell Mukogo said the idea of VTC games which was started in 2011 is meant to harness all talents in youths.
He said the technical skills that VTCs' produce like electrical and mechanical engineers are crucial for technological advancement and value addition which is crucial component for Zim-ASSET.
"This is targeted at total youth empowerment and the total package of these skills is the backbone of the total drive to implement Zim-ASSET," said Mukogo.
He said the theme, 'Opening Windows for Youth Empowerment through Sports Arts and Culture' was meant to unleash hidden talents.
"When they expose them we develop and support them through various initiatives which include, but not limited to sourcing for loans from banks such as CBZ and CABS under the Youth Development Fund," said Mukogo. The VTC's that are taking part in the competitions include Mashayamombe, Mt Hampden, Norton, Magunje, Chinhoyi, Kadoma, Murombedzi and Mhondoro- Ngezi.
Winners from various centres will represent the province at the national competitions slated for July 21 to 25.