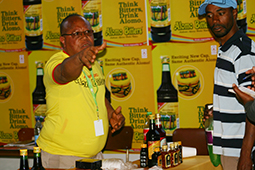 ONE of the leading Ghanaian beverage firms Kasapreko Company Limited plans to launch a wide range of its herbal alcoholic products in the country in a move aimed at growing its market share on the African continent.
Currently the local beverage industry is dominated by Delta Beverages commanding approximately 96 percent of the alcoholic beverages market and about 92 percent of sparkling beverages.
The company has already established markets and gained popularity in countries such as South Africa, Nigeria, Liberia and Sierra Leone.
Kasapreko research and development manager Stevens Mensah, told The Patriot that they had begun engaging local regulatory authorities for approval of an importation licence for their products.
"We have already engaged relevant regulatory authorities to approve our products into Zimbabwe and as soon as the process is finalised, we are going to start selling the herbal liquor," said Mensah.
Mensah said herbal alcohol had proved popular as it had many benefits.
He said the company's products will be popular on the market as they will be sold at competitive prices making them accessible to many people.
"According to a research we carried out around Zimbabwe, we have noted that there was limited availability of herbal liquor on the shelves, a situation that creates greater market opportunities of herbal alcohol as compared to other products. Anything herbal has a lot of advantage on the market," he said.
"Our products will be cheaper as compared to other liquor and would range from US$2 to US$3 per 200 milliliters and US$10 for 750 millilitres," he said.
"Some of the products will be packed in 30 millilitre sachets for the convenience of customers."
Kasapreko products that have proved popular on the continent and overseas include spirits such as Alomo Bitters, Kalahari Bitter, Kasapreko Dry Gin, Kasapreko Tonic Wine and Kasapreko Brandy.
Mensah said their liquor products were manufactured from recommended herbs that do not have negative effects on health.
"Our beer is made from authentic natural herbs, they are more of natural products as compared to other liquor, which gives them medicinal value that has a positive impact on people's health," he said.
Some of the products that are used in producing Kasapreko products include mahogany and Mondia that are used to rejuvenate the body system.