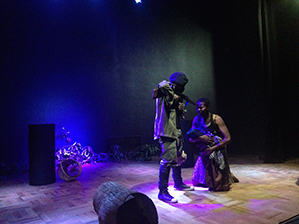 THE Harare International Festival of the Arts (HIFA) has availed its theatre programme which this year has more of an international feel than a local one.
The 'Theatre Season' is part of the various activities that have been lined up for the whole year which leads to HIFA 2017.
The theatre programme runs from May 12 to 15 at the Reps Theatre complex in Harare.
Without the normal six-day festival this year, HIFA has introduced a series of activities to build up to the 2017 edition.
According to organisers, the four-day bonanza seeks to celebrate both local and visiting artistes in theatre production.
"HIFA's fun and fabulous mini-festival, supported by DANIDA and the Embassy of Portugal, is a celebration of all types of theatre, including physical story-telling, spoken word, dance theatre, satire and comedy," said the organisers in a statement.
However, for traction and a wholesome experience at the theatre, one would expect a celebration with more local than foreign acts or at least equal representation.
"This unprecedented Harare event is an invitation to work of local and visiting artistes, to stretch your mind, embark on artistic journeys, challenge your pre-conceptions and exchange ideas with artistes and the audience," claims HIFA.
However, only a handful of locals are in the four-day line-up.
Interesting to note on the programme is the absence of popular local playwrights who in previous years prominently featured at HIFA and had made names with plays that supported the regime change agenda.
Plays that disparaged the current regime and sought to whip-up emotions through presentation of highly distorted facts found a ready platform at the festival.
One such playwright is New Zealand-based Stanley Makuwe, who came with the 24-hour theatre challenge in 2012.
Makuwe, whose work in the past was influenced by his Western donors has since chosen to produce work that is informed by his true experiences as a Zimbabwean and an African.
The playwright who turned a new leaf, in terms of productions, during the premier of his highly acclaimed play Chimbwido Girl of War expressed frustrations with working under the yoke of donors.
Funding from the West has only been availed to artistes who are ready to dismiss their history and see nothing good in their leaders or efforts towards self-determination.
Local artistes have been paid huge amounts of money to pen productions that denigrate the hugely successful Land Reform Programme and the economic indigenisation and empowerment exercise as none events.
Positive productions that are produced on shoe-string budgets are never accepted on platforms such as HIFA no matter how good.
For instance, Makuwe's Chimbwido Girl of War, which bagged three NAMAs for outstanding actress, outstanding director and outstanding theatrical production, is one play worth to be presented on any international platform.
But clearly it will not be supported in any way as it expounds and celebrates the heroics of participants of the liberation struggle.
Clearly artistes who present productions informed by their true history will not be getting any support.
Since its inception, HIFA's theatre category has presented plays that distort the country's story and in some instances, ridicule its history.
It is common knowledge that there are numerous theatre groups in the country, especially in the high-density suburbs, that are on a daily basis churning out plays depicting the day-to-day challenges and victories of the average person, but these have not received support.
Such plays have not found takers among the Western sponsors who are not interested in any narrative that celebrate achievements made thus far in Zimbabwe.
However, one of the few local acts in the programme is a comedy programme slated for today (Friday) which is presented with support from DANIDA.
Also participating in the arts fete is Zimbabwe's Afrikera and Tumbuka dance groups.
Tumbuka is a highly acclaimed dance company which presents unique choreographs of international standards.
Afrikera is another dance ensemble that seeks to contribute various dance moves that fit in the contemporary Zimbabwean dance.
Carl Joshua Ncube and Doc Vikela will represent local comedians in the stand-up comedy slot.
Other events lined up for HIFA 'Next Level' this year include 'Parkade party', 'Music Concert Weekend', 'Classical Ballet Celebration', 'Formula One' racing demonstration and fashion, hair and beauty show, among others.