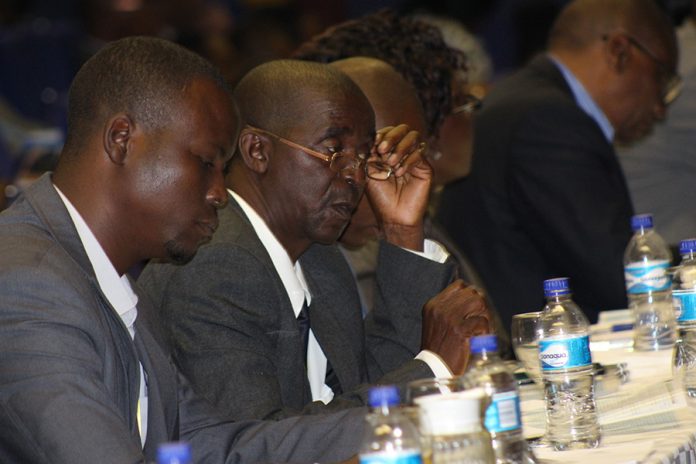 THE conference on Higher and Tertiary Education infrastructure, held on March 9 2018 at Harare International Conference Centre (HICC), is one of the greatest successes of the new dispensation.
Graced by President , Emmerson Dambudzo Mnangagwa, it attracted investors from a wide spectrum of the globe.
The pledges offered by local, regional and international investors towards construction of students' accommodation, importation of high-tech laboratory equipment and instrumentation, injection of students' loan facilities with various provisions and improvement of students' transportation facilities are highlights of the many inviting pledges worth commenting on.
The amounts pledged, ranging from hundreds of millions to billions of dollars/pounds are no laughing matter.
In fact, one South African company pledged to introduce a five-billion dollar coal-to-liquid project that will not only provide internship facilities for our engineering students but would certainly provide our graduates with the much needed employment; thereby contributing in a massive way to the regeneration of our economy.
What is even more exciting than the pledges is the exuberance behind the commitments made.
So happy were the investors with the prevailing conducive political environment provided by the Government that one could literally touch the honesty behind the commitments.
No further evidence was needed to prove that the motto, 'Zimbabwe is open for business', was organically embraced by all and sundry.
The message that carried the day was that we are entering into an era where education ceases to be a cost but rather an opportunity for investment and consequently a conduit for employment generation and economic transformation, bringing with it a positive transformation of mind-sets and of lives.
Having said this, I now wish to touch on one critical area which the conference's pomp and fanfare could quite easily miss, and do so with catastrophic consequences.
It is one thing creating a heaven on earth for students – enabling loans, top of the range accommodation facilities, cutting-edge learning facilities and highly dependable transportation, all with a direct impact on the quality of students' on-and-off campus lives – but have students ever reflected on the exacting demands these facilities have on the students' primary terms of reference?
After Government and investors have done their part, are they aware of the part that they should play in turn?
Indeed all these pledges described above were each greeted by ululations from the representatives of the students who graced this great occasion.
I am just wondering what kind of message our children carried with them to their fellow siblings back at the various teachers' colleges, technical colleges, polytechnics and universities dotted across the country.
What message did they bring to their kin?
Did they remember to talk about the exacting demands on their dedication to work, their diligence, the call to hard-work and subsequently the high level of responsibility and accountability involved?
Did they remember to remind each other that when all is provided for, they had a duty to serve their communities and to make a meaningful contribution to Zimbabwe?
Did they?
If they did not, allow me to cure them of their tragic error of omission by taking them through the following sermon.
I shall begin by reminding them that the Ministry of Higher and Tertiary Education Science and Technology Development is their national foster-parent-cum guardian.
It acts in loco parentis. Its key mandate is human capital development.
The target of the Ministry's mission is the higher education and tertiary student. As the foster parent/guardian, it has a duty to develop the young people, nurturing them to become useful and responsible citizens.
This is done, conscious of the fact that these our children are not passive but active partakers of the entire education journey.
And this explains why representatives of the student population were invited to be part of the conference; to confer with the national leadership and the investor community together.
They were invited to share insights on how students, the donor community and investors, the Ministry and Government should work together to ensure that students' welfare is catered for in the best of their interests.
This critical engagement is very important, given the road that Zimbabwe has travelled and the demands of the new dispensation which are predicated on cornerstones of collaboration, solidarity, peace and harmony.
There is every piece of evidence to show that the Ministry values the students in a fundamental way.
As leaders in education, the Ministry, lecturers and heads of educational institutions targeted by the conference are conscious of their duty to ensure they give maximum support to students' potential; offering every opportunity in academic innovation and free choice of learning, fostering their sense of social responsibility and capability to create and practise.
They are acutely aware of the fact that the learning environments of students are not up to their expectations, especially given the harsh economic situation inherited and which everybody is fighting tooth and nail to turn around.
You will agree with me, dear students, that the arrangement for students' loans for their fees, which the Ministry has negotiated with several banks and indeed other financial institutions, is a big milestone towards stabilising the learning environment.
But of course we are also aware that the majority of students still face serious accommodation problems as the hostels owned by our institutions of higher learning can only host a small fraction of the student population.
The pledges described above speak plainly to this realisation.
The conference proved beyond any reasonable doubt that the investor community l To Page 7
has heeded our President's: 'Zimbabwe is open for business', clarion call as they continue to make significant inroads in infrastructure development in support of our higher and tertiary institutions.
Of course we look forward to unconditional support from both local and international infrastructure investors so that our students can pursue their studies in peace and tranquillity and subsequently contribute to the modernisation and industrialisation agenda.
If they have done it in China, India, Malaysia and other developing countries that have opened their economies before, we have every reason to believe that they will come to our rescue too now that we have opened our country to modest investors as well.
I, however, wish to remind our esteemed students that while the ministry and other well-meaning organisations continue to provide for their learning needs, they also need to play their part by taking the learning business very seriously.
In other words I exhort you to embrace your primary terms of references.
You know why you enrolled and therefore be diligent and refuse to be derailed from the primary purpose of your studies by distractive forces (local or international).
I am saying this against the backdrop of the fact that universities have of late become hunting grounds especially for opposition politics.
While I believe that politics should not be forbidden for students, it is also my humble understanding that students should be involved in politics up to a limit. It is true that politics is concerned with the affairs of the country, its constitution, foreign relations, national issues and other mundane matters and for that, young citizens are naturally interested in these important affairs.
What is regrettable, however, is a situation where students abandon their core calling in pursuit of politics prematurely.
Allow me to say a few more words of advice to you our young ones in respect of the primary purpose of education.
As a trained teacher, I have always believed that repetition is not redundancy. After all, do we not say in our language: Kuudza mwana hupedsisira? or Dzokororo ine simba!
At its best, education equips individuals with the skills and substantive knowledge that allows you to participate in the life of your community as full-fledged citizens.
More importantly, it allows you to produce what you and the community in general need.
How education is defined, the purpose to which it is put, the selection of the content, methodology, activities and evaluation procedures are the real focus of the education, properly understood.
An African student pursuing any programme must of necessity be guided by the African philosophy of unhu/ubuntu.
African notions of 'being' are markedly different from non-African notions of 'being'.
The difference is fundamentally a difference of worldview, that is, how people in different parts of the world understand their world and the world of others. It is all about philosophical positionality.
The African notion of 'being educated' goes beyond mere specialisation or professionalisation.
It differs markedly from especially Western notions of being educated which are apparently being subtly imposed on Africans without Africans raising a finger.
The controlling philosophy of Western thought can be summarised as individualistic.
Prime value in Western conception of education is given to an individual person where 'being educated' is regarded as an individual and personal achievement. The individual is the hero or heroine.
In African philosophy, however, education is inherently collectivist in nature and is encapsulated in the concept of hunhu/ubuntu: 'I am because we are; I can only be a person through others'.
Unlike the more self-serving and individualist paradigm of the West, where strong individuals and achievers in society are valued, an African understanding of education is characterised by a purposeful emphasis on people and their dignity.
In a nutshell, I say an educated African must of necessity personify the unity of his people and live the values of his community in an exemplary way.
This is what one scholar (Thomson) meant when he said of a poet (in this case a metaphor for an educated person by African standards) that:
"The poet speaks not for himself only but for his fellowmen. His cry is their cry, which only he can utter. That is what gives it depth. But if he is to speak for them, he must suffer with them, rejoice with them, work with them, fight with them. Otherwise what he says will not appeal to them and so will lack significance."
The crux of Thomson's mouthful is that any education which does not directly serve the community is not education at all.
Real education is imbued with compassion, caring, sharing and responsiveness to the needs of the community as a whole.
This sharing is based on a commitment to helping others, as well as the network of social obligations inherent in the community.
If we cultivate such an attitude to education, why shouldn't we receive deserved assistance from those who view our endeavour as worth the while!
May I conclude by calling for diligence, solidarity, hard work and commitment to our cause to turn around the economy 'together as one'?
Finally, a small homework from Eric Felten who tickles our collective conscience by saying:
"If loyalty is, and always has been, perceived as obsolete, why do we continue to praise it? Because loyalty is essential to the most basic things that make life liveable. Without loyalty there can be no love. Without loyalty there can be no family. Without loyalty there can be no friendship. Without loyalty there can be no commitment to community or country. And without those things, there can be no society."
When I conclude with this lesson on loyalty, I am not talking about unquestioning subservience.
I am calling for responsible citizenship.
Such loyalty quotes come from authors, politicians and thinkers distilled by experience who have thought long and hard about the merits and consequences of loyalty.
Anyone who has never been hurt by someone he/she considered a true friend can afford to argue that the merits of loyalty are contestable; but no one who has ever found himself in need of a true friend can deny it is one of the most valuable gifts in the world.