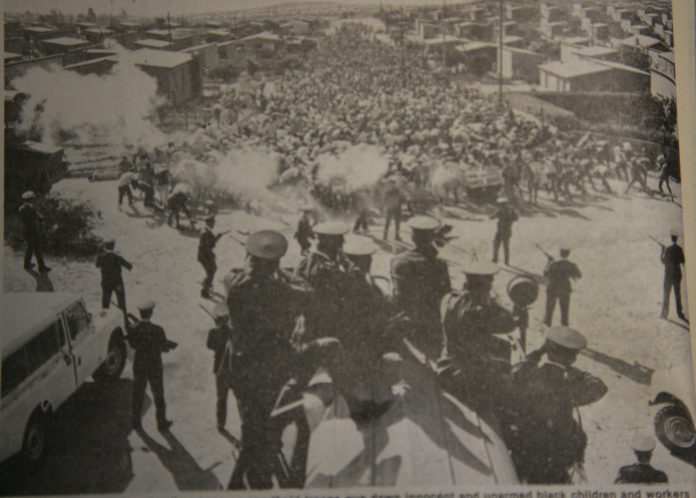 and Gamuchirai Mugadzaweta
THE Herbert Chitepo assassination on March 18 1975 was a major blow to the Zimbabwean community whose hope of breaking the yoke of British colonialism was being spearheaded by this revolutionary icon.
Chitepo's death resulted in the mass exodus of boys and girls into neighbouring Mozambique, which had attained independence on June 25 1975, to join the liberation struggle.
Schoolchildren from Highfield, an African high-density suburb which was the home of African nationalism, were not left out.
Highfield was a political hotbed.
Everyday, there was some form of political activity taking place in the suburb.
On Sunday, June 1 1975, at around 2pm, schoolchildren from Chipembere, Chengu, Tsungai, Mhizha, Mhofu, Nyandoro and Mutasa primary schools as well as Old Highfield High School peacefully gathered at Machipisa Shopping Centre.
The demonstration had been organised by Patrick Shiridzinonwa and Panashe Nyandoro.
According to an eyewitness, Chaka Chihota, who was a youth in charge of security and stationed half-a-kilometre from the demonstrators, Rhodesian security forces arrived at Machipisa Shopping Centre in three police cars.
"I did not panic when I saw the convoy from a distance because the gathering was of unarmed schoolchildren who were peacefully demonstrating against the educational policies which were exploitative and restrictive to African children who only had one Government secondary, Highfield Secondary School, and Highfield Community School, run by African nationalists," Chihota said.
"Much to my astonishment, there was random shooting at the schoolchildren in uniform.
"There were no warning shots, neither was there any resistance from the primary school children whose majority was below age 15 and armed with placards carrying messages of their grievances.
"There was great commotion as the unsuspecting students rushed towards the security wall of Old Highfield High School, a stone-throw from the scene of the gathering.
"This was an attack by the military police; I ran home to save my life."
Chihota went on to say there were tight police operations in Highfield following that incident.
He said the Rhodesian police disrupted all the funerals of the deceased children who died at the hands of the cruel Rhodesian forces.
Chihota said a memorial tomb had to be erected where the massacre took place.
"The massacre, where many school children perished at the hands of brutal Rhodesian forces, is just the same as the Soweto Massacre of June 16 1976; now a public holiday in that country," he said.
"The Rhodesians suppressed the news of the massacre.
The story is dying as only few people know about it, even here in Highfield."
A survivor of the massacre, Morris Hatikundwe Murape, who was 15 years at the time and doing Grade Seven at Chengu Primary School, vividly recalls their cornering by Rhodesians.
"The death of Chitepo was a major blow but we were not faltering or giving up," Murape said.
"At our school, the issue of the demonstration was discussed during break time and we agreed to join others on Sunday, June 1 to peacefully demonstrate.
"Since the Rhodesian forces did not allow people to move in groups, we agreed to meet at Machipisa at 10am. Discipline was highly emphasised to protect our parents who might have ended up in trouble if we were to be arrested.
"On that fateful morning, I went to Zimbabwe Grounds to play while we waited for the agreed time to congregate. I stayed close to the agreed meeting point.
"At around 2pm, as we approached the intersection of Jabavu and Main Street, we heard loud screams.
"Our fellow schoolmates were under attack and in no time a huge crowd of panicking schoolchildren came running in my direction.
"I could see from a distance Rhodesian policemen with dogs; unleashing them on the hapless students.
"Since I was close to the security wall of Highfield Secondary School, I was the first to jump into the school grounds while other students followed suit.
"I was followed by a young boy who had intestines hanging out.
"He fell close to me crying in agony but I could not help him."
It was at that moment that Murape made the decision to join the liberation struggle.
According to Cde Murape, this is one matter that has to be revisited, and even seek compensation from the British.
"They must at least apologise rather than keep quiet about the whole mess as if they killed armed soldiers in battle," he said.
"If this had been done by an African army, the story would still be making headlines. Our historians and media must talk about such stories to reveal the cruelty and hypocrisy of the whiteman."
Elizabeth Mushonga ,who lost her sister on the day, said she did not want to be reminded about the incident.
Her sister, she said, left their Canaan home (Highfield) in school uniform claiming to be going to church and never returned home.
"We heard about the demonstration after the shootings around 3pm and I feared for my sister because she had not returned home," Mushonga said.
"A jeep with Rhodesian police officers started moving around the area with a black police officer shouting on a loud hailer telling people who were missing their children not to bother the police but to go to Harare Hospital mortuary.
"He referred to the students as 'terrorists'.
"My mother collapsed and I knew Rudo was dead because our church service only lasted two hours and we would always return home by 1pm. I don't want to be reminded about this day.
"Varungu vakaratidza hutsinye nekushaya hanya nevanhu vatema.
"Kupfura vana vechikoro vanga vasina kubata kana dombo zvaro!
"I will never forgive them for the death of my sister and all those students.
"My sister was 12 years old and doing Grade Five."
Lawrence Madamombe who also lost a brother, Marko Madamombe, said he was not happy about the silence on the massacre. He said he last saw his elder brother on that fateful day when he left him at Machipisa Shopping Centre.
"We were coming from church. I was only 10 years old. My elder brother, who was 14 years old and doing Form One at Highfield Community School, told me to go home because he wanted to see his friends," said Lawrence.
"I was not aware of the demonstration but I smelt a rat when I met a convoy of military police. My brother did not return home and my mother thought he had gone to my aunt's place in Egypt (Highfield).
"She searched for him but was told when she visited the police to try the Harare Hospital mortuary because many young 'terrorists' had been killed at a demonstration.
"Marko was one of the victims and my mother saw him among the heap of corpses of other schoolchildren. I would feel at peace if the perpetrators apologised. The Government needs to least put a memorial statue to honour those brave children."
Onismas Gochera, who was in Grade Two and selling maize cobs when the shooting begun, does not know how he survived.
"I was there, selling maize but I don't know how I escaped death," he said.
"When the shootings began, I collapsed on hearing the sound of gunfire at a close range. I only regained consciousness after about an hour."
Currently, survivors and families of victims are working towards having this horrible day commemorated.