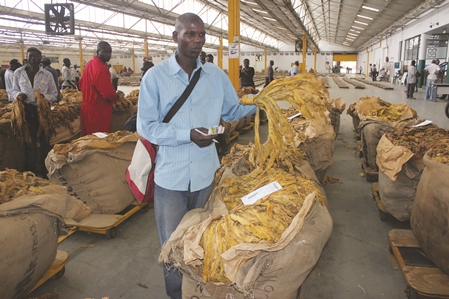 THE tobacco marketing season, one of the major highlights on the agriculture calendar, began on a high note last week with stakeholders optimistic of a successful season at the back of increased growers.
This year, more than 88 000 growers were registered to grow the golden leaf up from 65 444 last year.
The Tobacco Industry and Marketing Board (TIMB) has set this year's target at 180 million kilogrammes (kg).
Last season, 167 million kg went under the hammer.
Since the start of the marketing season, it has been a hive of activity at the three licensed auction floors, Boka Auction Floors, Tobacco Sales Floor and Premier Tobacco Auction Floors.
Trucks loaded with tobacco bales, farmers milling around the auction floors eagerly waiting to find out how much their crop has fetched on the market, 'business people' selling various wares are now a common sight at the floors.
The marketing of the crop brings with it tears and joy to the tobacco growers.
Every year, the issue of prices is a talking issue with farmers either satisfied with the prices or disgruntled.
Depending on the quality of the crop, prices have been ranging from as high as US$4,99 per kg to as low as US$0,20 per kg.
These prices have brought mixed feelings.
Banket farmer Dickson Muwinga, who had one of his bales weighing 120 kg bought at US$4,15 per kg, could not hide his joy.
"This is my third year growing tobacco and this is the highest price my crop has fetched on the market," Muwinga said.
"This price definitely motivates me not only to finish curing my crop and bringing it to the floors but to increase my hectarage next season.
"Over the past years I have put to practice what I have learnt at training workshops conducted by various stakeholders on how to ensure one produces a quality crop."
The same however was not the case for Headlands farmer Lettie Maparura who had no kind words for the buyers as her two 70 kg bales had been bought for US$0,15 per kg.
"I have resolved not to bring my remaining crop now and wait for towards the end of the season as I am not happy with the prices," said Maparura.
"All my efforts have gone down the drain and I am not even sure as to why they bought my crop at such a low price yet others are getting better prices.
"This is so discouraging."
Tobacco Sales Floor managing director, James Mutambanesango said there was need for farmers to know that prices of the crop are determined by its quality.
"Farmers often complain over the prices that are offered by buyers but sometimes the reasons for poor prices have to be addressed by the farmers," he said.
"A quality tobacco leaf is long, soft to touch and it should be orange or lemon in colour.
"All these attributes show that efforts were made by the farmer to put adequate fertiliser, and also the crop was properly cured."
Once a farmer produces quality, Mutambanesango said, one is guaranteed a fair price on the market.
"Some of the reasons why other bales are rejected or priced lower is because the farmer would have mixed different sized leafs or those of a different quality," he said.
As if the pricing issue is not enough to cause 'headaches' for some farmers, they too have to be on the lookout for some unruly elements that plot all year on how to cash in on the unsuspecting farmers.
Stories of farmers who would have failed to account for the fruits of their labour are not new during the tobacco marketing season.
Some farmers who would be first time visitors to Harare suffer at the hands of devious thieves who take advantage of the lack of knowledge of some farmers.
Stories of farmers who are made to pay fines by bogus police officers for crossing the red robot while travelling on foot characterise the marketing season.
Cases of men duped by prostitutes who take them to lodges under the pretext that it is their residence and only to wake up with no cash and belongings are rampant.
These cases of farmers being duped have cost some their marriages as they end up going back home empty handed with no satisfactory explanation to the spouse.
Those with malfunctioning electronic gadgets, faulty vehicles have found a dumping ground as they sell them to unsuspecting farmers.
As the marketing season continues it is hoped it will bring more smiles to the farmers.