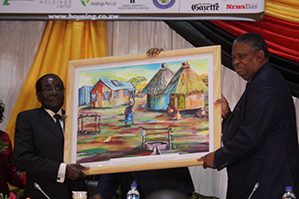 CONSTRUCTION stakeholders have been challenged to see the current housing backlog as an investment opportunity rather than a problem.
Speaking at the official opening of the Housing Conference and Expo which ran from July 12 to 15, President Robert Mugabe said the current housing backlog presents a good investment opportunity hence the need to pursue models which are in the best interest of the Zimbabwean people.
The country is currently sitting on a
1,25 million housing backlog and this has resulted in the proliferation of many illegal housing structures without proper water and sanitation facilities posing huge health hazards.
"This conference comes at a time when the country is beset BY a housing backlog of 1,25 million housing units, a situation which must be confronted in an opposite manner by all stakeholders," President Mugabe said.
"Housing provision is an engine for economic growth and serves as a barometer for economic growth.
"It goes without saying that when this sector is viable, it creates employment for those in the construction industry and promotes small-and-medium enterprises (SMEs) who are the main suppliers of building materials.
"I must challenge and implore all of us that today we perceive the housing backlog as an opportunity not as a problem.
"A solution lies with all of us here.
"The housing backlog is an investment opportunity and the houses yet to be constructed are a clear demonstration of an opportunity untapped."
President Mugabe said Government was doing its best to avail land for its citizens.
"Government is availing suitable land with farms around Nyatsime area now available for expansion for stand-alone and self-contained units," he said.
"New towns are being built with Knock Mallock in Norton and Imvutsha in Bulawayo."
President Mugabe said the bottlenecks in the bureaucratic processes must be removed to expedite planning purposes.
"The principle of the 'Ease of Doing Business' should cut across all sectors including the construction industry to remove the bottlenecks and expedite planning purposes to cut the bureaucratic red tape," he said.
"The Local Government Ministry needs to find solutions to the mushrooming informal settlements on undesignated land which is meant for other services.
"These housing structures which lack water and sanitation facilities often result in health hazards, hence the Local Government Ministry should tighten its boxing screws and put an end to this scourge."
Operation Murambatsvina/Restore Order some years ago tried to restore order to the chaotic illegal housing developments that had cropped up, while Operation Garikai/Hlalani Kuhle was initiated in 2005 by Government to address the plight of displaced people.
Phase One of the project saw Government constructing houses for beneficiaries while phase Two provided building materials for beneficiaries to construct their own houses.
Over 7 000 people were meant to benefit under the project. Out of that number, 4 205 were allocated complete two-roomed houses with the remainder given stands.
Other projects by stakeholders such as Old Mutual witnessed the unveiling of over 3 000 housing units in Budiriro, Harare, in a move aimed at reducing the housing backlog the country is currently facing.
The US$62 million houses were built in partnership between OLD Mutual/CABS and City of Harare and would benefit over 3 102 families.
However, despite all these projects many people continue to search for housing since housing demolitions continue to occur leaving many people homeless and desperate to find shelter. Speaking at the same occasion, Minister of Local Government, Public Works and National Housing Saviour Kasukuwere said Government continues to embark on new settlements.
"Government is embarking on new settlements in Harare, Bulawayo and Manicaland," he said.
"We are also sanitising the situation through the Urban Development Corporation."
China Industrial International Group Zimbabwe Private Limited project manager, Bishop Jeche said his company in partnership with the Local Government Ministry was in the process of investing in housing construction to ease the country's housing backlog.
"We are working with the Local Government Ministry with a focus on bringing new technology in addressing the accommodation crisis," Jeche said.
"The company is targeting on constructing 20 000 housing units in five years and has already injected US$2,5 million in investment."
The demand for houses has been rife over the years due to rural to urban migration as many people seek employment in urban areas.