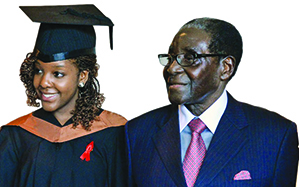 WHEN Chelsea football coach Jose Mourinho called himself the 'Special One', little did he know that on March 1 2014, President Robert Mugabe's daughter, Bona, would also confirm her status as a 'Special One' to the First Family.
It started right with her birth.
With the President's mother well advanced in age, she constantly pleaded with her son:
"Nhai Bellarmine ndofa ndisati ndambobata mwana wako here?"
So when Bona was eventually born, she was seen as a special gift to Mbuya Bona and immediately inherited her name.
President Mugabe, who was in his late 60s, also saw his daughter as a special gift and wondered whether the good Lord would give him the opportunity to see his daughter grow.
Let alone witness her wedding day.
The First Family could have let their special daughter graduate at a local university, but were concerned by the possible 'abuse' at the hands of 'mischievous' male students.
A special English speaking university in Hong Kong was the solution.
That 'Special One' trait could even be traced on her wedding day.
Thanks to the First Lady whose parental strict discipline helped shape her special daughter for this memorable day.
After disembarking from the shuttle buses, some guests were greeted by showers as they approached the ceremony venue.
It is our traditional belief that great events are preceded by rain and this gave Bona's wedding that special significance.
There was something special about the atmosphere within the ceremony venue – what with the dark suits all men seemed to be wearing coupled with the dignified long dresses that added to the elegance of the occasion.
There was a certain calmness in the process of tying the knot that seemed to bridge the social gap in class between the daughter of the country's President and the son of a simple ZAOGA pastor Simba Chikore.
All this added to enhance Bona's status as a 'Special One'.
But this was not all.
At the reception venue, it wasn't the usual fast paced eye-catching, P Square's 'Chop My Money' bridal team dance.
There was something else for the 'Special One'.
For Bona and Simba it was waltz – with the whole open floor reserved for the two of them.
The fluidity and gracefulness of their waltz brought the roof down as the guests cheered wildly in admiration.
Gifts and their contributors were announced at intervals – not a very popular practice though.
However, the US$100 000 and the 55 beasts contributed by the First Family was a befitting gift to a daughter who deserves to be referred to as a 'Special One'.
She has led by example and has become an inspiration to the young people of Zimbabwe.
The example set by Bona and Simba should be emulated by our young men and women.
In today's fast-paced society, many parents are suffering heartaches and developing ulcers as a result of their children not fulfilling their dreams.
But if children that live under the microscope and have access to all they want can do the right thing so can everyone else.
Simba and Bona are an example proving that it is not about where you come from, but it is all about who you are as an individual.