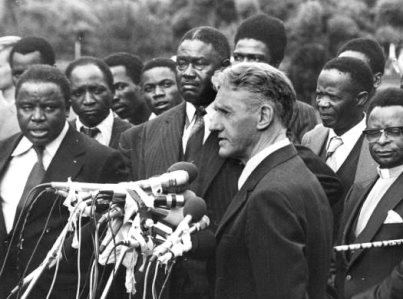 THIS week a number of white Zimbabweans here and in the Diaspora remembered and celebrated the anniversary of the death of Ian Smith, the last Rhodesian Prime Minister who died on November 20 2007, aged 88.
When we recall Ian Smith, we see an image of a white racist leader.
He was part of the whole British colonial system bent on suppressing Africans. But, we often forget that the British did not like Ian Smith.
Smith was, for many years, the leader of a white racist government.
He left a legacy of division and oppression.
Ian Smith is remembered in history for his unilateral declaration of independence from Britain (UDI), and his speech in which he said that black majority rule would never happen: "I don't believe in majority rule ever in Rhodesia, not in 1000 years.
"I repeat that I believe in blacks and whites working together.
"If one day it is white and the next day it is black, I believe we have failed and it will be a disaster for Rhodesia."
Ian Smith was wrong and history proved it.
Ian Douglas Smith was born in Shurugwe on April 8 1919.
His father, Jock Smith emigrated from Scotland to Rhodesia in 1898 during the eve of the Boer War.
He settled in Shurugwe (then Selukwe) and ran a farm and a mine while also breeding racehorses and chairing the local rugby and cricket clubs.
When the Second World War started in 1939, Ian Smith wanted to fight and defend the British Empire.
He left his studies at Rhodes University in South Africa to fight the Germans as a pilot in the Royal Air Force.
He trained as pilot and fought in Persia, the Middle East and Europe with 237 Rhodesia Squadron and then 130 Squadron of the RAF.
A crash in Egypt left one of his eyes badly damaged and one side of his face with poor nerves.
In 1944 his Spitfire was shot down over Italy and he survived to return home to Rhodesia.
Smith wanted to finish his degree course at Rhodes University in Grahamstown, South Africa.
But politics took over.
In 1948, he was persuaded to stand for Parliament for the Liberal Party.
That year in August, Smith bought a farm in Shurugwe, won his first election and married Janet Watt.
They had three children and during that time Ian Smith instigated one of the most racist and brutal regimes in Africa.
When Smith formed UDI, the British Prime Minister, Harold Wilson wrongly said that the Rhodesian rebellion would collapse in a few weeks.
Harold MacMillan also spoke of the 'winds of change' blowing through Africa, and Britain's vital ally, the United States, was pressing for decolonisation.
But Ian Smith ignored Harold Macmillan.
He could not visualise an Africa in which Africans were taking over their rightful place to rule Africa for the Africans.
Ironically, Ian Smith spoke about democracy and maintaining civilised standards. But what kind of civilisation would continue to allow Ian Smith and the three percent white population to hold down 97 percent of black Zimbabweans?
In essence, the white population in Rhodesia never exceeded 120 000, which was the three percent.
This means their numbers were no larger than those of a small English provincial town.
And yet they saw themselves as belonging to a separate state and they called Rhodesia 'God's own country'.
Rhodesians were seen by the British as ordinary and working class as opposed to the British who went to Kenya who tended to be officers.
The Rhodesians were a different breed of white colonial settlers.
They took pride in "in their unflashy, down-to-earth qualities, their tenacity, patriotism and concern for standards.
"These were sportsmen, farmers and ex-servicemen, with decent, uncomplicated values, who believed they knew how to look after their land and their workers."
How did the Americans view Rhodesia?
One historian commended that: "Rhodesia was sometimes cast as nothing worse than a slightly more rough-and-tumble version of the British home counties.
"It certainly lacked the more overt manifestations of racism in South Africa, but segregation of the races in schools, hospitals and residential areas was nonetheless the norm, and most of the humiliations of apartheid could be found in abundance. "Public spending was vastly skewed towards whites; land ownership, perhaps the bitterest of political issues, was fiercely inequitable."
After the declaration of UDI, Ian Smith was to rule Rhodesia with brutality for 15 years and during that time, the liberation war started.
The war resulted in the deaths of more than 30 000 people and most of those who died were our people: black Zimbabweans.
The racist blindness of Ian Smith and many other Rhodesians caused the whites to believe that they owned a country in Africa.
That blindness resulted in the war which they lost in the end.
As we remember the liberation war heroes, we must ask why Ian Smith, a boy from Shurugwe, did not just back off before the liberation war.
This was a war he was never going to win.
It should not be forgotten that this man from Shurugwe held British domestic politics to ransom and stage managed one of the white supremacist regime in southern Africa.
However, as Tim Chaplain, the historian and journalist noted, "When the final history of the decolonisation of Africa is written, Ian Smith will merit little more than a footnote.
"He will be remembered as a small-minded Canute who tried to resist the tide of black rule sweeping inexorably across the continent.
"Had he never existed, the history of the middling-sized, stunningly beautiful country now called Zimbabwe, but once known as Southern Rhodesia, and under Smith as plain Rhodesia, might have been much the same."
In the 1970s, Ian Smith's regime was doomed to fail.
Cuba supported Angola and there was increasing Soviet support in Southern Africa.
Smith was confronted by the Americans who did not want Soviet ideology in the region.
Our freedom fighters crossed the border into Mozambique, Zambia, Tanzania and came back to fight Ian Smith's racist army of Rhodesians.
Smith tried to hold on to power and sought to involve Bishop Abel Muzorewa and Ndabaningi Sithole, Rhodesia's 'internal' black leaders.
The Internal Settlement with Sithole and Muzorewa was signed on March 4 1978, but it was too late.
David Owen, Labour's new Foreign Secretary, loathed Ian Smith and called him "a petty, arrogant little man, trying to fill a job that was too big for him."
Meanwhile, our leaders, Joshua Nkomo and Robert Mugabe had formed the formidable Patriotic Front, ready to take over Zimbabwe.
Today, while others remember Ian Smith's death, we celebrate our hard won independence.