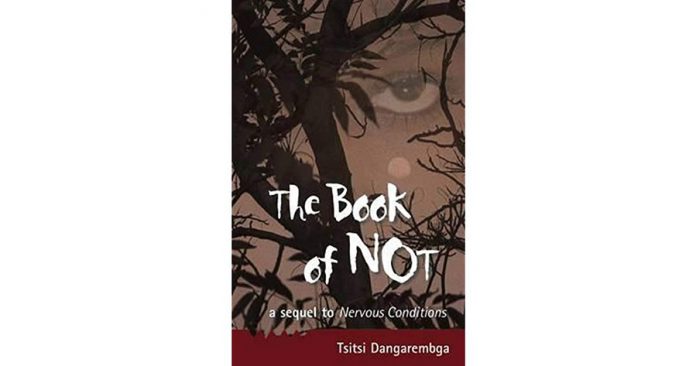 The Book of Not
By Tsitsi Dangarembga
Published by Ayebia Clarke Publishing Limited (2006)
ISBN 978-0-9547023-7-3
RHODESIA was beautiful!
Africans in Rhodesia were among the happiest colonised Africans!
These were assertions by the coloniser, who wanted to rule Africans, in Zimbabwe, for a thousand years before giving them their independence.
Is this true, was this the case?
Were Africans supposed to be grateful for colonisation; did it benefit and serve them?
Prolific award winning writer and film-maker Tsitsi Dangarembga, in her book, The Book of Not, a sequel to the hugely successful and acclaimed Nervous Conditions tells us otherwise.
Here is a story of an African, narrating her experiences during the supposedly 'beautiful' days of Rhodesia.
The book is set during the peak of the country's liberation struggle.
Tambu, who has completed her primary school gets admitted to a mission secondary school, The Young Ladys' College of the Sacred Heart.
By admission into the school, she is considered one of the few lucky Africans to attend a 'whites only' institution where the oppressive minority rulers deem themselves benevolent to the 'poor' Africans.
Naturally, Tambu is excited and believes her hopes and dreams are coming to fruition in a soul-and-spirit-nourishing environment. But alas, she is about to face a nasty and horrible reality.
The school is not a nurturing and enriching environment for black students.
Studies have shown that the impact of racism on black children, particularly in schools, results in trauma, health problems and learning difficulties for the victims with a report in the US which looked at 121 different published research reports on the impact of racism, conducted over decades, showing that racism led to 'wear and tear' on the bodies of children over time, causing depression, anxiety and physical health problems such as gastrointestinal problems, heart disease and nervous conditions.
"It's pretty consistent and strong, this link between racism and poor physical health as well as mental health," according to Monnica Williams, the African-American psychologist on racism.
"Getting constant messages that they are not good enough results in many blacks having reduced self-esteem and internalised hatred," said Williams.
Dangarembga, in her book, succinctly and painfully captures among other issues the racism that was experienced by black people during Rhodesia.
Racism is alive and rife in the school in which Tambu enters with high optimism.
"I knew what I wanted. My desires in that initial year were positive: to achieve, achieve, achieve some more. I was going to learn until I had more learning than anyone about me…," says Tambu in the book.
For starters, the black students are housed in hostels far less glamorous compared to those of their white counterparts.
"The rooms on the junior corridor were meant to accommodate four pupils each, but we were six girls in the dormitory," says Tambu.
"Anastasia…who was in the fifth form and technically should have have had a room all to herself with a washbasin up on St Sophie's corridor, but because of the systems that Miss Plato loved was still in the African dormitory."
Dangarembga, in her book, shows us the gory details surrounding the so-called favours that made Rhodesian Africans a 'happy' lot.
Victims of racism are said to live in a state of constant trauma, experiencing it as a violent assault and in its quiet forms, such as white privilege, which is conscious or unconscious stereotyping of white people as inherently superior because they are white.
"Only now did I realise from the soft warmth upon my skin that Sister and I were in physical contact…I was appalled at having let my skin and this white person's touch," says Tambu.
"So my first impression was I had soiled my teacher in some way. I liked her and I did not want to do that."
That is how racism had scalded the 'happy' Africans; in them, a fear of getting into contact with white people had been instilled.
The black students were not only afraid of their white teachers, they were afraid of white students too.
"I was praying Ntombi would come quickly from the dormitories and stand behind me. That way the agony of fear of bumping into a white girl who stood behind you if anyone moved suddenly would be hers, not mine. We spent a lot of time consumed by this kind of terror. We didn't speak of it among ourselves. It was all too humiliating, but the horror of it gnawed within us," says Tambu.
Africans, in these elite institutions, experienced verbal and non-verbal discriminatory actions which demeaned their person's racial heritage and identity.
"It is, said Sister Emmanuel furiously, it is the African dormitory…I am aware the girls in the African dormitory may not be cognisant of the reasons why such articles should not be deposited in toilet bowls, but this is one of the reasons you are brought here…to polish your behaviour…a sewerage system is expensive. It is not, is that clear, to be clogged up with your personal hygiene items!" says Tambu.
These were some of the indignities suffered by Africans at the hands of whites in Rhodesia.