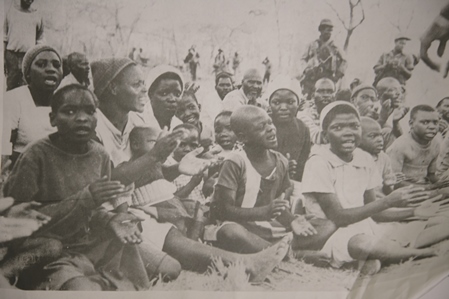 "…kudai ndichibhururuka ndega ndaienda kumass yeZimbabwe
Ndaivaudza tave kuda nyika;
Sendekera mukoma Takanyu,
Zvinogumburakwazvo …"
Last week's article highlighted that the comrades were the heroes for our children during the liberation struggle; this week, we bring you Part A, of a discussion with one such child who fell in love with the comrades and insisted on joining them in Mozambique although he was only ten.
HE was only 10 and in Grade Three when he fell in love with the comrades.
Growing up in Chipinge, in Ndiadzo area under Chief Mutema, life came alive for him because of vanamukoma of the Sandanista hats and the AKs.
For young Givemore Kanda, the Pungwes, the message they carried, and the party's ideology the comrades taught are what spun the magic for him.
Listening to 'Radio Maputo he heard how mabhunu were running scared, being driven out of the land which they had robbed at gunpoint and he could not contain himself.
The message was loud and clear in his heart, it was time to drive the British out and the message struck a chord deep inside him.
He moved out of his mother's house and practically lived with the comrades.
In that moment he felt at peace, this is where he wanted to be, with the fighters, it was the beginning of the fulfillment of his dream to be a freedom fighter, to be one with them in fighting to free his country.
I asked him if his parents didn't mind that he moved in with the comrades.
He said that it was beyond them, they could not stop him, he felt so strongly about it, no-one and nothing could stop him.
At that time he lived with his mother, his father worked in Headlands for the Ministry of Transport.
His mother was very much involved in the struggle, her 'Chimurenga name' was Mbuya Makabbeji for she was very active in the teams that went out to liberate cattle from neighbouring white farms.
The operation was named makabheji so that the enemy could never tell what was going on.
He thoroughly enjoyed being with the comrades, and young as he was, the comrades trusted him.
Whenever they needed stuff to be moved from point A to B, they would sent him.
At Pungwes he would be allowed to hold a gun and he felt on top of the world.
Once he and some boys were tasked to bring the comrades some bags of materials which they had left somewhere and their route passed by a bridge where it was suspected the enemy was stationed.
He smiles and one can glimpse his pride then when he explains how they were instructed to detonate grenades should they come across the enemy at the bridge. The enemy was not at the bridge that day.
When I asked him if he was not afraid, his answer was an emphatic NO! As if that could never have been a possibility and his face convinces you so beyond any doubt.
Towards the end of 1977, he teamed up with some boys from Masvingo, Joseph Sithole and others to cross into Mozambique for training, "but the comrades refused me saying I was too young, Comrade Gringo's section turned me down, but we tussled, I fought, and in the end they let me through.
"I never told my mother I was leaving, I never said goodbye, I ran away."
"How did you think you could be trained to come back and fight when you were so young?" I asked him amazed at his drive.
"I can't answer why I thought I could be trained to fight when I was so young, only to say it was so strong in me, it was like I was possessed.
"At the border with Mozambique, the issue of my age came up once again, and they did not want to let me through, but I fought my way through."
From the border the recruits were sent to a base for Makamaradha that is Mozambican soldiers, who took them to Rusike then to Muchenedzi. It was late 1977 when they got to Muchenedzi.
The Muchenedzi camp had just been bombed, Rhodesian planes were still circling the area. "Were you not afraid? I asked him, "No, not at all!" was the emphatic answer.
There he met a young comrade who had arrived at Muchenedzi just before it had been bombed and he had been re-united with his elder brother who had left for the struggle ahead of him.
The elder brother had been killed in the ensuing bombing.
His group then left for Dombe, it was raining heavily.
"Did you know you can sleep when it is raining heavily?' he asked me. "I didn't," he continued.
"It would rain throughout the night, we lay there in the open, the rain pounded us and we would be fast asleep."
It was at the end of 1977 or early 1978, when they finally got to Chibawawa, Toronga camp.
"I gave myself the Chimurenga name Bhazuka Radhuuka."
"Why?" "Because I could see the way it would explode and thoroughly destroy the enemy.
I also thought of calling myself Mortar 80 or is it 90, the one which was called Mbuya Nehanda because it also destroys the way the Bhazuka does, but I settled for Bhazuka.
When we arrived we were not immediately integrated, we spent some time at the Seguranza or Security where we were being interrogated for vetting purposes, so they could determine if we were genuine or enemy agents.
"This time I could not escape being grouped with my agemates. I was put into Battalion A, Company A, Platoon A, Section A; Companies B upwards were for the older ones.
I felt good waking up at 4 am, marching, doing 'toi-toi'. This is what I had been dying for.
We complete this discussion next week.
Dr Mahamba is a war veteran and holds a PhD from Havard University. She is currently doing consultancy work.