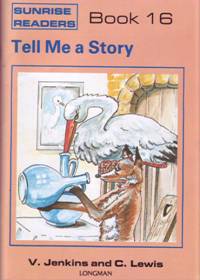 By Dr Ireen Mahamba
There on the poplars
We hung our harps,
for there our captors asked us for songs,
our tormentors demanded songs of joy;
they said, "Sing us one of the songs Zion!"
THE Sunrise Books One to 20 is a series of readers for children written by Jenkins and Lewis.
They feature black and white children.
What is striking about this series is the popularity, it would seem it is the only readers' series that parents and schools are aware of or believe in, or both.
What is amazing though, is that the series is so popular despite being so removed from the lives of the majority of Zimbabwe's children.
Do schools and parents find these books so desirable because of the quality of the material, or is it that the books are recommended by someone or some authority?
Whatever the case, an examination of the series underlines these questions in red.
What do Jenkins and Lewis know about the life of the ordinary Zimbabwean child? Zimbabwe is not about those who live in the cities; in Highfield in Harare or Pelandaba in Bulawayo or Sakubva in Mutare, which is the sort of reference to the life of the African they strenuously use a smokescreen for their racist and classist agenda.
What do Jenkins and company know about children gathering 'masondya' for a meal at home in Zaka, 'harurwa' or 'mandere' or stringing locusts or catching mice?
If learning is not about self-affirmation then it is not much use, actually it disables the learner, leaving them in a state of anomie, unable to positively relate to themselves and others.
Zimbabwe's children need to read about themselves when they are at school, they need to read about themselves as who they are, which means that the context of the material they read should be unmistakably Zimbabwean.
One Sunrise reader talks of the Victoria Falls as one of the greatest falls in the world.
Why skirt the truth?
"Mosi-a-Tunya, the Smoke that Thunders is one of the Seven Natural Wonders of the World."
Why rob the children of the opportunity to feel proud that they are the proud owners of this great wonder which people from all over the world come to see.
In this series you also find stories such as Cinderella, a fairy tale from the Western European culture.
Why Cinderella?
Most probably because it is the kind of story that Lewis and Jenkins were brought up on.
Should the stories which Lewis and Jenkins were brought up on be the same stories that Zimbabwean children should be raised on?
There also is a story about getting new clothes, interestingly this involves the African children not the white children.
The African children get new clothes when the old ones become too small, they get new shoes after the old ones become too small.
The white children are not found in this scenario; clearly revealing the class and racial orientation of these readers; that affluence is for the whites, and poverty is natural to the African, an approach which seeks to entrench in the minds of the African children that what is rational in their world is that poverty is for Africans and affluence for the whites.
Similarly another story is about Chipo learning to ride a bicycle; so much fuss is made about this, there is no parallel story about a white child learning to ride a bicycle, suggesting once again that for white children riding a bicycle is no big deal but it is some major achievement for an African child.
Are we still interested in entrenching this barely camouflaged racist colonialist mentality in our children?
There is a problem if people continue to write as if nothing has changed; as if African children are not equal to whites, and should be treated so?
What has gone wrong?
Is it that our own stories are not credible.
Have we written our own stories?
Have we written about going to the grinding mill with grandmother, our donkey carrying the sack of maize?
Have we written of making fire besides the stack of maize and roasting some mealies and eating melons while the adults harvest the crop?
Have we written about roasting mice on sticks over the fire while its fat drips into the flames?
Have we written about the night we sneaked away to join the liberation struggle, about the day we were bombed, and those we left behind at Chimoio?
Have we written about our own folklore?
Have we written about making reed mats with grandmother, weaving baskets with her and making clay pots at home?
Have we written about our first harvest in our new farm, about what we first bought with our first tobacco harvest?
If we have written about this, is there as much clamour for these stories as there is about the Sunrise Books. If not, what is our problem?
The readers are so decontextualised they could be used anywhere in the region, they are not necessarily Zimbabwean.
When people say they write for children, they should write for the target audience, they should not write for the whole region in order to maximize sales, that is cheating our children and us.
It is not correct for children to read what is not relevant to their lives, they do not need to read what makes them feel inferior as Africans.
The Sunrise Readers do not talk about the lives of the majority of ordinary Zimbabweans in Muzarabani, Binga, Chirundu, Mwenezi, Kezi, Nembudziya, Tsholotsho and the rest of our great beautiful country; we do not need them.
"Mukoma we-e, mukaona Dhakota rauya, panenge paita mutengesi!"
The children sung during the liberation struggle.