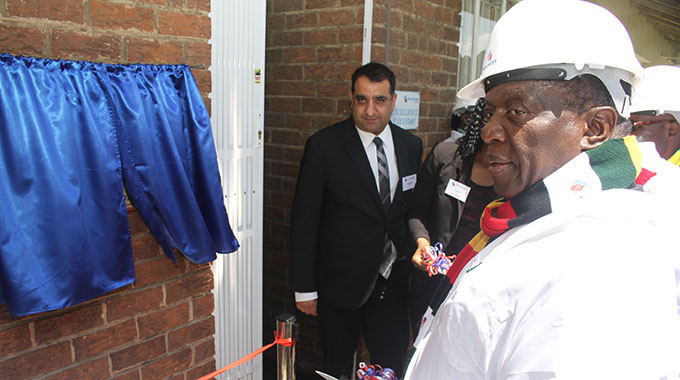 THE most notable aspect of the July 30 2018 harmonised elections has not been how ZANU PF and President Emmerson Dambudzo Mnangagwa won, but why they won.
That aspect was settled when Operation Restore Legacy took place in November 2017.
With it came many glad tidings, but it was the unravelling story of President Mnangagwa's economic vision that carried the day on election day.
ZANU PF and President Mnangagwa won the election, courtesy of their economic policies and programmes.
Now armed with a mandate that all Zimbabweans yearned for, it is now express highway for President Mnangagwa.
He faces a huge but not insurmountable task ahead.
He has demonstrated that he can be equal to any task if the effort that he has put since November 24 2017 is anything to go by.
He takes over an almost moribund economy which he has to contend with on the back of intermittent disturbances from a bruising electoral campaign.
However, there is a story to his grand arrival on the big scene on Monday.
It is a journey that can be traced to his visit to China in July 2016 and the political torture that dogged him from that time until November 2017.
When ED visited Beijing at the invitation of the Communist Party of China (CPC) from July 6 to 10 2015, several issues emerged from that visit.
First was his admission that the economic direction being pursued by his predecessor Robert Mugabe was not in tandem with the aspirations of the people.
Speaking on CCTV Africa's Talk Africa programme, President Mnangagwa said the Zimbabwean economy was performing poorly.
"We are unhappy with every aspect of the economy," he said.
To cushion the country from that, there was need for a broad-based approach to resuscitate it, he stressed.
President Mnangagwa raised several fundamentals affecting the economy, saying key sectors such as agriculture, manufacturing and industrial capacity utilisation, were lagging behind by between 15 and 16 years.
"There is need to retool industry in order to be competitive and also so that we are part of the general globe," he said.
"We must know that investment can only go where it makes a return so we must make sure we create an environment where investors are happy to put their money because there is a return.
"In fact, capital will go where it finds comfort, so we need to do that, create an ease of doing business environment.
"We have to see how we can create an investment environment which will attract the flow of capital.
"These are the tasks we face and we have to look at even legislation and our social systems need to be reformed in order to catch up with current global trends (sic)."
Former President Mugabe took these statements as an attack on his administration and ordered the purging of President Mnangagwa, culminating in his sacking on November 6 2017.
This marked the beginning of many events which eventually resulted in President Mnangagwa taking over as the country's new leader on November 24 2017.
Since then, he has embarked on a number of economic reforms which include the establishment of a new Diamond Mining Policy and enactment of the Mines and Minerals Act among other interventions.
On the infrastructural front, his administration has embarked on various projects which include paving and construction of new roads under the Emergency Road Rehabilitation Programme.
Visible progress has already been witnessed across the country.
President Mnangagwa's Government has also cancelled Austrian company Geiger's tender for the construction of the Beitbridge-Chirundu Highway after the deal was mired in dishonesty on the part of the European company.
Informed sources told this publication that construction of this highway is high on President Mnangagwa's agenda.
Already, several companies are bidding for the construction of all the country's major highways as Zimbabwe seeks to leapfrog other countries in terms of infrastructural development.
Key to his economic plan is the revival of the country's agricultural sector.
President Mnangagwa has already scored big through his well-received and hugely successful Command Agriculture Programme which has benefitted several farmers and families alike.
Several deals with Spain, Brazil and Belarus have been signed to provide equipment for irrigation and land tilling, while farmers and peasants will continue to receive support from Government.
President Mnangagwa has emphasised the need to revive the horticulture and cotton growing sectors through increased and intense Government support.
To support this vision, he has said his Government would be utilising every water body and source and has secured funding for the Kunzvi Dam project.
Corruption is going to be President Mnangagwa's bane going forward.
The Auditor-General, Mildred Chiri, is sitting on tonnes of cases where corruption allegedly took place.
These need to be attended to and given due attention.