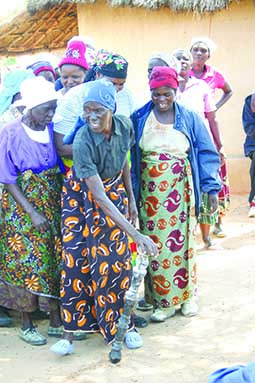 MORE than 60 bogus traditional healers operating in Hwedza and Njanja are conning villagers of their hard-earned cash and livestock.
The flamboyant traditional healers, who call themselves Beredzvuku, drive top- of-the-range cars such as BMW X5 and Mercedes Benz ML.
At night, they move around night clubs clad in designer suits adorning expensive jewellery and feasting with prostitutes.
To lure their prey, the traditional healers claim that they are on a Government exercise to cleanse the rural areas of witchcraft authorised by the President's office.
The Patriot got to witness the 'traditional healers' in action.
The cleansing ceremony is preceded by a gathering of villagers, where they are made to touch a rod if they are 'clean'.
In an interview, one of the villagers, Tafadzwa Chimombe from Matarutse Village in Njanja, said the traditional healers were working hand-in-hand with village 'spies' who supply 'inside' information to the healers.
"VanaSekuru vanouya vounganidza vanhu munharaunda, ipapo ndipo pavanosarudza vanhu vavanozopa zvikwambo zvavanenge vagadzira," said Matarutse.
"Zvikwambo izvi zvinozovigwa mudzimba vozozvibata pavanozouya.
"Mombe dzavanhu dzapera hameno kuti gore rino tinorima neyi."
Villagers are being forced to travel distances of more than 10 kilometres to attend the ceremonies.
A village head from Matarutse, Ishmael Chimombe said he was forced by his people to call Sekuru Beredzvuku after they saw him performing in Muchadziya Village.
"I was forced by villagers to call the traditional healers whom they saw performing cleansing rituals in Muchadziya Village," he said.
Headman Chimombe said some villagers were against the ceremonies, but there was nothing he could do as many supported the idea of cleansing believing that they can get rid of 'bad luck' through the exercises.
Members of the Methodist Church in Zimbabwe who spoke to The Patriot said the so-called traditional healers were criminals preying on desperate people.
Church member Stewart Peter Nherera said many villagers out of fear of being labelled witches were participating in the ceremonies.
"As Christians we don't believe in such things and our Bible does not permit us to participate in these exercises," said Nherera.
"We are forced to be participants because if you refuse you will be labelled a witch responsible for people's suffering in the village."
Nherera said the so-called 'traditional healers' used beads to manufacture goblins.
"Havanangi munhu huroyi wavanenge vachibira mombe," he said.
"Vanoudza munhu kuti pane zvikwambo zvakasiiwa nemadzisekuru.
"Vamwe vanonzi makaisirwa nevavengi asi kuzvibvisa Sekuru vanoda mombe.
"Dai mafumura vanhu ava nekuti mombe, mbudzi nehuku dzavanhu zvapera."
A villager from Muchadziya Village, Mudhumeni Jova, said he had been told that his late mother left a goblin which made him a successful farmer and was charged US$300 or a beast to get rid of the goblin.
"Sekuru Beredzvuku vakandiudza kuti munyama wainditeera nekuda kwechikwambo ichi," he said.
"Ndakaripiswa mombe kuti chibviswe ikozvino ndirikufara ndakacheneswa."
In Sadza, more than 200 villagers demonstrated at Sadza Police Station over the arrest of the so-called 'traditional healers', Joseph Malunga from Mozambique, Silas Singweni from Mhondoro and Tendai Mudimu from Hurungwe. They had been arrested on allegations of stock theft.
When they were arrested, fake goblins were found on their persons.
Demonstrators, who talked to this reporter said they wanted the police to release the so-called traditional healers because "they were sent by the President to help them."
"The police arrested people who were sent by the President to clean our communities," said one Tongai Chigate.
"Our children want jobs and we want some curses to be dealt with.
"No one is forced, we give them our cattle willingly.
"We know they are driving big cars out of our cattle, but we are no longer cursed.
"These are our spiritual 'doctors' sent to us by the President hence they must be freed."
It seems, basing on the behaviour of the 'clients' who have vested so much faith in the conmen, the villagers will continue to lose their livestock.