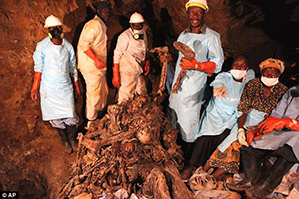 THE manner in which The Hague-based International Criminal Court (ICC) pushed for Sudanese President Omar al-Bashir's arrest during the recently held African Union (AU) Summit in South Africa is a classic example of selective enforcement of law and an extension of Western imperialism towards African countries.
Since it began operations on July 1 2002, the ICC, then under the tutelage of the widely criticised Argentinian lawyer, Luis Moreno-Ocampo, the court has been in the spotlight for its singular focus on African leaders.
It was not surprising that in South Africa, the ICC sought the intrusive hands of whites and almost succeeded in enforcing al-Bashir's arrest had it not been for the AU's refusal to compromise Africa's sovereignty.
It is not surprising that of the nine 'situations' the ICC has opened investigations into; all of them are from Africa.
The ICC says the list of indictments: "includes all individuals who have been indicted on any counts of genocide, crimes against humanity, war crimes, or contempt of court in the International Criminal Court (ICC) pursuant to the Rome Statute."
President al- Bashir has since 2008 been pursued by the ICC on 'charges' of genocide.
This is despite the fact that the United Nations (UN) Commission of Inquiry on Darfur found in 2005 that al-Bashir's Government had not pursued genocide in the Darfur region as alleged by the ICC.
During the combined days of slavery and colonialism, millions perished as Western powers sought cheap and free labour to build their countries and economies, but the ICC and other related organisations on the West' s payroll have said nothing and done little to deal with these emotional cases by way of prosecutions of the perpetrators.
And today we have another pseudo-colonialism outfit in the form of the ICC coming after African heads of states and leaders under the guise of dealing with crimes against humanity.
The ICC has thus far failed to deny or dispel this damning charge due to overwhelming evidence against it.
It cannot say anything against its Western handlers when 66 percent of its budget comes from the European Union (EU) according to South African ruling party ANC's Head of International Relations Sub-Committee Obed Bapela.
"There is so much wrong happening in the ICC. It is not designed for dealing with African countries," Bapela told The Mail and Guardian recently.
"And there is an issue with funding – 66 percent of its money comes from the EU."
After the indictment of Kenyan President Uhuru Kenyatta soon after his assumption of office on April 9 2013, it became clear that the ICC appeared to view the supposedly 'weaker' nations as always wrong and the perceived 'superpowers' as always right.
Ironically when former British and American Presidents, George W Bush and Tony Blair invaded Iraq in 2003 without the mandate of the UN under the pretext that it (Iraq) possessed weapons of mass destruction, nothing was done to them because of the power and influence they wielded in global affairs.
Yet there is evidence of mass killings amounting to genocide by British and American troops in Iraq.
The same evidence is found in abundance in Zimbabwe where about 1 000 civilians were murdered by Rhodesian Forces at Nyadzonia, 3 000 people at Chimoio, and over 1 000 people at Tembwe camps in Mozambique.
Hundreds of Zimbabweans were killed and buried in mine shafts and Chibondo in Mount Darwin.
This is a classic example of untold genocides committed by Rhodesians.
Today, the off springs of these Rhodesian Forces in the likes of Dylann Roof are committing gruesome murders in Barack Obama's America in broad daylight.
To cushion its owners from possible prosecution, the ICC put a clause in their constitution which states that it can only deal with crimes committed after 2002, which was a deliberate ploy by its handlers to navigate from the horrors of the days of slavery and colonialism.
It is said the United States has not ratified the 1998 Rome Statute; the treaty founding the ICC because it is concerned that its foreign troops would face prosecution.
However, the question that will forever stare the ICC straight into its face is, does it require ratification in order for it to prosecute George Bush and Tony Blair for crimes against humanity in Iraq and other parts of the world?
"At a time when there is conflict in the Middle-East, Asia and Latin America, and when armies of many Western nations are getting up to all sorts of bad things around the globe, to have a war crimes court which only investigates blacks really is as perverse as it would be to have a court in Britain that investigated black burglaries and ignored white ones," Brendan O'Neill of the normally conservative British newspaper, The Telegraph wrote in 2012.
Ultimately the net effect of the ICC's obsession with Africa is that the court has tainted itself with correct accusations of limited legitimacy and outright bias against the continent.
In short the ICC is a racist kangaroo court driven by a burning desire to perpetuate the West's long held desire to re-colonise Africa.