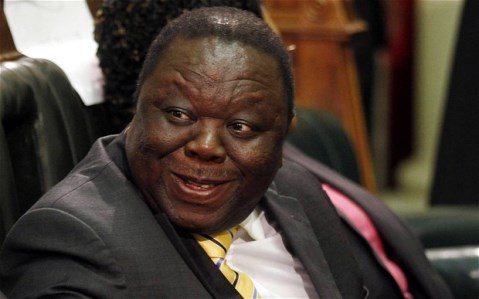 THE past months have been characterised by calls from embattled MDC-T leader Morgan Tsvangirai for another Government of National Unity and he has found support from the International Crisis Group.
And this is no surprise.
Both are seeking relevance which has disappeared in the wake of a successful election held in the country and a West eager to work with the Government of President Robert Mugabe.
The ICG to back Tsvangirai whose stock has taken a nosedive shows desperation.
For example, the Crisis Group's funding from the Western governments dropped to 47 percent last year from 50 percent in 2011 and indications are that the funds will significantly continue to drop.
Thus anything likely to bring funding to their coffers is worth supporting.
Tsvangirai has been wandering around the world seeking sympathisers to support the abhorred system of government that saw Zimbabwe experiencing five years of stagnation.
In July this year embattled MDC-T leader was in London to convince former Minister for Africa Mark Simmonds to push for an internationally-brokered national dialogue between ZANU PF and the MDC-T to no success.
The world knows Tsvangirai is a lost cause except for a few still stuck in the past like the Western sponsored organisation, International Crisis Group.
ICG, which receives half of its funding from USA, Britain, Australia, Sweden, Canada and other 14 Western governments, believes another GNU between ZANU PF and the MDC-T will be the panacea to the country's economic challenges.
How they came to that conclusion, one is baffled considering the last GNU was a nightmare.
And that British 'expert' on Africa and Zimbabwe Professor Stephen Chan has already described Tsvangirai as a spent force.
ICG has a record of misdirecting; last year it warned of violence and military intervention ahead of the July 2013 elections, which it said would result in formation of another GNU as there would be no outright winner.
British and American think-tanks had already predicted that President Mugabe would comfortably win with more than 55 percent.
President Robert Mugabe trounced Morgan Tsvangirai recording 61 percent against 34 percent and the elections were peaceful.
More so the ZANU PF party won 158 of the 210 parliamentary seats, giving it a two-thirds majority in the legislature.
Realising that disputing the election results will be a futile exercise, the group like the MDC-T is now using the 'economic crisis' ticket to call for dialogue.
It seems ICG and MDC-T have a lot in common.
Just like the MDC-T, the crisis group is looking for relevance from its sponsors, to keep the funds coming.
It does not realise that the West would rather engage Harare and take part in the country's huge economic potential than call for another GNU to prolong the crisis.
In the past 14 years European countries have lost lucrative deals to Asian countries because of sanctions they imposed on the country.
But since the July 31 elections the West is on a drive to mend relations with Harare.
ICG's credibility has also been questioned as it has been fingered as being behind the chaos in Egypt; it played a huge role in orchestrating the uprisings.
"While the International Crisis Group (ICG) claims to be "committed to preventing and resolving deadly conflict," the reality is that they are committed to offering solutions crafted well in advance to problems they themselves have created in order to perpetuate their own corporate agenda," writes Tony Cartalucci a Bangkok-based geopolitical researcher and writer.
It is alleged that the unrest in Egypt was led entirely by ICG member Mohamed El Baradei and his US State Department recruited, funded, and supported April 6 Youth Movement coordinated by Google's Wael Ghonim.
"While the unrest was portrayed as being spontaneous, fuelled by the earlier Tunisian uprising, ICG's ElBaradei, Ghonim, and their youth movement had been in Egypt since 2010 assembling their "National Front for Change" and laying the groundwork for the January 25th 2011 uprising," writes Cartalucci.
In Zimbabwe ICG has tried its shenanigans through the Crisis Coalition of Zimbabwe, but its effort to destabilise the country have dismally failed.
It is time for ICG to come to reality, like other international think-tanks such as the Chatham House and acknowledge that Tsvangirai is finished.
The opposition which is fragmented is no longer of any substance to both national and foreign politics.
ICG cannot have the country believe that Tsvangirai, who has failed to solve his personal problems and that of his party, can solve the economic challenges which the country is experiencing.
Whatever "economic stability" the crisis group say the country had during the GNU is no more than pain killers to a patient suffering from cancer.
In addition it is remiss for the ICG to celebrate any statistical data related to economic growth which did not translate to clean, accessible and affordable water, electricity, health care and education.
Tsvangirai has nothing to offer.
With his political personality having waned, the MDC-T leader wants to remain relevant claiming that he holds keys to the economic survival of this country.
He is desperately trying to worm his way back into government and enjoy the attendant perks.
Besides the populace were quite clear on whom they wanted to be leader
And to bring about another GNU will be a betrayal of the majority who voted for ZANU PF.