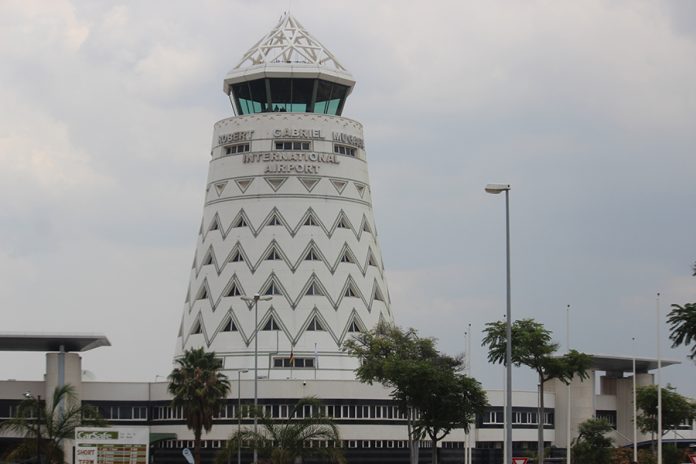 By Alvin Madzivanzira
THERE was pomp and funfair as Zimbabwe made history yesterday when the Harare International Airport was finally renamed Robert Gabriel Mugabe International Airport.
And there was nothing new or amiss about that grandiose event which saw thousands of people and senior Government officials thronging the airport to witness that grand event.
Across the world, airports have been named after national heroes.
In South Africa they have the O.R. Tambo International Airport, in Lusaka they have the Kenneth Kaunda International Airport while in Gaborone, they have the Sir Seretse Khama International Airport, all in honour of their heroes of the struggle.
Oliver Reginald Tambo is a late African National Congress (ANC) president while Kenneth Kaunda was Zambia's first black president.
All have been honoured by their countries.
In Zimbabwe, the issue of renaming the Harare International Airport has been under discussion for some time now.
Now it is a reality.
It is now official, the Harare International Airport has been renamed after our iconic leader, President Robert Mugabe.
It is now Robert Gabriel Mugabe International Airport with effect from November 9 2017.
The renaming of the airport has been long overdue.
The Bulawayo International Airport was renamed Joshua Mqabuko Nkomo International Airport.
The ceremony that took place at the airport was attended by Amai Dr Grace Mugabe, Vice-President Phelekezela Mphoko and several Cabinet Ministers.
The renaming of the airport adds to the Robert Mugabe Avenue in Harare, Robert Mugabe School of Intelligence in Mazowe, Robert Mugabe School of Education at Great Zimbabwe University and the soon to be constructed Robert Mugabe University in Mazowe, among others, in honour of the revolutionary.
Recently, the country renamed Fourth Street in Harare, Simon Vengesai Muzenda Street, in honour of the late Vice-President.
Zimbabwe still has a lot to do in renaming roads and institutions.
Several schools still bear names of colonialists and other British heroes.
Other residential suburbs have names of former mayors of Salisbury while former Group A schools have names of British colonialists like Cecil John Rhodes, David Livingstone, Moffat, Prince Edward, Stanley, Sir John Kennedy, Lady Tait, Churchill, Roosevelt, Queen Elizabeth and Allan Wilson, to mention but a few.
Let the renaming revolution continue!
In Harare alone, there are several streets and avenues that bear names of the British imperialists.
Milton Park alone has most of its roads named after former Salisbury mayors.
Situated west of Harare's city centre, Milton Park was named after Sir William Milton, the 'much-respected' administrator from 1898-1914, known as the 'Father of the Civil Service'.
Dan Judson, Lezard, Arthur Wilkins (Wilkins Hospital), Ralph Cleveland (Cleveland House and dam), Harvery Brown, James Lawson, Van Praagh and Fairbridge are among the streets that have been named in honour of white mayors of the then Salisbury.
The renaming process began in 1980 after independence and the exercise should not have stopped until all and everything with a colonial tag had indigenous names.
Names of some streets in Harare's CBD are yet to be changed. Streets like Col Pennefeather, Orr, Selous, Charter, Livingstone, Baines, Raleigh, Ivan Maguire, King George, Milton Avenue, Rotten Row, Prince Edward and Colquhoun Street have no place in our liberated country.
Names of many suburbs in Harare bear colonial names.
Strathaven was named after the area where (Thomas) Meikles came from, in Scotland while Alexandra Park was in honour of Queen Alexandra.
Warren Park was named after cousins Robert and Hebert Warren who came from the Eastern Cape, South Africa.
Glen View and Glen Norah used to be a farm owned by one Baxter.
Glen Norah got its name from Norah, who was Baxter's wife. 'Glen' is old English for narrow valley.
So used in conjunction, it became Norah's valley while Glen View, on higher ground, gave the view of the valley.
The list of places that need renaming in Zimbabwe is endless.
Let the naming of the airport be a turning point.
Old Name New Name (in Harare)
l Manica West/Manica Road/Umtali ……Robert Mugabe
Avenue
l North Avenue……………………Josiah Tongogara Avenue
l Gordon Avenue………………….George Silundika Avenue
l Rhodes Avenue…………………..Herbert Chitepo Avenue
l Stanley Avenue …………………..Jason Moyo Avenue
l Gaul Avenue ……………………….Bishop Gaul Avenue
l Kingsway Crescent ………………Julius Nyerere way
l Sinoia Street…………………………Chinhoyi Street
l Victoria Street………………………Mbuya Nehanda
l Moffat Street ……………………….Leopold Takawira
l Pioneer Street………………………Kaguvi Street
l Widdecombe Road ………………Chiremba Road
l Baker Avenue ………………………Nelson Mandela
l Queensway North/South ………Joshua Nkomo Road
l Salisbury Drive …………………….Harare Drive
l Salisbury Way ………………………Harare Way
l Golden Stairs Road ……………..Second Street Extension
l Montagu Avenue ………………….Josiah Chinamano
l Hatfield/Prince Edward Dan Road …..Seke Road
l Mackenzie/Mainway/Mcneilage Rd…..Masotcha Ndlovu
Way
l Harari Road South………………………Mbare Road
l Jameson Avenue…………………………Samora Machel
l Forbes Road ……………………………..Robson Manyika
l Sir James Macdonald Avenue …….Rekai Tangwena
Avenue
l Beatrice/Stuart Chandler way ……….Simon Mazorodze
Avenue
l Railway avenue …………………………Kenneth Kaunda
Other airports named after presidents in the world
l Pretoria – Oliver Tambo International Airport
l Gaborone – Sir Seretse Khama International Airport
l Lusaka – Kenneth Kaunda International Airport
l New York – John F. Kennedy International
l Nairobi – Jomo Kenyatta International Airport
l Washington – Ronald Regan National
l Accra – Kotoka International Airport (Col Emmanuel
Kwasi Kotoka)
l Houston – George Bush Intercontinental
l Israel – Tel Aviv Ben Gurion International
l Saudi Arabia – Riyadh King Khalid International
l Iraq – Baghdad Saddam Hussein International
l France – Paris Charles de Gaulle International