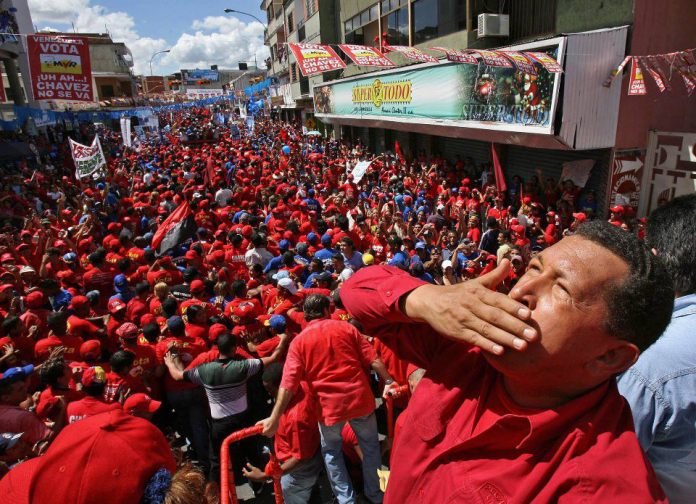 HE might have been an unknown figure in Zimbabwe but Hugo Rafael Chávez Frías was a political giant whose ideas diffused the West's, particularly the US', bully tactics.
Chavez took the West head-on.
He stood by, and with, his people.
He fought to the bitter end in defence of his beloved Venezuela.
He believed in Venezuela and what it stood for.
But how does this man become an important factor in Zimbabwe's politics?
What do his theories bring to Harare?
A lot!
Many are seized with the banal fact that Zimbabwe is under cosh from the US which is still pursuing its widely discredited illegal economic sanctions regime on Harare.
It was only last weekthat US President Donald Trump extended sanctions on Harare.
But during that week, a Zimbabwean, based in the US, had taken what has become a familiar trend, pleading with the Americans to punish their country.
At face value, the name Chipo Dendere sounds like a typical Zimbabwean name; beautiful in both sound and meaning.
Chipo is gift.
Dendere is a nest.
Ordinarily, a nest is a gift to young birds; they are nurtured in it.
So, on Wednesday last week, Chipo Dendere was in the US Congress but not giving the gift of life.
There she was, aiding the Americans in continuing to squeeze out life in the nest called Zimbabwe.
Before we hear her talk, here is her brief profile.
According to her profile submitted on the Amherst College website on November 27 2017 at 16:34, Dendere whose email address is cdendere@amherst.edu is a visiting Professor of Political Science and Consortium of Diversity scholar.
She holds the following qualifications.
PhD, Georgia State University, Political Science, 2015; MA, Georgia State University, Political Science, 2012; and a BA, Linfield College, 2008.
She says of herself.
"I am a Zimbabwean-born scholar of Political Science. I was born and raised in Zimbabwe. I was educated at Waddilove Mission from primary through high school before emigrating to the United States to begin my college career at Linfield College in Oregon. At Linfield I studied Political Science, Communication and Psychology. I also served as Student Government President from 2007-2008. After college, I worked briefly in Washington DC for Senator Wyden, OR and Oxfam. At Oxfam I worked on food security research. I did my graduate studies at Georgia State University where I worked with Dr Daniel Young, Carrie Manning, Ryan Carlin and Elisabet Rustrom." 
Let us hear her address the US Congress:
"It would be a greater injustice to uplift these sanctions before a thorough investigation has been conducted. Zimbabwe cannot have economic growth divorced from addressing human rights abuses. Robert Mugabe's exit from politics is not enough to absolve individual crimes."
The sanctions issue has been discussed at length by this paper and other outlets.
We have highlighted the tragedy wrought on the people of Zimbabwe.
What baffles us is the continued pursuance of the same by some Zimbabweans who are obviously chasing the US dollar.
This is why a person like Chavez should have been a Zimbabwean.
He would have, without doubt, defended his motherland.
When sanctions anchor a hostile policy
On March 2 2018, the US published a notice indicating they had extended sanctions ont Zimbabwe.
"In November 2017, dynamics within the factionalised ruling party of Zimbabwe, the Zimbabwe African National Union-Patriotic Front party, reached a head. Facing impeachment, Robert Mugabe resigned," said the notice.
"The subsequent change in government has offered an extraordinary opportunity for Zimbabwe to set itself on a new path toward implementing reforms that could allow the United States to re-engage in ways not previously possible.
Concrete actions must follow President [Emmerson] Mnangagwa's stated intentions to carry out political and economic reforms.
The actions and policies of certain members of the government of Zimbabwe and other persons, however, continue to pose an unusual and extraordinary threat to the foreign policy of the United States.
Therefore, to respond to this persisting threat, I have determined that it is necessary to continue this national emergency and to maintain in force the sanctions."
In short, the US want Zimbabwe to 'reform', whatever that means.
This is an issue for another day.
Chavez is everyone's hero
His biography says it all.
"Although the focus of the revolution has been subject to change depending on Chávez's goals, its key elements include nationalism, a centralised economy, and a strong military actively engaged in public projects.
His ideology became known to many as simply 'chavismo'.
Chávez created an image of an enlightened world leader, selling oil at a discount to many Latin American nations to buy good will. For example, he struck a deal to provide Cuba with deeply discounted oil in exchange for Cuban doctors."
Chavez's quotable quotes
"The government of the United States doesn't want peace. It wants to exploit its system of exploitation, of pillage, of hegemony through war. It wants peace, but what's happening in Iraq? What happened in Lebanon? Palestine? What's happening? What's happened over the last hundred years in Latin America and in the world?"
"Our voice is an independent voice to represent the dignity and the search for peace and the reformulation of the international system; to denounce persecution and aggression of hegemonistic forces on the planet. This is how Venezuela has presented itself".
"We must be aware of consumerism! That's our tendency. It's the capitalistic curse that we were poisoned with. We should spend only what is necessary. How do you call the big cars, the latest ones? Hummer! Not a single dollar to import Hummers! What is that? What is that? What kind of revolution is this? One of Hummers? No way!"
Zimbabwe needs new heroes who defend their country.
We are in dire need of real revolutionaries who stand for what is right.
Let those with ears listen.