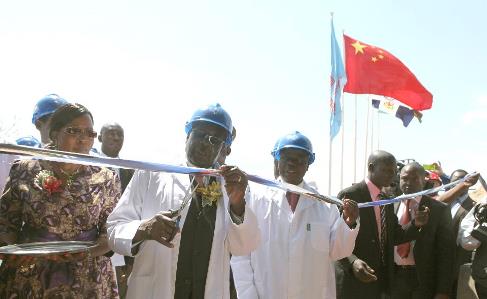 THE International Monetary Fund (IMF) has advised Africa to diversify its markets, expanding into areas such as the United States and Europe or risk sinking following China's economic slowdown.
Presenting the IMF Regional Economic Outlook for Sub-Saharan Africa Report in Harare last week, IMF director of the African Department Antoinette Sayeh said Africa's rising economy is in danger from China's economic slowdown.
"Many sub-Saharan economies are expected to rise, but their dependence on Chinese trade will have a devastating impact on revenue for many African governments," said Sayeh.
IMF as usual, gladly spelt out a list of dreads Africa is likely to face should the China economic slowdown persist.
The financial institution said the economic slowdown will hugely impact poor countries that are highly dependent on exports of raw materials and other goods to China, threatening millions of jobs and livelihoods in Africa and other regions as exports, direct foreign investment and aid are lost.
"The outlook for some commodity prices, particularly copper and iron ore, would likely also be grim, with adverse implications for further mining investment for these commodities," the report warned.
"Weaker commodity prices and slower growth in emerging markets may also reduce net inflows of foreign direct investment (FDI), which are particularly important in natural-resource-rich low-income countries and fragile states."
"These factors could also reduce external investors' interest in the exploration and development of new sources; and softening economic conditions in originating countries could result in the postponement or rescaling of some of these initiatives, particularly 'greenfield' projects that are still in the early phases of development."
But the question is: Is the Bretton Woods Institution sincere?
Having spelt out the dire consequences, the IMF quickly offered a solution, calling on African and other countries 'vulnerable' to Chinese exports to expand alternative export markets.
"However, a faster recovery in the United States and the United Kingdom and additional monetary accommodation elsewhere in advanced economies would help reduce the negative impact of a mark emerging market slowdown on sub-Saharan African economies," reads the IMF report.
Apparently the IMF warnings are a continuation of Buy America campaign and on a larger scale the demonisation of the Chinese.
America is trying to regain its status as Africa's biggest trade partner it lost to China five years ago.
Last year alone, China tripled US trade with Africa with the former trading US$201 billion against the latter's US$60 billion.
In 2012, exports to China accounted for 15 percent of all global exports from sub-Saharan Africa, up from 2,6 percent in 2001, according to IMF data.
By the end of last year, there were more than 2 000 Chinese companies based in Africa, ranging from agriculture to manufacturing, resources to finance.
As a result America has been on a campaign to convince African states to dump Beijing for Washington.
Unsurprisingly, the warnings come two months after Harare signed mega deals worth more than US$10 billion dollars with Beijing.
Before the ink had dried, Harare signed another staggering platinum deal worth US$3 billion with Moscow.
This irked the US more, to the extent that it considered extending sanctions it imposed on Zimbabwe.
In the year 2000, the US passed the Zimbabwe Democracy and Economic Recovery Act (ZDERA) in an attempt to isolate Zimbabwe, an exercise which has proved futile.
Under ZDERA, the US used its voting rights and influence in multilateral agencies, such as the IMF and World Bank to veto any applications by Zimbabwe for finance, credit facilities, loan rescheduling and international debt cancellation.
With all this in place, the IMF should know that Zimbabwe is growing weary of the big brother advisory role.
Zimbabwe needs more than an advice-giver.
It needs loans at concessionary rates that will spur economic development.
The IMF is not willing to offer these.
And how can Zimbabwe consider external markets like the US and Europe when sanctions are in place?
With ZDERA still firmly in place, Harare cannot trade with Washington.
Zimbabwe will continue seeking financial assistance and trading with China.
At a time when the IMF and World Bank's doors are closed for Harare, the country has been able to source fresh capital from the Export and Import Bank of China (Exim bank) amounting to US$2 billion over the past three years.
These include a US$290 million loan secured two months ago with China's Exim bank to expand the network of state mobile carrier NetOne, a US$320 million for the expansion of Kariba Hydro-power plant by 300MW and a US$144 million for the water rehabilitation secured last year and a US$700 million deal signed in 2011.
In addition, China has guaranteed to fund the US$2 billion integrated Gwayi energy water projects that will add 600MW into the national grid and a US$1,2 billion Hwange thermal unit seven and eight projects which will bring an additional 600MW to the pool among other projects.